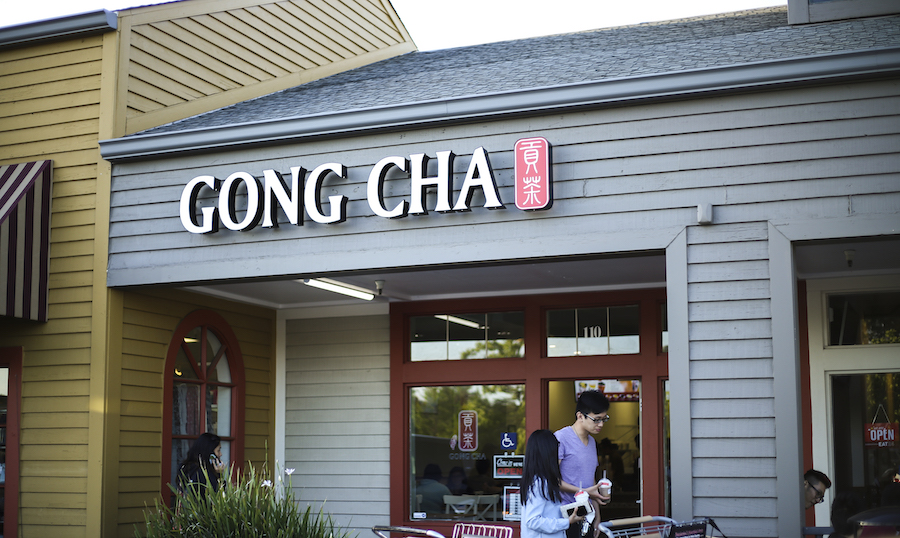 Boba-mania returns to Davis as Gong Cha becomes the latest boba store to set up shop
From ShareTea and Teabo Café to Lazi Cow, Davis has been experiencing a huge influx of boba stores in recent years. Now, in the spirit of competition, Gong Cha has also opened up its doors. Located at 1411 W. Covell Blvd., the store had its soft opening on April 4, with its business hours being from 12:30 to 8 p.m. The grand opening will take place this weekend, after which business hours will extend to 11 to 11:30 p.m.
Gong Cha may be known to residents and visitors of the Bay Area, where the chain has five stores, but the chain is also prominent around the world. Founded in Taiwan in 2006, the chain has 1,100 stores in 20 countries.
Larry Chen, Gong Cha USA CEO and UC Davis alumnus, helps franchise and directly run all the stores in California and was particularly excited for the opening in Davis. He recounts that when a franchisee approached him about opening a store in the Davis, both he and the franchisee recognized the potential to reach students and other new customers.
"Students have always been a very big and important part of our customer base and [we] saw the sense for us to be opening around a school and college in addition to [reaching] young professionals […] We feel like we have a very solid brand image, very good track record internationally, so we feel like it makes sense to enter the Davis market in order to win over some new customers," Chen said.
While Chen was surprised at the amount of competition the store would face in the Davis market, so far business seems to be going well.
"Every day, they have been very very busy, especially right around this time the weather is pretty nice over there […] [The owner] has been telling us that the sales have been going really well. We kind of attribute that to the fact that some customers actually know what Gong Cha is […] A lot of customers who went there told us that they are really happy to see a Gong Cha opening in Davis because now they do not have to […] come back to the Bay Area," Chen said.
Stacey Avorio, a team member at Gong Cha, is also overwhelmingly positive about how the store has been doing, emphasizing how busy it is throughout the day. While she says that a lot of customers already know the chain, those who don't are given explanations and samples, so they know what they are getting.
Despite the heavy competition that the store faces, Avorio is confident that Gong Cha has an edge. This comes from its authenticity, with many of its central ingredients imported from Taiwan, the birthplace of boba.
"I'd say that we're more authentic [than the other boba stores]… we have products and drinks that other people don't have," Avorio said.
Some of these unique menu items include egg pudding, oval jelly and ai-yu jelly. So far, the store seems to be resonating with its customers and Avorio has already noticed a few customer favorites.
"A lot of people get Earl Grey Milk Tea with 3J [Pearl, Pudding and Herbal Jelly]. We also have milk foam, a lot of people order that as a topping for any drink, and we also have ice cream, kind of like ice cream floats," Avorio said.
Ellie Yeung, a fifth-year double major in biomedical engineering and computer science and engineering, was one of the first people to try Gong Cha's newest branch and has mixed feelings about it.
"I've actually had Gong Cha both in Hong Kong and in Fremont […] My experience with Gong Cha before was always really nice. I went to Gong Cha here at Davis on the first day that they were open and the line was really long, it took me an hour to get my drinks […] I probably will give them a bit of leeway because it was their first day, but when I purchased the drink it was actually a bit watered down," Yeung said.
Yeung says that Gong Cha is one of her top three favorite boba places and adds that they are better at certain drinks and worse at others. However, despite her reservations, she is still confident that the store is worth visiting and foresees an improvement once the staff becomes more accustomed to making the drinks.
"I do believe that as time goes by, when there's less people and when the employees are a little more used to making those drinks, they'll come out better," Yeung said. "I'm not sure if they will meet the same standards [as Fremont or Hong Kong] but they'll definitely be a lot better than they were on their first day."
Written By: JUNO BHARDWAJ-SHAH – city@theaggie.org