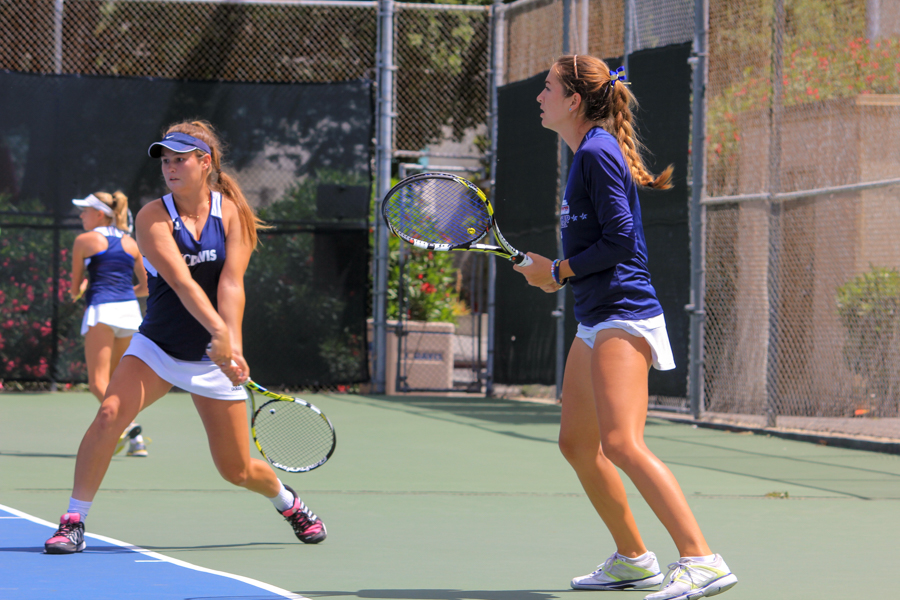 The Matadors defeated the Aggies 4-3 in a tight conference match on Saturday, April 23.
The women's tennis team suffered a devastating 4-3 conference loss against California State University, Northridge on Saturday, ending the Aggies' 4-match winning streak. CSUN secured the doubles point and also split the singles wins with UC Davis. Senior Tiffany Pham and sophomores Jessie Lee and Kristy Jorgensen were the sole victors of the singles matchups for the Aggies.
Pham began her singles set a little later due to an overlap with Bryce McKelvie of men's tennis' match-winning game. Pham did not waste any more time and fought right off the bat, winning straight-set games 6-4, 6-2. Pham's victories added the first point of the day for the Aggies, redeeming the team from CSUN's 3-0 lead.
Lee also contributed a point for her team after battling CSUN superstar Skyla Alcon. Lee recorded her 14th singles match victory of the season 1-6, 6-4, 10-8. She is the second UC Davis player to hit double digit singles wins this season.
Following Lee, Jorgensen lost her first set 3-6 against the Matador's Vivian Lin. Even though her first set started off rocky, Jorgensen pulled a total 180. She came back to completely devastate Lin 6-0, 6-2 in the second and third sets.
"I wasn't feeling like I was playing well [during the first set]," Jorgensen said. "I needed some time to get into my zone. [Lin] didn't change her game that whole match — it was just me battling myself."
The Aggies are now 10-10 overall and 2-5 in the Big West conference. Head coach Bill Maze hopes to improve their record to 11-10 on Sunday vs. Hawai'i.
Written by Katie DeVore – sports@theaggie.org