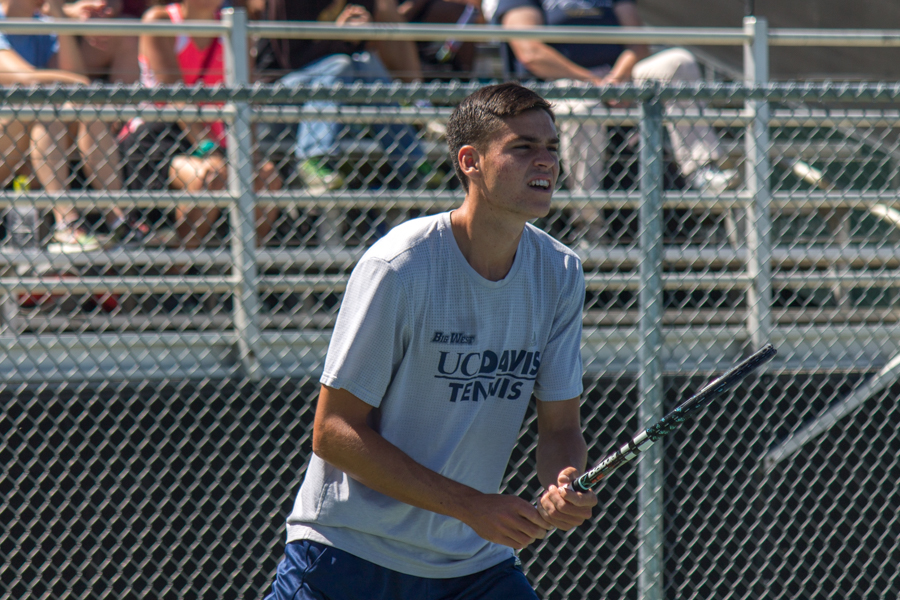 The UC Davis men's tennis team defeated the UC Irvine Anteaters in a thrilling 4-3 season finale.
Coming home after a three-game losing streak on the road, the UC Davis men's tennis team edged out conference rival UC Irvine, 4-3, in an exciting Senior Day season finale on Saturday. This victory puts the Aggies at 3-2 in the Big West Conference and 16-6 on the season, tying UC Davis' record for most wins in a season.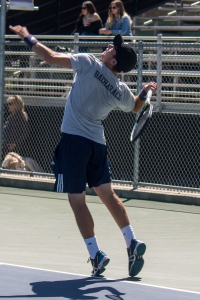 Over 200 fans crowded the bleachers at the Marya Welch Tennis Center to cheer on Aggie seniors Brett Bacharach and Adam Levie for their final match. UC Davis had a lot on the line going into Saturday's match, trying to defend their two-season winning streak at home and going into their last conference game of the season before the Big West Conference Tournament.
The Aggies struggled to get anything going during their doubles matches, with Levie and junior Alec Adamson losing quickly, 6-1, but UC Davis bounced back with sophomore Tommy Lam and junior Bryce McKelvie winning their match 6-4. Bacharach and junior Eli Whittle secured the doubles point, defeating UC Irvine 6-2 with major break points.
UC Davis had trouble during their singles matches as well, with Lam and Bacharach both going down in two sets, 6-2, 6-1 and 6-4, 6-2 respectively, giving UC Irvine a 2-1 lead. However, sophomore Everett Maltby evened it out with a 6-3, 6-3 win.
Adamson also fell in two sets, 6-2, 6-4, giving the Anteaters a 3-2 lead. After Wade tied it up again with a 6-3, 6-4 win, it was left to McKelvie to get the win for the Ags.
McKelvie started off strong with a 6-4 win in the first set, but faltered in the second, forcing an intense third set tiebreak. After taking a 5-4 lead, McKelvie raised the Aggies to a 4-3 victory off a break point.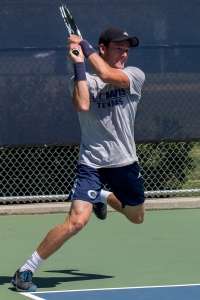 For the seniors, seeing such a massive amount of support for their final match at UC Davis meant a lot. As Levie looks back on his career, Saturday's win has been one of the highlights.
"To have a 3-3 deciding match with our biggest crowd of the year and the last match of my career, to come down to it that way and have everyone cheering for us — it's never been better than that," Levie said. "[Keeping our undefeated streak at home] is something I'll be proud to leave as a legacy because it shows the support we have here is [the reason] we always do so well here."
Fellow senior Bacharach agrees that their final victory for the fans was one he will always remember.
"Serving for the match in doubles and having all my friends behind me cheering me on [is the highlight of my season]," Bacharach said. "I was smiling ear to ear the whole time."
UC Davis heads to Indian Wells to start post-season play at the Big West Conference Tournament on Wednesday, April 27.
Written by Nicolette Sarmiento – sports@theaggie.org