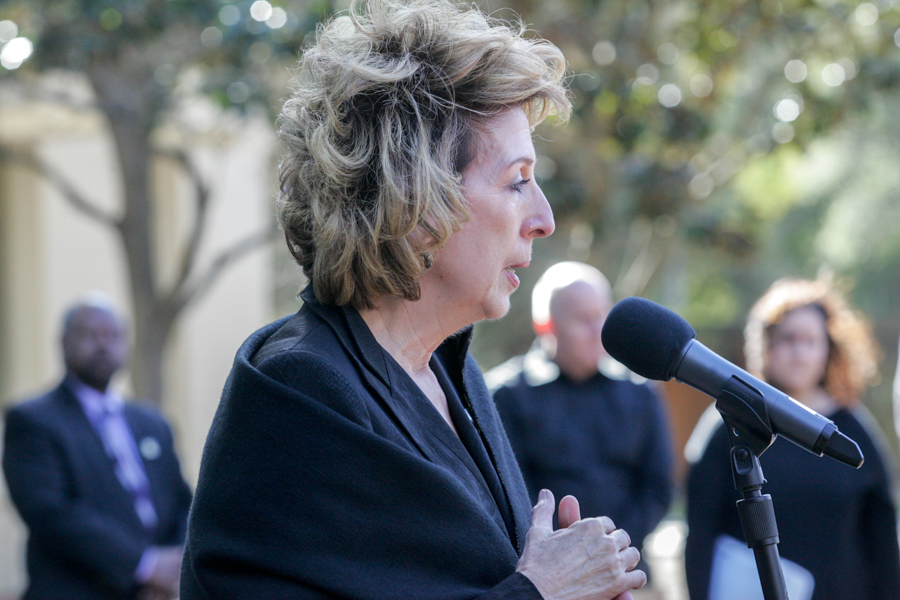 University postpones public forum following speculation of Katehi's departure from UC Davis
UC Davis representatives declined to comment on the whereabouts and status of current Chancellor Linda P.B. Katehi following speculation of the chancellor's possible departure from the university.
When asked if Katehi is still employed at UC Davis and about her whereabouts, including if she is currently in Davis or not, a spokeswoman for the university replied that she could not answer any of The Aggie's questions.
"I have no information on any of your questions at this time," said Dana Topousis, executive director of news and media relations at UC Davis.
Topousis also stated that she had no information on the abrupt postponement of Katehi's Chancellor's Public Forum slated for Thursday. The event, which requested community members to send in pre-submitted questions, was designed as Katehi's first public appearance since the chancellor made international headlines for taking positions on two for-profit boards and spending at least $175,000 of university funds to scrub the 2011 pepper-spray incident from the Internet.
"Chancellor Linda Katehi thanks all the students for their questions thus far. For now the public forum has been postponed. A later day will be announced soon," posted Amandeep Kaur, science fellow to the chancellor, on the forum's Facebook event page.
Kaur did not respond immediately for comment on the reason behind the postponement.
The postponement follows speculation that Katehi may have departed from her role as chancellor at the university. The speculation is a result from a circulating letter from UC Davis faculty claiming that UC President Janet Napolitano called for Katehi's resignation. The letter, which was sent in hard copy to state Sen. Lois Wolk, D-Davis, included the professors' concerns on the possible termination.
"A report has reached us that President Napolitano has requested the resignation of UCD Chancellor Katehi," wrote UC Davis professors Margaret Ferguson and David Simpson in the letter to Wolk. "We urge you to do everything in your power to stop it and to set [it to go to] a system-wide review."
Topousis could not confirm or deny if Napolitano called for Katehi's resignation and a representative from the UC Office of the President did not respond immediately for comment.
Katehi was also scheduled to appear on Capital Public Radio's "Insight" talkshow Wednesday morning, but the appearance was abruptly cancelled earlier today. Topousis could not provide a reason for the cancellation.
"Disappointed to find out that UCD Chancellor Linda Katehi had to cancel tomorrow's conversation on Insight. Hoping for a new date soon," tweeted Capital Public Radio host Beth Ruyak.
More details to come.
Written by: Jason Pham – campus@theaggie.org