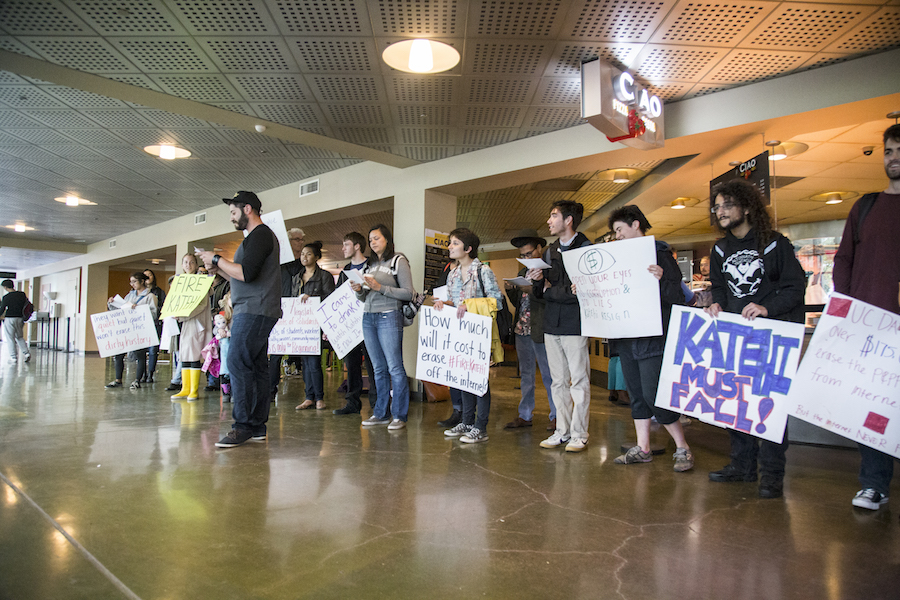 Fire Katehi group plans to engage student body in upcoming events
On Friday, April 22, protesters from the Fire Katehi movement held a rally at the ASUCD Coffee House (CoHo) to call for Chancellor Linda P.B. Katehi's resignation. The rally was their first public event since their 36-day sit-in on the fifth floor of Mrak Hall on April 15.  
"We're just trying to let people know that we're still here," said Kimberly Reyes, a fourth-year sociology major. "We're still actively working. We've been meeting all week. We have things planned out for next week, so we're going to be back. This is just one of many things we have planned."
Eddie Suboh, a political science major who graduated this past Winter Quarter, said that ending the occupation has been necessary in figuring out the group's plans to get the chancellor to step down — a demand they continue to seek.
"To us, the movement isn't over," Suboh said. "The walkout in Mrak Hall was not necessarily a step down but a refocusing, considering that the occupation of Mrak Hall was specifically to bring attention to the corruption that was taking place on campus. Once there was international attention, the students who were occupying Mrak Hall left so that they could refocus."
At the CoHo, protesters stood at each entrance and chanted as students sat inside. Afterward, once the rain had subsided, they wrote statements and statistics in chalk, referencing the chancellor's moonlighting activity, her salary and other incidents during her time at UC Davis, including the 2011 pepper-spray incident and the subsequent use of $175,000 to try and hide the highly covered story from online Internet searches in its aftermath.
"When we were in Mrak, it was hard to do actions on other places on campus to get out and involve the whole student body," said Kyla Burke, a fifth-year environmental science and management major. "Students should learn what's going on and learn all the facts, because I think the more you learn about this, the more you want her to be fired. There's a lot of problems at our university and a long history of problems with Katehi."
In recent weeks, Chancellor Katehi has attempted to mend relations with the student body. On April 18, she released a series of video messages, the first of which was titled "Lesson Learned," addressing recent concerns from students.
"I am deeply devoted to this great university and to all of you," said Katehi in a letter accompanying her first video. "It is a privilege to work with extraordinary students, faculty and staff for the past seven years. We have worked hard together and accomplished a great deal. It's not always been smooth sailing. But I pledge to keep learning from our missteps and move forward to even greater accomplishments in the future."
Reyes said that leaving Mrak Hall has given the group a new ability in reaching out to students throughout the campus, with protesters getting time to rest.
"It's going to be different for sure, like different types of tactics, but I think we will be focusing a lot on targeting areas that have a large student body during the week," Reyes said. "I just think we'll have more energy to come out and do things like this now that we're not spending all of our time holding down the space. People are rested and they can come out. They can have the energy to do this and reach the wider student body."
Written by: Ivan Valenzuela – campus@theaggie.org