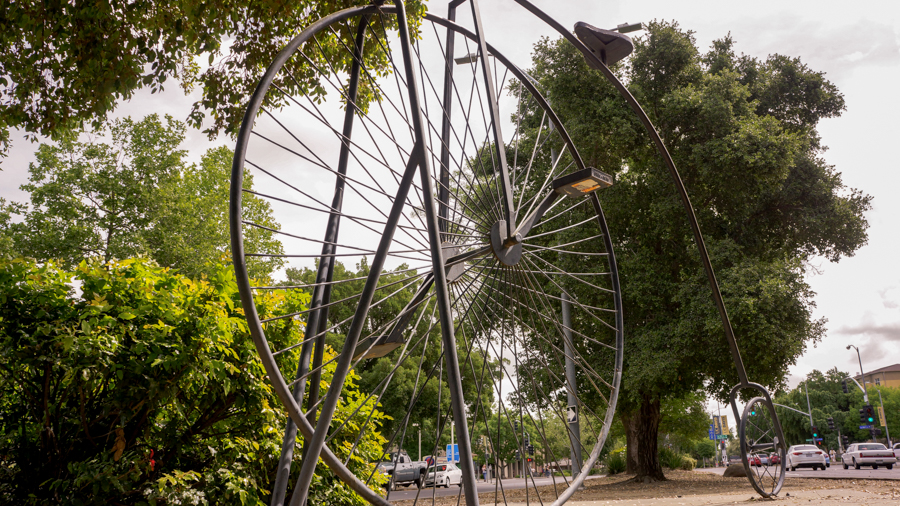 Take part in local bicycle themed events this May
The city of Davis is famous for the thousands of bikes that flood the streets daily. The month of May is nationally recognized as Bike Month, so naturally you can expect a variety of celebrations in Davis. If you're an avid biker or want to take part in the festivities, come out and celebrate the joy of biking with the following events.
Like a true Davis resident, ride to the Davis Farmers Market and enjoy delicious food with the community. Coordinated by the North Davis Elementary School and Davis Bicycles!, this event will take place every Wednesday during May; those who are interested can meet up at the elementary school at 4 p.m. to ride to the farmers market together.

If you appreciate art and safety, get involved in an auction to win extremely unique bike helmets designed by local Davis artists. The Davis Arts Center and Hot Italian are working together with local artists to offer this opportunity. The helmets can be seen at Hot Italian throughout the month before they are auctioned off.

Experience the Davis Bike Loop with families and friends during the Davis Bicycles!

Loopalooza

on May 1 from 10 a.m. to 2 p.m. Nine educational stations will be featured along the loop, giving participants a chance to learn more about bike safety and biking in Davis.

Want to be rewarded for biking? Keep track of your bike miles and log them online at

mayisbikemonth.com

to win prizes. Beginning Tuesday, May 10, weekly prizes will be awarded to those who log their weekly miles. At the end of the month, grand prizes will be awarded to those who logged miles every week in May.

Your bad day could be turned upside down in an instant with a special gift from a Davis bike fairy. All month long, Davis Bike Fairies will be brightening the days of bikers by either leaving surprises on their bikes or handing them rewards.

Love pizza? Well you're in luck if you have an Italian bike. On May 10, Hot Italian will be giving free Cannavaro Pizzas to those who ride Italian bikes and show them to employees.

Get ready for your bike to get the same treatment as your car, because the City of Davis will be offering a bike valet at the May 20 Street Food Rodeo at Westlake Plaza. Ride your bike to the event and enjoy a pleasant afternoon filled with food and music.

Learn more about the farm life in Davis by participating in the Tour de Cluck on May 21 from 9 a.m. to 3 p.m. The tour involves biking through town and exploring a variety of Davis backyard chicken coops.

Start your Saturday off right and take part in the 47th Annual Davis Double Century Bike Ride at the Veterans Memorial Center on May 21 starting at 5:15 a.m. This bike ride is the most popular double century in California and involves riding 200 miles through Yolo, Solano, Napa and Lake counties. According to

Davis Bicycles

, the extensive support given to the riders, including nine rest stops and a lunch stop, is what sets this double century apart from others.
Written By: HADYA AMIN- city@theaggie.org