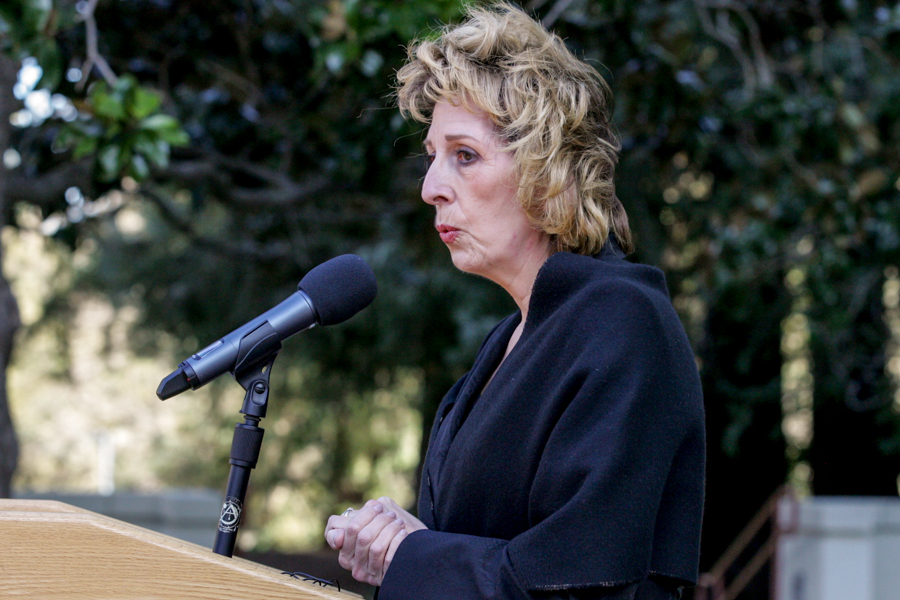 Emails reveal Linda P.B. Katehi invited public relations firm to meeting to clean up UC Davis reputation in light of 2011 pepper-spraying
The Sacramento Bee received documents Wednesday night from the UC Office of the President supporting UC President Napolitano's claims that UC Davis Chancellor Linda P.B.Katehi may have made "material misstatements" to the media.
In a two-page letter to Katehi, Napolitano raised concerns of misrepresentations that Katehi made with regard to her knowledge and involvement of at least $175,000 spent to bolster UC Davis' public image through removing references to the 2011 pepper-spray incident from the Internet.
"Despite public statements to members of the media, as well as to me, that you were not aware of or involved with these particular contracts, documents prepared in response to a Public Records Act request indicate multiple interactions with one of the vendors and efforts to set up meetings with the other," Napolitano said in her letter.
The new documents, obtained by The Bee after filing a California Public Records Act request six weeks ago, showed that Katehi requested to meet with David Nevins from the reputation firm Nevins & Associates of Baltimore.
While the records do not confirm if Katehi met with Nevins, UC Davis did sign an agreement with the firm that, according to the documents, would "expedite the eradication of references to the pepper spray incident in search results on Google for the university and the Chancellor."
In one email to Katehi's Chief of Staff Karl Engelbach on Oct. 16, 2012, Nevins outlined his plan to improve UC Davis and Katehi's online reputation.
"This plan will separate both the university and Chancellor Katehi from the events that occurred last November, and it will strengthen the university's brand against reoccurring backlash," Nevins said in the email.
In a statement published April 18, Katehi accused the contract language for being "unrealistic and ridiculous." Additionally, in a meeting with The Bee, Katehi also denied requesting the university to clean up her online reputation. She claimed to The Bee that she had not seen the contract's language prior to its release, calling the documents "inappropriate."
On Wednesday night, Katehi's attorney Melinda Guzman released a statement defending Katehi's reputation.
"This smacks of scapegoating and a rush to judgment driven purely by political optics, not the best interests of the university or the UC system as a whole," Guzman said. "The Chancellor welcomes an independent, objective investigation and a full release of all relevant documents and public records."
UC Davis also hired the Sacramento firm IDMLOCO to work with UC Davis' strategic communications department and monitor online stories about Katehi, especially in recent weeks when Katehi came under fire for previously accepting positions on two for-profit boards.
IDMLOCO reviewed Twitter posts from Assemblyman Kevin McCarty (D-Sacramento), who has called for Katehi's resignation, as well as online activity from several journalists.
"As you might expect, predominantly negative sentiment on this, but relatively contained to just a few hundred shares in social media," Idmloco co-founder Bryan Merica wrote in an email March 1 to Engelbach. "We'll keep an eye on this tomorrow to see where it goes."
The release of these documents follow Napolitano's announcement on Wednesday that Katehi would be suspended for a 90-day period in order to launch an investigation regarding this matter, as well as other controversies. UC Davis Provost Ralph J. Hexter is serving as acting chancellor during Katehi's suspension.
"Information has recently come to light that raises serious questions about whether Chancellor Katehi may have violated several University of California policies, including questions about the campus's employment and compensation of some of the chancellor's immediate family members, the veracity of the chancellor's accounts of her involvement in contracts related to managing both the campus's and her personal reputation on social media, and the potential improper use of student fees," Napolitano said in a statement.
In her letter to Katehi, Napolitano questioned the employment of Katehi's immediate family members, including her husband, son and daughter-in-law, at UC Davis. The salary of Katehi's daughter-in-law Emily Prieto-Tseregounis was also criticized for being increased by over $50,000 within the past two-and-a-half years.
Lt. Gov. Gavin Newsom, a member of the UC Board of Regents, called for Katehi's resignation on Thursday. The Board of Regents plans to discuss Katehi at their meeting on May 11-12.
Written by: Alyssa Vandenberg – campus@theaggie.org