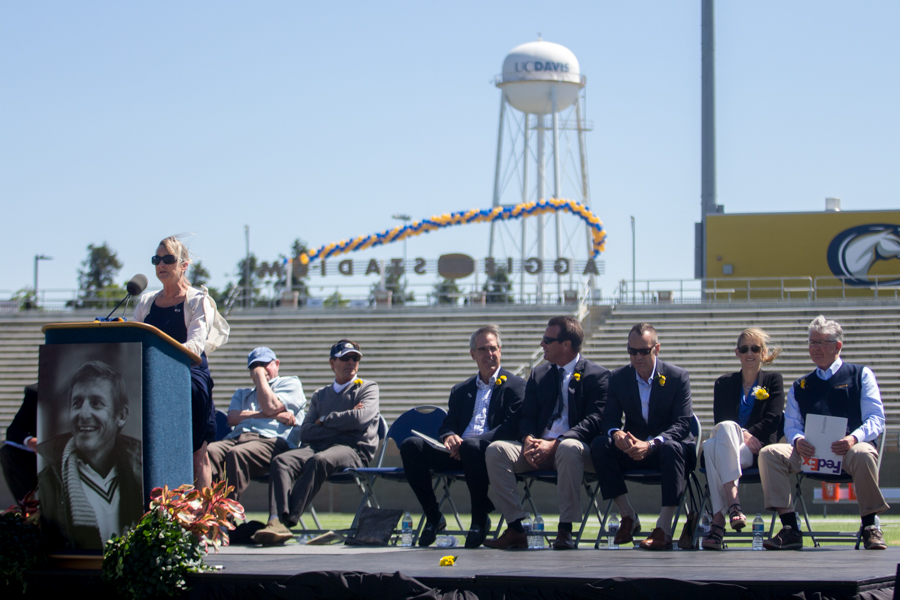 UC Davis football's former head coach was honored by his family, friends, players, teammates and coworkers this past Saturday, April 30, but the nearly five-hour event was not enough time to reflect on the legendary Jim Sochor. Aggie Stadium has seen its fair share of great men and women, but to all those in attendance, Sochor was the greatest.  
Bob Dunning, a journalist for the Davis Enterprise who covered sports while Sochor led the Aggies, served as the master of ceremonies. As he introduced the guest speakers one by one,  Sochor's legacy at UC Davis became more and more clear.
"'I am an Aggie now' are words he lived by every day of his life," Dunning said.
Speakers Mike Campbell, Jennifer Gross, Scott Barry, Ken O'Brien, Rolf Benirschke, Joan Smith-MacLean, Bob Biggs, Paul Hackett and Cy Williams all spoke about their experience with Sochor.
Most coaches that spoke, including Williams, Hackett, Biggs, O'Brien and Gross, had one line in common: "I am the coach I am because of him."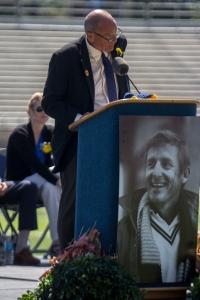 They all emphasized the common "Sochorisms," reflecting on some insight or life lesson that he taught them, directly or indirectly. Featured in the program put together by the UC Davis Athletics Department was a list of these Sochorisms, including "Be the best you can be every day."
Williams, the head coach for the UC Davis men's golf team, shared his encounter with Sochor during the recruiting process, showing the truth behind another one of Sochor's sayings.
"Achievement is what you win with, potential is what you lose with," Williams said.
Each speaker, after recounting their memories with Sochor, left the podium with teary eyes.
The spectators drew tissues and napkins from their bags and pockets, knowing that all the powerful moments and stories they heard were true.
In the football game-style agenda, during halftime, the California Aggie Marching Band-Uh! performed a series of songs to keep the smiles going. People went for water and left notes for Sochor on napkins that were pinned to the wall for all to see. Old friends greeted each other, recalling the last time they saw teammates and coworkers.
Alongside all those who knew Sochor for decades were those who knew him for a mere two to three years. The UC Davis football team was suited up — participating as volunteers and talking amongst themselves about how the stories that were told seemed to be a true description of the man they once heard speak.
A former head coach for the Ags, Biggs looked to the faces of the football team, athletes who put Sochor's legacy to work.
"We have to give these kids the tools to be successful," Biggs said, glancing over at the athletes that were in the crowd.
Biggs shed light on Sochor's investment to UC Davis and his belief that athletes are students first, getting a first-rate education while playing the sports they love. Sochor believed that the environment of Davis was perfect for building college students to be successful.
Smith-MacLean, a family friend of Sochor, shared a moment between her and her mother just this past week.
"My mom said, 'I love that man,'" Smith-MacLean said. "I couldn't have said it better myself."
A huge amount of love was in the air for the Sochor family, including wife Donna and daughters Terri and Holly, as the crowd headed for the field at the end of the tribute and bowed their heads, laughed and embraced the nostalgia.
Jim Sochor will remain in the hearts of those whose lives he touched. The many that were able to make it to Saturday's events all proved this to be true as they said thank you and goodbye to the legendary coach on a field dedicated to his memory.
Written by Veronica Vargo – sports@theaggie.org