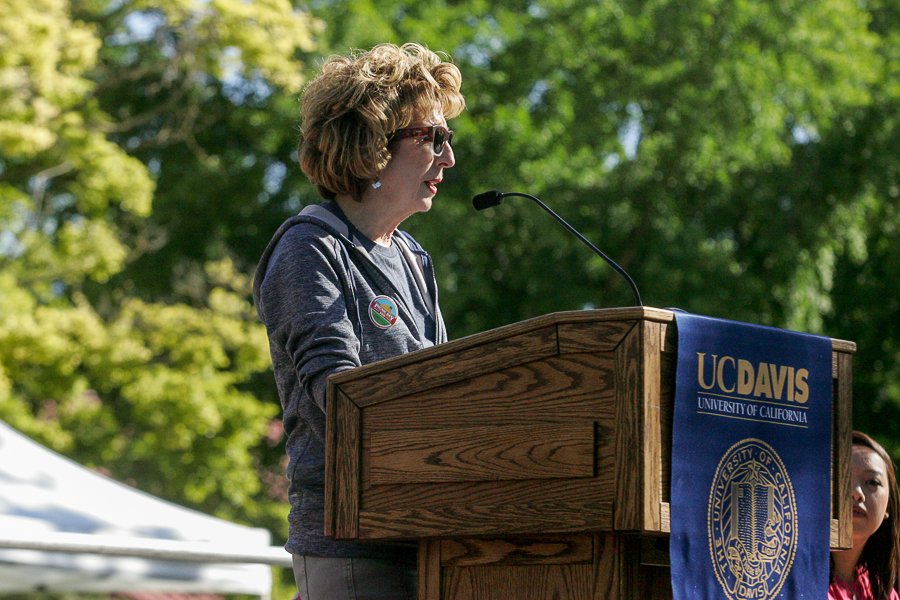 University of California (UC) President Janet Napolitano announced today, Tuesday, August 9, that she has accepted the resignation of UC Davis Chancellor Linda P.B. Katehi.
Katehi's resignation comes after a three-month paid investigative leave, during which UC officials examined her role on outside corporate boards, accusations of nepotism and her approval of UC Davis spending at least $175,000 to erase the 2011 pepper-spray incident from the internet, among other allegations.
"The investigation is now concluded, and it found numerous instances where Chancellor Katehi was not candid, either with me, the press, or the public, that she exercised poor judgment, and violated multiple University policies," Napolitano said in an email sent to UC Davis students, staff and faculty this afternoon.
While the investigation revealed that Katehi violated policies in her travel expense reports and through her participation in corporate boards, the UC Davis Academic Senate found Katehi innocent in most of the charges against her.
"Linda Katehi and her family have been exonerated from baseless accusations of nepotism, conflicts of interest, financial management and personal gain, just as we predicted and as the UC Davis Academic Senate found within days of this leave," said Melinda Guzman, Katehi's attorney, in a press release.
Katehi outlined the reasons for her resignation in a letter released by the UC Davis Academic Senate. In her letter, Katehi responded to critics' claims of nepotism, misuse of student fees and outside board service, among others.
"I am grateful for the work of the investigation team in exonerating me in 5 of the 7 items which they ultimately investigated," Katehi wrote in the letter. "It has been very important for me that the investigation team conduct this investigation and confirm that I did not violate policies that are central to the mission of the academy and to my family, namely the issues of nepotism, conflicts, financial management or personal gain. The other two issues concern unintentional misunderstandings between me and President Napolitano, and it remains my hope that over time these differences will be resolved."
Due to a pre-existing contract with the school, Katehi will remain at UC Davis as a full-time faculty member. According to UC spokeswoman Dianne Klein, Katehi must vacate her on-campus chancellor's house by Oct. 31.
"We will immediately form a search committee and conduct a national search for a new chancellor to lead this extraordinary campus," Napolitano said.
Ralph Hexter will remain as acting chancellor during this time.
"With the resignation of Chancellor Linda Katehi, a sad chapter in UC's history has come to an end," California state Assemblymember Kevin McCarty (D-Sacramento) said in a press release. "UC Davis can now move forward and be known for what they're best at: rigorous academics, world class research, an innovative medical center in Sacramento, and an active student body."
NOTE: This story was updated at 10:00 p.m. to include information from afternoon press releases.
Scott Dresser contributed to this story. Alyssa Vandenberg can be reached at campus@theaggie.org.