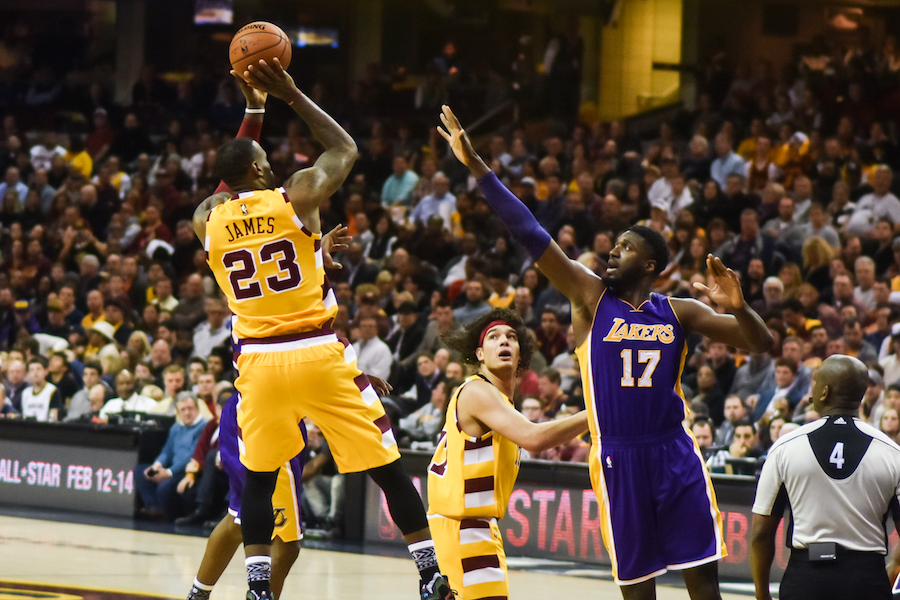 Here we go! The NBA season is underway and I'm incredibly excited for what we've got in store. Who knows what's going to happen this year? Will the Warriors win by an average margin of 20 or 25 points a game during the regular season? Will they take home the Larry O'Brien trophy in 17 or 18 games? Will Kevin Durant win the Finals MVP? Or will it be Stephen Curry, Klay Thompson, Draymond Green or even Zaza Pachulia? The suspense is killing me!
Yup, I'm a bitter Lakers fan, and while I'm bitter that the Lakers are going to have another sub-.500 season, I'm exponentially more bitter about the lack of competitive balance in this upcoming season. Warriors fans will obviously rejoice, but it's not going to be any fun for the rest of us.
Here are my predictions for the upcoming season.
NBA Championship: Golden State Warriors (4) – Cleveland Cavaliers (1)
Are you excited for the trilogy? I'm not. This pick doesn't need much explanation. If you're looking for something competitive to watch, I'd suggest you go to G St. Wunderbar on their famous Wednesday Funk Nights and observe awkward grad students playing an intensive game of billiards as intoxicated college students stumble on by and accidentally bump the pool stick mid shot. "Do you mind getting out of my way please?" "Nah man, it's Funk Night, you have plenty of time to play pool in a dimly lit room when you're in your forties with your three other friends, sipping on Pabst Blue Ribbon. Let me have my fun… I'm graduating."
NBA MVP: Kawhi Leonard
If Kevin Durant wasn't a Golden State Warrior, I'd go Steph. If Steph wasn't a Golden State Warrior, I'd go Kev. Unfortunately for these inevitable victors at the end of the year, they play for the same team. Their numbers will go down. Barring significant injury to the other, neither of these two will win MVP. While a majority of NBA followers believe LeBron will reclaim the MVP trophy, I'm going to choose Kawhi. Ka-why do you ask? Well, Charles Barkley said he's the best player in the NBA. He's not, but Chuck said it and he boldly guaranteed the Warriors would not win the Championship last year, so his word is law.
Most Improved Player: Devin Booker
Devin Booker is going to be a star. This pick is definitely not safe with guys like Giannis Antetokounmpo, Dennis Schroder and Victor Oladipo lurking, but hey, neither is allowing your Aggie article about the Blue Jays winning the World Series this year to get printed the same day they got eliminated by the Indians. We all make mistakes, right fellow Aggie sports writer George McConnell?
Rookie of the Year: Kris Dunn
Ben Simmons, the first overall pick, was probably going to earn this one before injuring his foot, but unfortunately it looks like the injury will keep him out until January, which will harm his campaign for Rookie of the Year. In his place I will go with Kris Dunn, the Rookie out of Providence who has seemingly won the position battle over Ricky Rubio for starting point guard. While I haven't followed Dunn particularly closely, I like him over Joel Embiid, who's going to have a season of distraction as his quest to earn the love of Kim Kardashian continues.
Sixth Man of the Year: Brandon Knight
Wait, what? He's still around? I thought he retired after Kyrie Irving broke his ankles in the 2013 Rising Stars Challenge. If that were me, I would sever ties with my aspirations of becoming a professional basketball player. Fortunately enough, that has never happened to me and I'm still trying. I'll get there one day — I haven't peaked yet, and neither has Brandon Knight.
Sportsmanship Award: Nick Young
Are him and D'Angelo chill? I mean, Young hasn't been released or traded, so probably. Good for you for not holding grudges, Swaggy P, good for you.
Written by: Michael Wexler — sports@theaggie.org