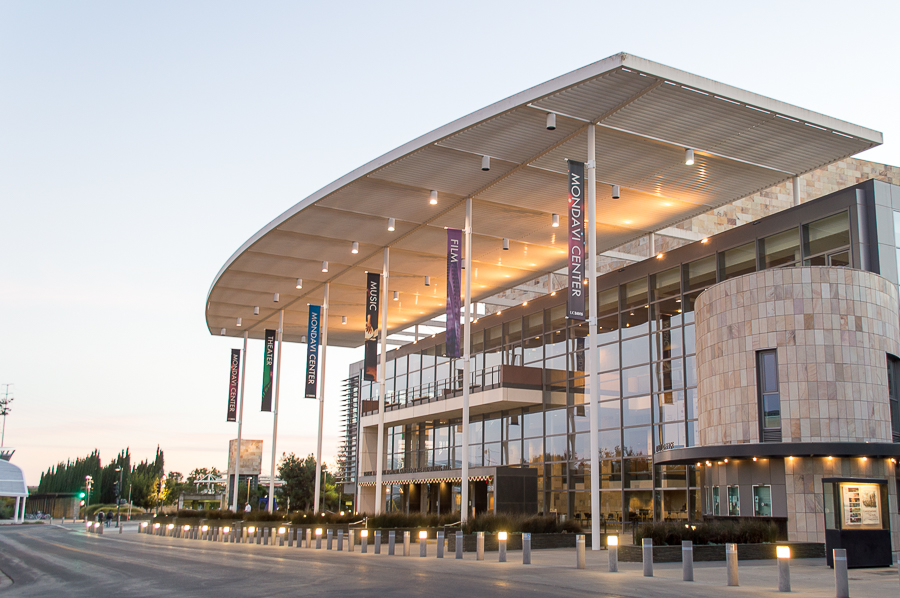 Passing of UC Davis philanthropist invokes friends to speak out
The gateway to UC Davis, just off the Interstate 80 exit, holds one of the most prominent surnames at UC Davis: the Robert and Margrit Mondavi Center for the Performing Arts and the Robert Mondavi Institute (RMI) for Wine and Food Sciences.
Margrit Mondavi (nee Kellenberger), lover of the arts and generous philanthropist passed away on Sept. 2, and, in turn, the UC Davis community lost a great friend. Her presence on campus is visible in the many contributions she made and in the relationships she established within the community.
Mondavi emigrated to the U.S. from Switzerland, travelling around the world as an army wife before settling in Napa in 1960. In Napa, she began working at the Robert Mondavi Winery and was active in bringing together wine and the arts. Robert — a Northern California native, Stanford graduate and advocate for the up-and-coming Napa wine region — married Margrit in 1980.   
"She was an immensely well-read and very sophisticated person," said Jessie Ann Owens, professor of music and close friend to Mondavi. "There was a kind of simplicity and directness about her. She connected with anyone around her and was just a real nice and genuine person."
Part of what made Mondavi's impact on the campus unique was the connection she forged with the community of students, faculty and staff.
"She was special because she cared […and] was infinitely curious about individuals," Owens said. "When she went into a room [it] lit up, because she would put all her attention in talking to people. So, in making these gifts to UC Davis she was helping students in generations to come."
The Napa Valley Register credits Mondavi as one of the people to put Napa Valley on the map as a world renowned wine region. Her multiple ventures in bringing art, wine and cuisine together included founding the Summer Concert Series at the Robert Mondavi Winery in Napa.
"We talk about pairing wine with food, arts, and music but she really put that idea on the map," said Sarah Colwell, senior manager of marketing and development communications for development and alumni relations at the Cal Aggie Alumni Association. "She saw this opportunity to easily connect the things that she enjoyed to elevate them and make them more enjoyable for everyone and then she shared that. She was very generous in sharing that life perspective with others."
The Mondavi family gifted the school with the money to build the Robert Mondavi Institute for Wine and Food Science and the Mondavi Center for Performing Arts. Mondavi's final contribution to the school was the initial $2 million gift that began the construction of the Jan Shrem and Maria Manetti Shrem Museum of Art, which opens next month.
"There is a whole corridor of our campus that would not exist if it were not for her and Robert's philanthropy," said Shaun Keister, vice chancellor for development and alumni relations. "She brought countless opportunities through the [Mondavi Center for Performing Arts] and through the Robert Mondavi Institute to our whole community. We have benefits to the community that would not be available if it were not for their generosity."
Mondavi's devotion to the university stemmed from her and her husband's interest in improving winemaking, and continued as she found the opportunity to bring together wine and the arts.
"[UC Davis'] values and priorities matched [hers]," Keister said. "First and foremost […] wine and our program helped them as winemakers over the years. In some ways that gift [of the Robert Mondavi Institute for Wine and Food Science] was about appreciation. I think the Mondavi Center gift was much more tied to a personal passion for the arts and wanting to bring that to life here for our […] community."
Mondavi continued to support and give gifts to UC Davis after her and her husband's initial donation for the RMI and the Mondavi Center, including scholarships for students in the College of Agriculture and Environmental Sciences. Her support was indicative of her dedication to furthering the opportunities that students had for progressing their education.
"One of the most amazing things to me about Margrit was how much she cared about the students," Owens said. "She enjoyed meeting them and hearing about their lives and about their projects and so it was absolutely significant that she and Robert wanted to make a commitment to UC Davis."
Mondavi was also involved in a fundraising campaign for the school in which she served as a co-chair of the volunteer campaign committee. At its inception in 2010, the campaign aimed to raise a $1 billion through donations made to the school over a span of the next few years. When that goal was reached in 2013, Mondavi went as far as making an appearance for a media event that recognized the achievement.
"Neither [she nor her husband were] an alum of the school, but they could see the good work that UC Davis was doing in so many different areas," Owens said. "They just believed in UC Davis. It is remarkable that the campus has friends like Robert and Margrit, and it speaks well to the campus."
Mondavi paved the way for art, wine and cuisine to come together across different venues. Her dedication to the university helped foster cultural interest and provided many opportunities for students and faculty to continue in these fields.
"She really gave us a chance to dream big," Colwell said. "She helped us dream […and gave] us the support and the vision that we needed. The gateway is such beautiful place on campus, and now the art museum is opening. It is beautiful space now that everyone can be proud of and I really do not think we would have that if it were not for Margrit."  
Written by: Amanda Cruz — features@theaggie.org