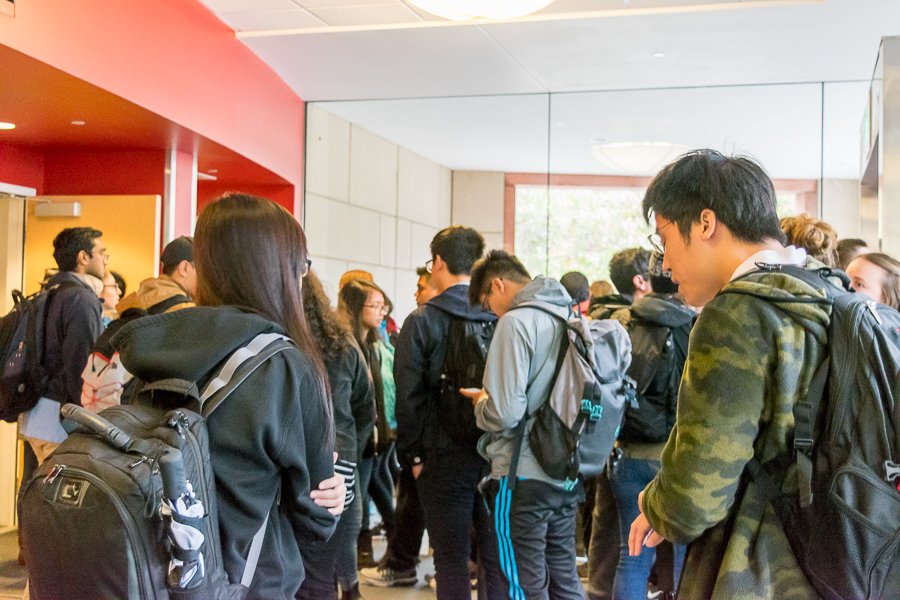 Construction in progress for classrooms, lecture hall spaces, triple-occupancy dorms
Increases in enrollment at UC Davis have created a demand for additional housing and classroom space. Due to both UC Davis' own 2020 Initiative and UC President Janet Napolitano's call for an increase in enrollment, UC Davis enrollment is now on an incline.
Numerous on-campus groups and organizations will be affected by the increase in the students, including Student Housing (SH) residents, sports clubs and administrators.
SH has been preparing for the increased enrollment, according to Richard Ronquillo, assistant director of Student Housing.
"I know housing has planned for those growths," Ronquillo said. "That's why we did a renovation of our housing facility in Tercero this summer — to accommodate the growth."
SH will open a new Tercero residence hall in fall of 2017, while plans for a second dining facility in Tercero and a two-year renovation process of Cuarto's Webster Hall are almost underway.
This year, some housing units were converted to triple-occupancy rooms in order to accommodate for additional students.
"A lot of our newer construction was built with the idea that it could be either double or triple [occupancy rooms]," Ronquillo said. "The square footage is there for triples if we need them, but we can also double them if that's what the need calls for. We have a lot of adjustment with our housing."
However, triple-occupancy rooms are not ideal for students like Harrison Morrow, a third-year wildlife, fish and conservation biology major who has lived in a three-occupancy room during his time at UC Davis.
"I lived [in a triple] and there must have been three other two-person rooms [in the suite]," Morrow said. "That's nine guys sharing one living space, two bathrooms and two showers. […] It gets kind of hard to move around there."
A separate yet similar challenge which Morrow currently faces is finding adequate space for the UC Davis club rugby team to practice on.  
"Oftentimes this year, we practice on Hutchison Field and about half of that field is taken up by [intramural] sports," Morrow said. "There's a group of graduate students that goes and plays soccer out there a couple times a week and oftentimes we will have to go and talk to them and be like, 'Hey guys, we have this field reserved actually.' That's kind of a testament to the fact that there are students who want to go out and have access to these open areas but there's not enough space to accommodate all that."
In recent years, UC Davis has resorted to using unconventional spaces as classrooms and lecture halls, including Jackson Hall in the Mondavi Center.
"I have a class in the Mondavi Center right now," Morrow said. "I don't think that was put there to accommodate academic needs. They are going to have to start finding more unconventional ways to house these students. […] I think it would be more worthwhile to just focus on your student body and making sure their experience is good without […] trying to enlarge it when you don't have the resources available."
Alternatively, Matt Traxler, associate vice provost for academic planning, supports the use of Jackson Hall as a lecture hall.
"I have been in Jackson Hall when it was being used for classes, and in my experience as a professor, it works perfectly fine as a lecture hall space," Traxler said. "It's a beautiful facility and the acoustics are fantastic. There have been some issues with some sound and display, but those have been worked through by the staff at Mondavi and I am confident that those issues have been addressed."
Traxler believes that UC Davis' most pressing concern is the need for larger lecture spaces, leading the university to turn to places like Jackson Hall.
"The reason why we approached Mondavi Center is because on this campus, the space needs we have are particularly acute in the larger classroom spaces," Traxler said. "There are some smaller classrooms where […] the supply is sufficient to meet the projected demand. […] Using Jackson Hall essentially gives us another large lecture space we can use while we finish off the new large lecture hall on California [Avenue], the rebuilding of Walker Hall and so on."
With a vast number of students transporting from class to class via bikes, bike parking is also considered in the choosing of lecture hall locations.
"[Bike parking is] something we worked on when we approached the Mondavi Center about using Jackson Hall," Traxler said. "It's something we talked to the Shrem Museum before they are letting us use their large lecture space. That corner of campus did not have much by way of bike parking so we made some investments to increase the number of bike parking spots over there so students taking courses [over there] would have a place to put their bikes."
Written by: Kenton Goldsby – campus@theaggie.org