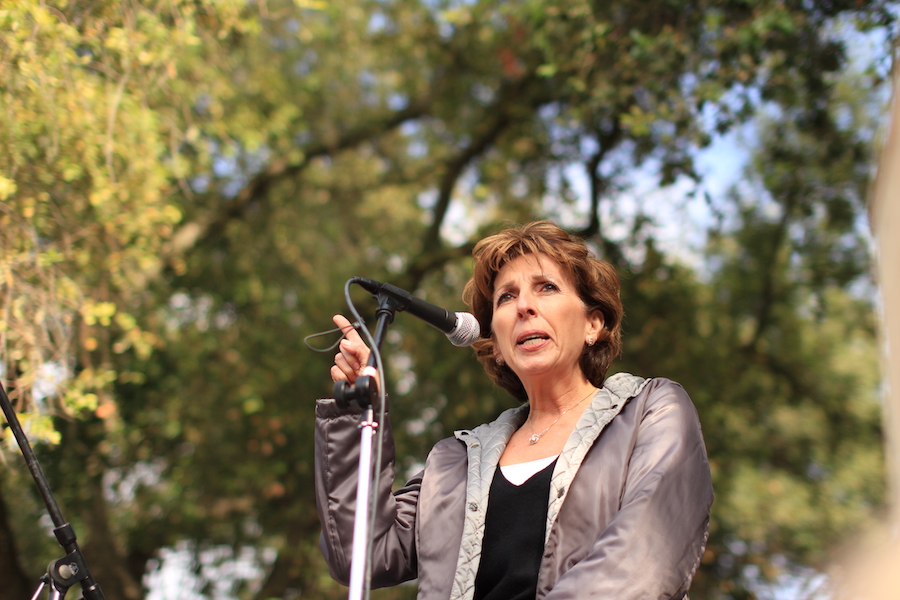 Katehi writes memoir, moves out of chancellor housing
Linda P.B. Katehi, the Former UC Davis Chancellor has settled into a paid sabbatical leave this academic year after a series of controversies. Katehi, who resigned as chancellor on Aug. 9, is currently writing a memoir about her experiences as a woman in the electrical engineering field and as an administrative figure. She will return to campus as an electrical engineering professor and researcher in fall 2017.
The $424,360 paid year of sabbatical leave provides a transitionary period for Kaheti.
"[I've] always wanted to write a memoir, and I found that being on sabbatical leave would be the best time to do it," Katehi said. "After that, I will be teaching next year and it would be very hard to write and publish."
Katehi believes that women often face higher scrutiny and are at times held to sexist standards.
"For the same mistake, women will be criticized more," Katehi said. "A lot of times they are called unable to lead. And I thought it's so important nowadays to talk about gender issues, and to talk about the glass ceiling."
Katehi recently moved out of the chancellor's house, located at 16 College Park Avenue. The university furnished the chancellor's house in 1998 for $185,000. When Katehi moved in, this furniture was donated and scattered throughout UC Davis buildings in order for Katehi to make room for personal furniture. As a result, UC Davis may now have to foot the bill to replace this "lost" furniture.
Brian Micek, a class of 1999 UC Davis alumnus, believes that Katehi should have kept the original furniture.
"You can reupholster furniture; you don't need to throw it out because it's inconvenient," Micek said. "I still use a dining table that's 100 years old."
Katehi, whose new title is "chancellor emerita" under an agreement with UC President Janet Napolitano in the resignation conditions, will shift to an electrical engineering professorial and research role next academic year. Katehi said that she is excited to move back into classroom instruction after her administrative duties of chancellor and that she has missed being a professor.
However, some UC Davis community members feel frustrated that Katehi has received a paid sabbatical leave and has retained a job on campus.
"As an alumnus, I was personally disappointed at Linda Katehi's tenure at UC Davis," Micek said. "The decision made about furniture at the chancellor's house shows how decisions were made in her tenure. A lot of decisions were made that were personally beneficial to Linda Katehi that didn't really encompass the ideal of a land grant university and a public."
Katehi plans on focusing on her upcoming academic endeavors rather than her past controversies, such as advocating for women in STEM.  
"Women have tried for so many years to break the glass ceiling," Katehi said. "I think, at least, I saw that, even now after so many years, we are not helping women find positions. In every profession, in every position, women have to do more than their male colleagues."
Katehi believes that there is a trend of women having to prove themselves as qualified, while men are automatically assumed to have potential.
"[Women] have to always demonstrate their ability," Katehi said. "Only 5 percent of Fortune 500 companies have women CEOs and less than 10 percent have women on their government boards."
Katehi hopes to see more women involved in STEM in the future.
"In engineering, there are very few women," Katehi said. "For years, I have had lots of experience in [electrical engineering]. I always thought it would be good to share it with women who are willing to grow into new professions, and to share with them my own experience."
Micek feels disappointed that the university has not been more open with the community regarding the controversies both leading up to and after Katehi's resignation.
"[I'm] disappointed to see Mrak Hall struggle with communicating the truth about what the chancellor had been doing on campus, whether the furniture or the donations she never donated that was supposed to go to scholarships," Micek said. "The spokespeople of campus never communicated truthfully and it didn't take long for the Sac Bee to point out the inconsistencies. Napolitano said 'Linda misled me' — she didn't know about the Internet scrubbing contracts."
Anthony Estrada, a third-year majoring in managerial economics, feels unsure if Katehi should be allowed to return as a professor at UC Davis.
"From the internet scrubbing, nepotism, conflict of interest, I wonder if she should be on paid leave and still allowed to come back on as a professor next year," Estrada said. "But I don't know if a man would have been punished less, or more."
Helen Bansen, a recent UC Davis graduate who was involved in the Fire Katehi movement, is disappointed that Katehi will be returning to campus.
"I'm frustrated that Katehi is still on campus and allowed to stay in Davis, and that essentially she was given the choice to resign rather than being removed," Bansen said. "I feel like the things she did and the role she continues to play in a number of companies don't have the students' best interest at heart. I'm hoping [there] will be a resurgence of the Fire Katehi movement because she is still given a huge amount of leeway that other people would not have been given."
Written by: Aaron Liss — campus@theaggie.org