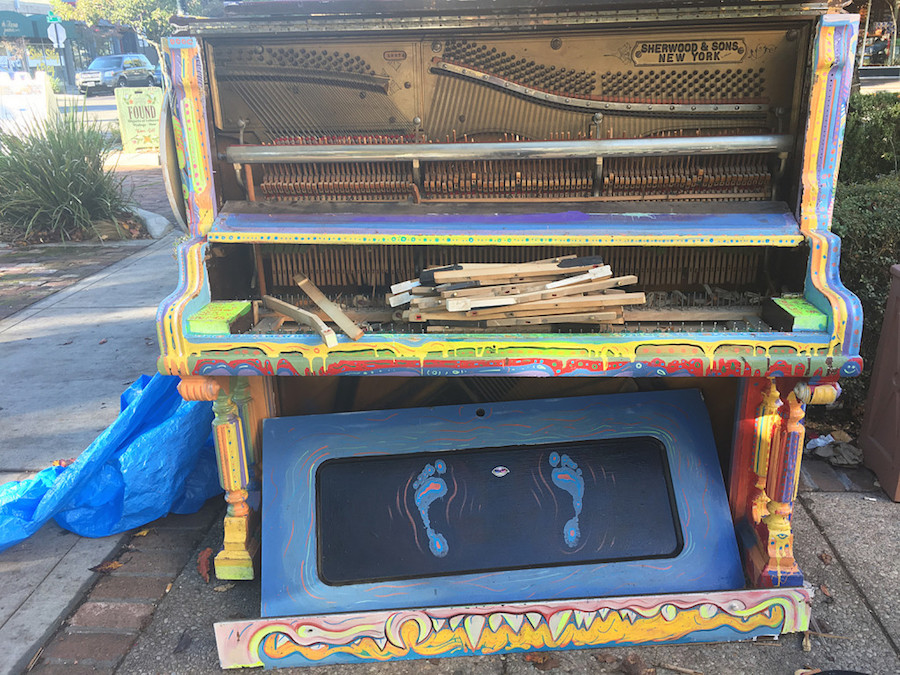 Ornamental piano outside Mishka's Café vandalized in broad daylight
The public piano on the corner of Second and E Streets was vandalized in broad daylight on Nov. 1. The piano was one of five set out this summer by the City of Davis as part of the 'In the Key of Davis' program. The program, which was conceived two years ago by local high school students, places pianos in public settings around Davis for community members to play.  
The piano that was vandalized was a particularly artistic one — over the summer, it had been painted by artist Will Durkee.
"I designed that piano to inspire people, to make it colorful and interesting, and I was trying to make normal life more interesting. […] I feel that art and music are some of the most important, joyful things in the human experience," Durkee said.
The piano was well-liked by many Davis residents. Loshandra Ostrava, a piano and guitar instructor who teaches both privately and at the UC Davis Experimental College, frequents Downtown Davis and enjoys the public pianos.
"I think it was great, […] it turned that into even more of a public space. […] It's a really organic way for people to share, and I was just amazed at the musicians coming through and playing it, students and community alike," Ostrava said. "I don't think that vandalism should preclude them replacing it with another piano."
The damage to the piano was extensive and irreparable. It has been given to the Peregrine School in South Davis, where students will reimagine its purpose. Artist Will Durkee, the painter of the piano, sees this donation as the silver lining of the vandalism.
"They're going to try and rebuild it and turn it into like a cool art project, you know, to try and repurpose it in a creative way, so I think that's really good. […] Creativity will always be more powerful than destruction," Durkee said.
Davis police have reported that there has been an increase in vandalism in the past few weeks. They have asked anyone with information regarding vandalism or other crimes to report it by calling their main phone number at 530-747-5400.
Written by: Raul Castellanos Jr. — city@theaggie.org