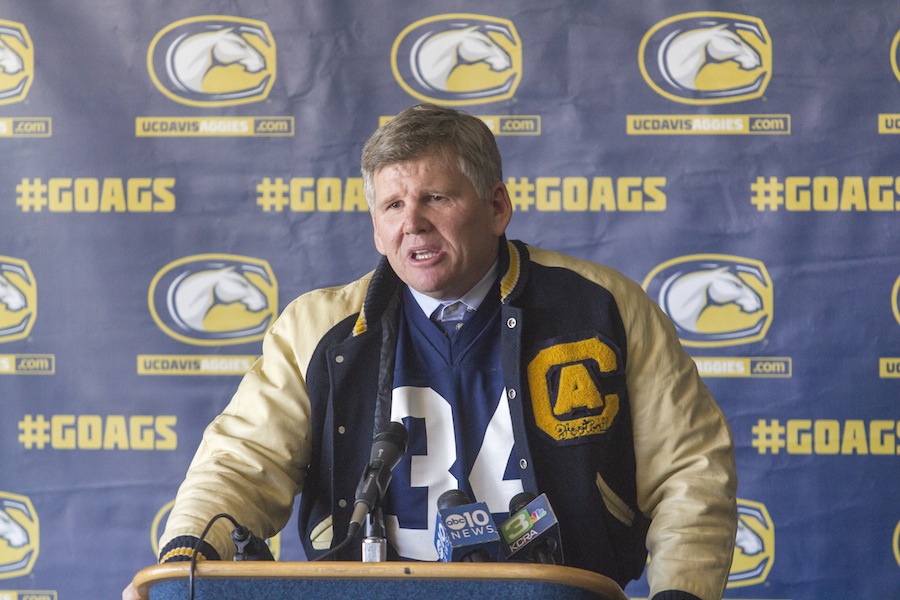 Dan Hawkins, who played under Jim Sochor, returns to UC Davis to coach football
A new era of Aggie football is underway as Dan Hawkins returns to UC Davis as head coach.
Hawkins played fullback on the 1982 NCAA Division II championship runner-up team alongside NFL first round pick, quarterback Ken O'Brien, and under legendary head coach Jim Sochor. The following year, Hawkins joined Sochor's coaching staff as an assistant before taking a head coaching job at Christian Brothers High School.
"I've always said this place was my baptism of excellence," Hawkins said during his welcoming press conference. "It showed a little guy from a town of 500 people what you truly can accomplish. It's really what life's about. The quality balance of life really started here. Everywhere I've been, I've tried to echo that same experience."
After his time coaching at Christian Brothers, Hawkins became one of the premier coaches on the college football landscape. After winning three conference titles at Willamette University, Hawkins brought the Boise State football program to national prominence as head coach from 2001 to 2005. During his five year tenure with the Broncos, Hawkins recorded Jim Sochor-esque numbers, compiling a 53-11 overall record, including a staggering 37-3 Western Athletic Conference mark. Hawkins guided Boise State to bowl games four of the five years he was there.
Hawkins was unable to find similar success at his next stop with University of Colorado in the Big 12 Conference where his five year contract was cut short in the final season after finishing with a 19-29 overall record.
"We're going to do things in a national championship fashion. There are things that the science of football demands," Hawkins said. "Those are metrics and analytics we need to look at and determine, why are we not as good on third down as we should be? What is the functionality of that? We need to have a starting point."
Hawkins now returns to where his playing and coaching career began, attempting to reinvigorate a once perennial powerhouse football program that has suffered six losing seasons in a row. He replaces former head football coach Ron Gould, who ran the program for the past four years.
Written by: George McConnell — sports@theaggie.org