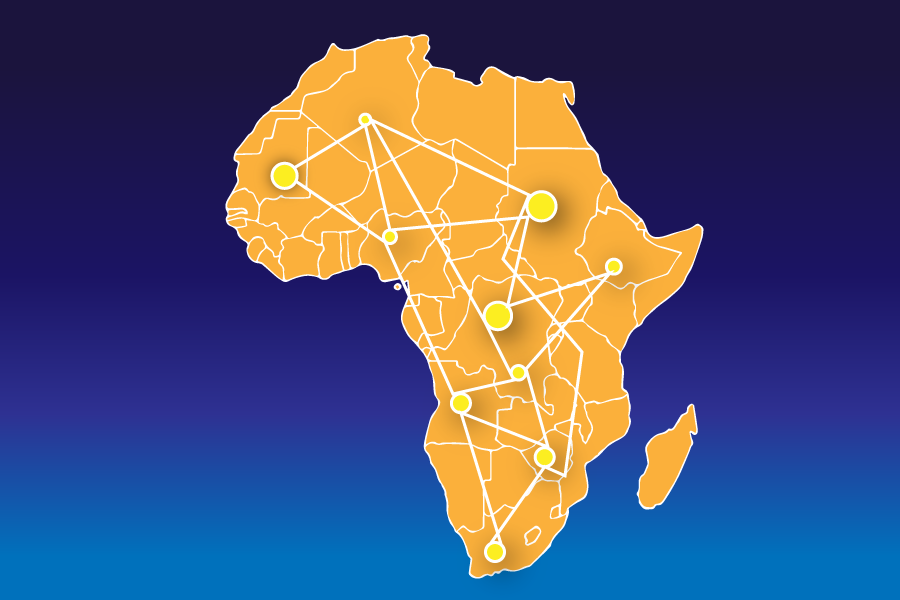 Summer fellowship promotes sustainable energy solutions
Dysmus Kisilu fulfilled his dream of becoming an Aggie by participating in the Energy Institute for Young African Leaders at UC Davis in the summer of 2016. Now, Kisilu is working closely with farmers to reduce food waste in Kenya.
After a successful program last summer, students interested in addressing energy problems in their countries will have the opportunity to participate in the Mandela Washington Fellowship by attending the second Energy Institute at UC Davis from June 16 to July 30.
The six-week program will welcome 25 fellows, aged anywhere from 25 to 35, from sub-Saharan Africa to engage in workshops and coursework to improve their home countries' energy conditions. These fellows have already made large environmental impacts in their home countries, but the program will boost their leadership skills within the energy sector of their career paths by enabling them to collaborate with the UC Davis community.
For Kisilu, a fellow from Kenya, the institute gave him the tools he needed to tackle food misuse.
"One-third of the world's available food either spoils or gets thrown away — that's enough to feed everyone in the world for two months," Kisilu said via email. "[With] a population expected to increase [by] two billion by 2050, we cannot afford to allow these losses to continue."
Jennie Konsella-Norene, the institute's administrative director, said that competition for the fellowship is immense; there were 60,000 applicants this year, but only 1,000 will be accepted. Fellows will then be divided among the 38 institutes around the U.S., and 25 leaders will be allotted to each. At the end of the program, fellows will travel to Washington, D.C. to network and participate in discussion panels with U.S. leaders.
There are three themes for applicants to choose from: civic leadership, public management and business and entrepreneurship. Recently established as the most sustainable university in the world, UC Davis was selected to be a public management institute, but it was also awarded a concentration in energy policy. Academic director Peter Hartsough does not consider the special curriculum to be a coincidence.
"The strength of our renewable energy sector expertise [is] a big part of why we are the only institute that has an energy focus," Hartsough said.
Hartsough added that the U.S. Department of State and International Research and Exchanges Board support the Mandela Washington Fellowship within the Young African Leaders Initiative.
"Two out of every three people in sub-Saharan Africa lack access to electricity," Hartsough said. "So it's a broad public diplomacy program."
Konsella-Norene said that the fellows will participate in various projects, volunteer work and visits to the Lawrence Berkeley National Laboratory, the California Lighting Technology Center, West Village and the UC Davis Solar Farm. Fellows will also collaborate with the UC Davis community by working with graduate students, undergraduate interns and policy-makers in Sacramento.
"[The program] gives [fellows] an opportunity to talk amongst themselves and compare how things are done within their own countries," Konsella-Norene said. "So they gained a lot just from talking with each other."
Hartsough said the interaction between the fellows and the UC Davis community has natural benefits, as their alliance enhances "global awareness" and forms long-lasting bonds.
"When people return home they always think of themselves as Aggies," Hartsough said. "[Fellows] think of UC Davis when [they consider] collaborating with a university in the future."
Upon returning to Kenya, Kisilu began executing a Zero Energy Cool Chamber (ZECC) and training women to operate and preserve the ZECC.
"The impact of this will be a reduction in post-harvest loss from 60 percent to less than 10 percent," Kisilu said. "I am [also] working to reduce marginalization by creating jobs and fostering the next generation of young women entrepreneurs in Kenya."
Hartsough and Konsella-Norene encourage UC Davis students to interact with the fellows this summer to strengthen their global relations. Kisilu said that he was inspired by the "power of youth to imagine, innovate and make a difference" as a result of connecting with the other fellows.
"The 24 young African leaders I met challenged me to dream bigger and aim higher," Kisilu said. "Both ladies and men are working on solutions to change the energy situation in Africa. It's so motivating to know that you are not alone."
Written by: Jeanna Totah — campus@theaggie.org