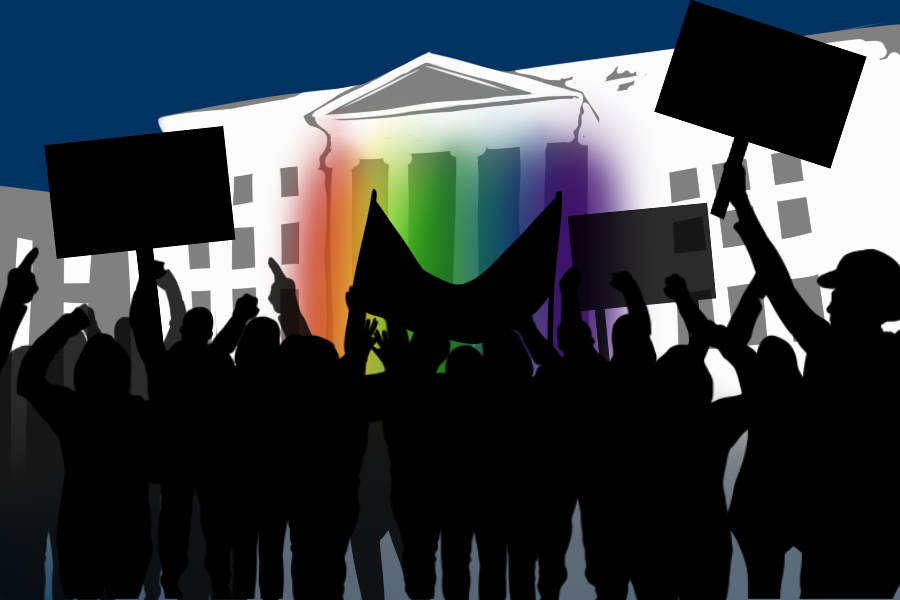 Protest of Milo Yiannopoulos at UC Berkeley turns violent
On Feb. 1, about three weeks after Milo Yiannopoulos' speech at UC Davis was cancelled due to on campus protests, Yiannopoulos was again turned away from his UC Berkeley visitation by a peaceful protest turned violent
Currently on his "Dangerous Faggot" college tour, Yiannopoulos is the former editor of the controversial far right conservative website, Breitbart News. Yiannopoulos resigned from Breitbart New on Feb. 21 after his past comments on pedophilia sparked outrage.
Preceding his Berkeley event, Chancellor Nicholas Dirks of UC Berkeley sent out a statement to the staff and student body.
"Mr. Yiannopoulos is not the first of his ilk to speak at Berkeley and he will not be the last," Dirks wrote in a letter to the staff and student body. "[…] As always, we encourage those of you who wish to exercise your right to protest this event to review our standing suggestions regarding how to protest safely."
Peaceful protesters gathered outside at around 5 p.m., three hours before the start of the event. By 6 p.m., groups of black-clad figures later identified as the anarchist "Black Blocs" shot fireworks at the student union and smashed windows of various buildings, with the event declared cancelled after fifteen minutes.
In response to the incident, President Donald Trump tweeted, "If U.C. Berkeley does not allow free speech and practices violence on innocent people with a different point of view — NO FEDERAL FUNDS?"
The statement drew visible confusion from the Internet and from students on several other UC campuses, questioning if Trump would "defund" UC Berkeley along with the rest of the UC system.
Yiannopoulos, who has been criticized for preaching what has been called fascist rhetoric, later called Berkeley protesters "batshit crazy leftists" in a Breitbart article addressing the riot that spurred on the president to threaten a withdrawal of federal funds. He has previously been labeled a troll and provocateur, using the Internet to build himself a platform for touting hate speech toward feminism, the transgender community and the Black Lives Matter movement — to name a few.
"There's even better news," Yiannopoulos wrote. "There's a way to defeat protests without buckshot, foam cannons, or pepper spray […] defund UC Berkeley, and any other campus that encourages the mad, radical politics that is now causing violence on America's streets on a daily basis […] President Daddy, tear down their funding."
Despite backlash, many UC Berkeley students have remained passionate defenders of their beliefs and their university.
"The City of Berkeley, and the East Bay as a whole, has always been a historically liberal setting," said Eda Yu, a fourth-year chemical biology and French double major at UC Berkeley.
Yu, also a writer for the Huffington Post, penned an article elaborating on the effect that radical groups like "the Black Blocs" have on UC Berkeley's credibility as a politically active university. She claimed the violence, though, was both predictable and somehow inevitable.
"It makes sense that those in the larger community outside of U.C. Berkeley's campus would feel compelled to engage in physical demonstration the night Yiannopoulos came to speak," Yu said.
In the past, a number of events hosted by the Breitbart editor have ended in varying levels of violence spurred on by hate.
At an event at the University of Washington in January, a protester was shot and badly wounded by a supporter of Yiannopoulos. Yiannopoulos was also banned from Twitter for instigating violently racist and sexist hate speech against SNL actress, Leslie Jones. During a show at the University of Wisconsin-Milwaukee, he singled out and humiliated a transgender student from the university.
Actions like these have led to tensions between Yiannopoulos and college campuses rooted in progressive doctrines. Such tensions rose at UC Davis on Jan. 13 in a peaceful, but large protest when the Breitbart editor planned to speak. The protest ultimately ended in a cancellation, much like at Berkeley, and drew national attention to the UCs for false reports of bricks being thrown through windows.
Yiannopoulos appeared the next morning on the UC Davis Quad for a crowd of about 150. While on the Quad, Yiannopoulos also jokingly recreated the infamous campus pepper spray incident with silly string.
Written by: Caitlyn Sampley — city@theaggie.org