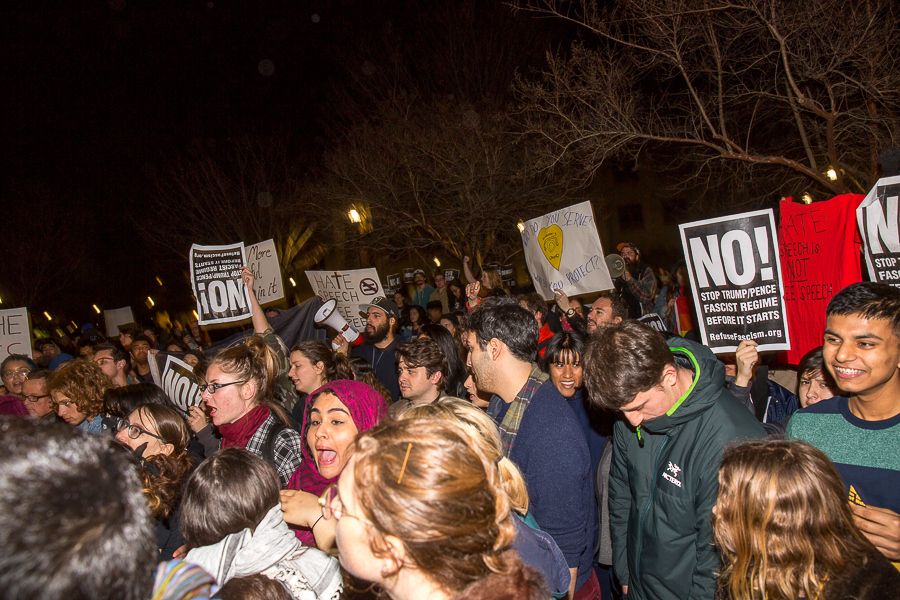 Some activists in favor of Yiannopoulos, others accuse speaker of fascism
On Jan. 13, the controversial ultra-conservative speaker Milo Yiannopoulos was to speak at UC Davis as part of his "The Dangerous Faggot Tour" with guest pharmaceutical executive Martin Shkreli. The event, hosted by the Davis College Republicans (DCR), was subsequently cancelled 30 minutes prior to Yiannopoulos taking the stage due to mass protests outside of the Sciences Lecture Hall venue.
Prior to the 7 p.m. start time of the event, a crowd of hundreds gathered to protest it. Many wore black handkerchiefs as face masks and held signs suggesting that Yiannopoulos and his fans were fascist and promoting hate speech. The protesters also chanted sayings such as "No Milo, no KKK, no fascist USA," "Say it loud say it clear, racists are not welcome here" and "This is what democracy looks like." Eggs were thrown during the protest and an ABC News cameraman reportedly had hot coffee thrown at him.
According to Yiannopoulos' Facebook page and the DCR, the violent nature of the protestors resulted in the event's cancellation. However, the majority of those present at the event were nonviolent, and according to a statement released by Interim Chancellor Ralph J. Hexter, there was no property damage and only one individual was arrested.
The cancellation upset many who had planned to attend the event.
"It's pretty upsetting that a group of people who claim to be anti-fascists are coming here to make sure no one can hear something," an individual waiting in line to see the event said. "I hope they see the irony in that. I went up towards the door just to see what was going on. I was wearing my [Make America Great Again] hat, someone stole it off my head and shoved me in the back, when I turned around they were sprinting away. I guess the key to stopping fascism is blocking people's speech and petty theft […] I enjoy Milo, I enjoy the free speech aspect. I think it's a lot of fun, and I came to be informed and be entertained."
Other types of protests were also present at the event. One activist group stood in a line adjacent to the Sciences Lecture Hall holding signs that promoted love to minority groups. This protest was nonviolent and instead hoped to offer support to those that would feel targeted by Yiannopoulos' talk.
"We are protesting Milo Yiannopoulos being here and giving him the platform that comes with a prestigious university," said Christina, a UC Santa Cruz alumna. "He obviously says things that he's allowed to say. Freedom of speech, totally! But that does not mean freedom from consequences. I think he does hate speech, I think [his words] are very violent and words matter and they have a huge impact. I think allowing him to be here is making the students unsafe."
Additionally a third protest outside of the Sciences Lecture Hall was in favor of allowing Yiannopoulos to speak. These individuals held signs that read, "Protect free speech even 'hate' speech," and promoted preserving Yiannopoulos' event for the sake of allowing freedom of speech.
"Well I heard that Milo was coming and I've seen him at other universities and the reaction that it gets," said activist Ani Zickuh. "There's been times where he's had to cancel events so I wanted to show up and support [Yiannopoulos] because I think it's important to have different viewpoints, especially on a campus with learning because it opens discussion and encourages free thinking. […] Honestly I don't agree with a lot of what he says, but I can only say that because I've actually listened to him."
On Jan. 14, Yiannopoulos and the DCR held a protest against the event being cancelled, claiming that it was due to pressure from the university.
UC Davis received considerable media attention from Yiannopoulos' visit. The story was picked up by local news stations including The Sacramento Bee, the L.A. Times and the front page of Internet forum site, Reddit.
Written By: Lindsay Floyd — campus@theaggie.org