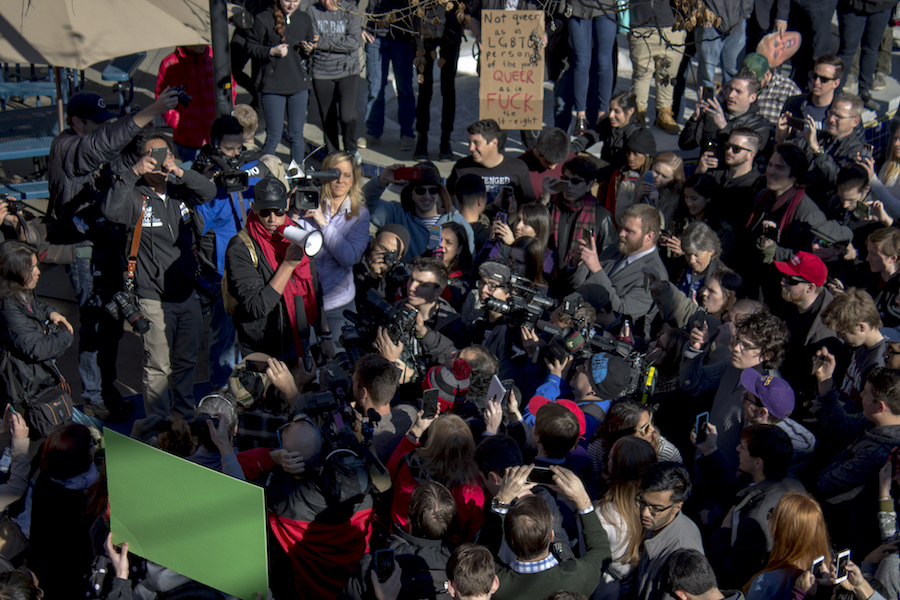 Yiannopoulos explains event's cancellation, marches with students, community members
A protest was held at the Memorial Union (MU) on Jan. 14 in response to the cancellation of the Milo Yiannopoulos speaking event the night before. The Yiannopoulos event, which had faced backlash from the campus community, was cancelled about a half an hour before its start time due to hundreds of people protesting outside of the venue.
"We will not stand for the regressive left perpetuating violence, censoring speech and spreading hate," read a Facebook post by the Davis College Republicans (DCR), the club that organized Yiannopoulos' visit.
Yiannopoulos posted on his Facebook page about today's protest as well.
"Come join us at 1 p.m. today in the Quad at UC Davis to protest the university's pathetic failure to protect free speech," he wrote a few hours before the protest.
Over 100 people — a mixture of UC Davis students and community members — came to the protest. Several people attending came with posters or donned "Make America Great Again" hats, a signature piece of merchandise from Donald Trump's successful presidential campaign.
"We're here today to protest the actions that went down last night, the violent anti-free speech protesters," said a sophomore at local high school Da Vinci Charter Academy who wished to remain anonymous. "We're going to be responding to that with a little bit of a protest of our own. A protest in support of free speech."
Although the protest was scheduled to begin at 1 p.m., Yiannopoulos did not arrive until about 1:50 p.m.
Yiannopoulos spoke for about 10 minutes to the crowd. In his speech, he claimed that DCR was pressured into cancelling his speaking event.
"Your university is trying to claim that the College Republicans cancelled the event last night," Yiannopoulos said. "Well that's only true to a point. It's true because they were told by the police that they would be responsible for property damage […] so the university heavily pressured the College Republicans [to cancel it]."
When pressed as to why he chose to continue his speaking tour, Yiannopoulos said that he wanted to remind people that they can always express themselves.
"What I'm trying to do with the tour is remind people that nothing bad happens if you use words you're not supposed to use," Yiannopoulos said. "And words only have the power you give them. People should be free to express themselves however they want."
Yiannopoulos and the protesters marched throughout campus before reenacting the 2011 pepper spray incident with silly string that Yiannopoulos had brought with him.
While some actively countered Yiannopoulos' protest at the MU, other demonstrators from the night before decided to host a fundraiser for the Sacramento chapter of Black Lives Matter at Davis' Central Park.
"We organized the protest last night and it was effective and it worked — we shut it down," said Bernadette Fox, a fourth-year international relations and women's studies double major. "This morning everybody was so drained. We woke up and it was like 'oh great, they're coming back.' So we came to the consensus that we didn't feel like we had the numbers really to […] shut it down again and we also saw all over Milo's page and the Davis College Republicans' [page] a lot of people asking like other self-identified white supremacist-type of people who are very violent to come, so we anticipated that there would be a high level chance for people to get hurt and we didn't want to put people in danger."
Written by: Alyssa Vandenberg  — campus@theaggie.org. Eli Flesch contributed reporting.