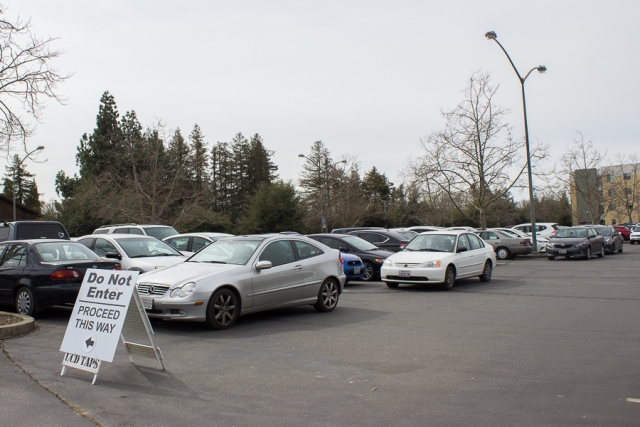 TAPS to create alternatives to single auxiliary vehicular use
The colder, rainier months of Winter Quarter often lead to an influx of students driving to campus. To accommodate the increased numbers of vehicles, Transportation and Parking Services (TAPS) implemented the stack parking program on Feb. 13.
The stack parking program started as a temporary solution to mitigate the augmented amount of cars being driven to campus during the winter months. The program is meant to be dissolved at the end of Winter Quarter, as more students decide to use active transportation, such as biking or walking, to get to campus during Spring Quarter.
"The number of spaces created by stack parking is contingent upon the parking facility's space inventory and layout," the TAPS website reads. "For example, the daily parking capacity in Lot 47 will increase by 100 spaces and in the Quad structure by 120 spaces."
Based on fiscal estimates provided by TAPS, the program will cost around $45,000 to operate. The daily cost at the Quad Parking Structure is $1,750.50, which pays for seven hired attendants, and $631.50 for Lot 47, which has four.
A long-term solution to accommodate student parking would be construction of a new parking structure. Currently the campus has three parking structures, the largest being the Pavilion Parking Structure, which is six stories tall and can hold a total of 1,453 cars. According to TAPS Director Clifford Contreras, it costs approximately $30,000 per space to build a parking garage. By this estimation, the Pavilion Parking Structure would have totaled around $43.5 million to construct.
Additionally, Contreras noted that stack parking provides more flexibility in terms of its presence and use.
"At the end of the day when we don't use [stack parking] anymore, it goes away," Contreras said. "It's so expensive to build parking on campus."
Rather than spend funds on accommodating for extra parking, TAPS plans on creating new initiatives to encourage alternative modes of transportation. Alta Planning and Design has been hired to create programs, engage the campus and conduct surveys to identify ways to reduce the number of single, auxiliary vehicular use.
"We see this as a stop gap measure to put in place until we are able to create reward packages," Contreras said.
Contreras did not mention what these "reward packages" will specifically entail.
According to a 2015-16 UC Davis Campus Travel Survey Report, on average 22.9 percent of students drive their cars alone onto campus.
"On an average weekday, about 87.1 percent of people physically travel to campus, (approximately 38,319 people) including those living on campus," the report read. "Among these, 45 percent bike to get there, 7 percent walk or skate, 23 percent drive alone, 5 percent carpool or get a ride, 19 percent ride the bus, and 1 percent ride the train."
UC Davis is currently working toward a 10 percent reduction in the number of cars driven to campus by 2025. Contreras hopes that this can be achieved with help from new reward package programs.
Written by: Lindsay Floyd — campus@theaggie.org