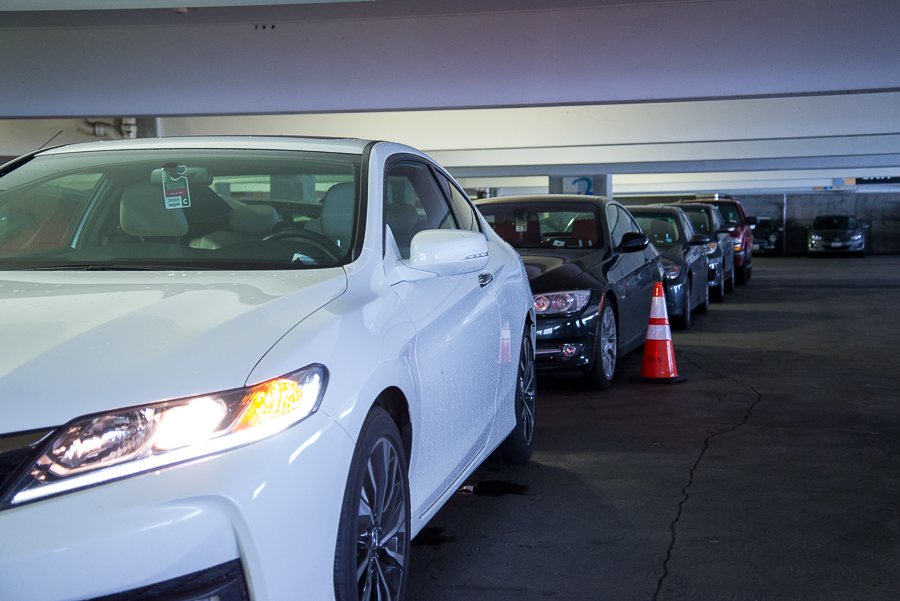 New parking program aims to increase parking availability during rainy season
A new parking program referred to as "stack parking" was implemented by Transportation and Parking Services (TAPS) in the Quad Parking Structure and in Lot 47 on Monday, Feb. 13. The program is in operation Monday through Friday, 7:30 a.m. to 6 p.m. and will conclude at the end of Winter Quarter.
TAPS implemented the new parking program in response to an increasing number of students who are driving to campus during Winter Quarter due to weather conditions. Stack parking increases the number of spaces available by allowing parking behind cars in an aisle once all spaces are full. Drivers leave their car keys with an attendant from a third-party vendor (Corinthian International Parking Services), and the car is then moved by a professional parking attendant if other drivers need to leave the structure.
According to the TAPS website, stack parking is unlike valet parking, because cars are self-parked and no extra fees are charged for the car moving service.
"Stack parking allows drivers to self-park in an available parking space where their permit is valid […]The driver will exit their vehicle, lock the car and provide the door/ignition key to the attendant on duty," the TAPS website reads. "A claim ticket will be provided to the driver for reclaiming the vehicle/key later. The attendant will move the vehicle only as necessary to allow safe exit by another vehicle, or to move it to a regular parking space if one becomes available. Attendants do not accept tips or collect fees of any kind."
Stack parking is only a temporary solution provided by TAPS while it works to develop other strategies to solve the increasing demand for parking spaces without excessive spending for construction of a new parking structure.
Some students believe it would be much more user-friendly to build a new structure altogether. Hannah Lau, a third-year veterinary science major, is skeptical about stack parking as a solution to the lack of available spaces on a daily basis.
"I think [stack parking] would be time inefficient," Lau said. "You would have to wait for a car to be moved in order to leave the parking lot or get your keys from the parking services coordinator. In the case of an emergency it would be frustrating. I think it would be better if they just built a new [structure]."
Others, such as James Gonzalez, a third-year math major, see why stack parking may be useful. Gonzalez parks early enough to avoid using the service, but he thinks it may help some people who arrive on campus later.
"I don't have any problems with parking during the winter," Gonzalez said. "I haven't used the program so I don't think it's necessary but for some people who come later it might be good."
More information on stack parking can be found on the TAPS website.
Written by: Kaitlyn Cheung — campus@theaggie.org