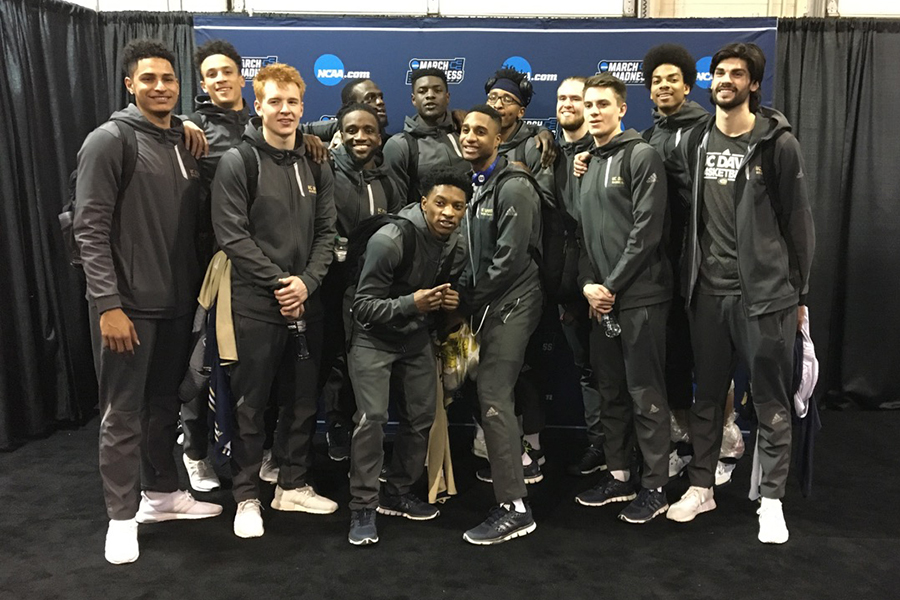 Men's basketball team reflects on historic NCAA run
On Saturday, March 11, the UC Davis men's basketball team defeated UC Irvine 50-47, winning the Big West Tournament for the first time in school history and clinching a spot in the NCAA Tournament. While larger sports programs like Duke or UCLA may see a trip to the tournament as a mere formality, for schools like UC Davis, it is considered to be another step in securing a place in the world of college basketball. Although the six days following the win over UC Irvine proved to be daunting, they were some of the most memorable days in the lives of both coach and player alike.
For alumni, students, faculty and members of the surrounding community, the tournament appearance was a monumental opportunity for the Aggies, and the players and coaches knew this. Assistant Coach Kevin Nosek spent his childhood in Davis, eventually attending, playing basketball for and graduating from the university in 1999. He has been part of the UC Davis family off and on for over 20 years, and, as a result, this experience was extra special.
"It was something not only that have I been working on as a coach, or dreamed about as a child," Nosek said. "As an alum, I do feel as though I carry the torch for many, and I take a lot of pride in that, and that was a really special moment to be able to share that moment with so many alums across the nation and across the world."
This civic pride was also felt by outgoing senior guard Darius Graham, who grew up in nearby Sacramento. For Graham, while March Madness was something that he often thought and dreamed about, the magnitude of the situation did not hit him right away.
"I didn't understand how big it was until we got back from Anaheim," Graham said. "The amount of people that were blowing up my phone, the amount of news people that were trying to contact me and get an interview, just how big it was for both Davis and Sacramento."
The ambition to experience March Madness didn't start with that win, however. According to both Nosek and Graham, inklings of March basketball came during the opening moments of the preseason.
"For this team, we scheduled the trip to Costa Rica for a tour this past summer because we knew we had a team that could compete for a conference championship and potentially move on," Nosek said. "So, a year ago now is when we really had an idea that this team had some special component to it."
From there, it was a long journey to make those dreams of March Madness a reality. Both Graham and Nosek were there two years ago when the team lost to Hawai'i in the Big West Tournament in what had, at that point, been the most successful season in the Division I era of UC Davis basketball. It was that heartbreak that guided those who played for and coached the team to drive forward and finish what they had started.
"I told them that I vividly remembered my sophomore season," Graham said. "Losing to Hawai'i in the Big West tournament, walking off the court, and just all the things that came about with that. I was very emotional at that time, and I knew that these opportunities don't come across a lot. So I was happy that we got this opportunity again, a lot of the seniors were happy to get the opportunity again."
On March 12, "Selection Sunday," it became official. Over the next five days, the team found itself hopping between Davis, Dayton, Ohio and all the way to Tulsa, Okla. Between the hectic travel and the newfound national spotlight, it would have been easy for the team to get caught up in the moment, but the players never allowed themselves to lose sight of the final goal.
"Motivating these guys — clearly not an issue," Nosek said. "They were motivated to give everything and take care of everything they needed to get taken care of."
Graham echoed this sentiment when he reflected on the hectic week that preceded the tournament. He credited the coaching staff, led by head coach Jim Les, with keeping the team on its toes. Les already had his own fond memories of the NCAA Tournament, having coached his alma mater Bradley University to the Sweet 16 in 2006. He drew from this as he tried to motivate the Aggies.
"He understood," Graham said. "Even before we got to playing tournament, Coach Les was telling us 'You have to be able to block out the noise. Just like when you're not doing good, and people are talking negative about you, you have to block out that noise, you've got to same thing when things are going very good.'"
While the play-in game, a recent addition to March Madness, is seen by some as a middle-ground between conference tournaments and the NCAA Tournament, for schools like UC Davis, it is a time to make a name for the university before stepping into the round of 64. This was March Madness, and if anyone asked coach Nosek, the entire event started even earlier than that.
"I think the moment you start the Big West Conference, you're beginning March Madness," Nosek said. "And the moment you lose a game in the Big West Tournament your March Madness is over."
The Aggies used this mindset to push through into the round of 64, eliminating any of the doubts about the play-in game when they defeated North Carolina Central 67-63 in front of the entire nation.
From that point, as the 16 seed, the Aggies had no time to relax. In the history of the NCAA Tournament, a 16 seed has never defeated a one seed, but the players and coaches refused to pay attention to that.
"That's the opportunity you want," Nosek said. "In order to move on, those are the types of teams you're going to have to beat and try to compete with and that was what all of us wanted as competitors."
For Graham, it was just another game. While they may not have faced schools like this within the tournament, those opponents were the caliber of players whom he and the rest of the Aggies had played throughout their playing careers. They went out and competed against Kansas just as they did every other team.
"We couldn't go in there giving them the respect that they wanted," Graham said. "They had to earn that respect from us, and they did at the end of the game."
While the team was unable to overcome that hurdle, eventually falling 100-62, both Graham and Nosek have nothing but fond memories of their March Madness experience. For Nosek and next season's returning players, it was a season off which to build off of — and some extra motivation to go even further next year.
For seniors like Graham, it was a fitting end to a time in his life that he will always look back on fondly. While he can no longer help the Aggies on the court, he hopes that his time with the returning players can help them when he is no longer there.
"The crazy thing is when you go back two years ago to that senior class," Graham said. "There was a lot of things that they did verbally, but there were a lot of things that those guys did that I didn't even notice until those guys left. So there's going to be things that those guys notice that we did and that was done without being said. They're going to appreciate that kind of stuff. Now, they know that they can win, they're winners. They know what it takes to win, and they can move on from that. I think the future is really bright."
The memories of March Madness will linger with all who were involved with it. It will be a snapshot of a special time that coach and player alike got to spend with a group who joined together as a family and did what no other team in the history of UC Davis has been able to do.
For that, their legacy will live on well past their time with the school.
Written by: Bradley Geiser — sports@theaggie.org