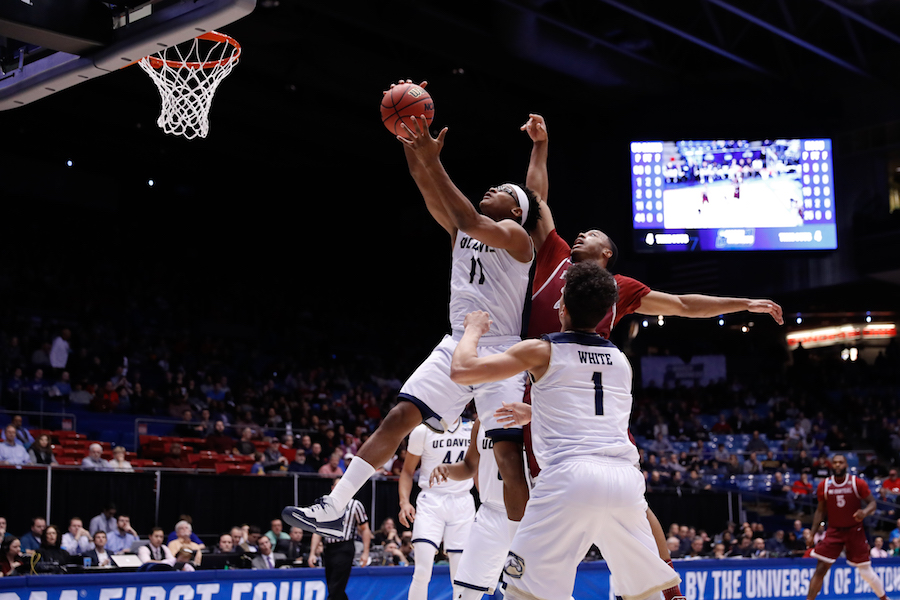 UC Davis men's basketball team beats North Carolina Central 67-63 in NCAA Tournament
In the first March Madness appearance in the program's Division I history, the UC Davis men's basketball team defeated the North Carolina Central Eagles 67-63 in an NCAA Tournament First Four matchup on Wednesday evening.
In a close game that saw the Aggies playing catch-up at the end of the first half, UC Davis quickly gained ground during the second and maintained the lead for the remainder of the game. The Eagles came within one point of the lead with less than two minutes remaining, but UC Davis hit just enough free throws to ensure that the Aggies stayed in front with a safe buffer in place. The Aggies held the edge in defensive rebounds, yet they committed 18 total turnovers.
Junior forward Chima Moneke led both teams in scoring with 18 points, going 6-6 from the free throw line, and he added 12 rebounds for the double-double.
Moneke was closely followed by senior guard Brynton Lemar, who added 15 points points and went 4-6 from the free throw line, and senior guard Lawrence White, who tallied 14 points and knocked down all four of his free throws.
"Before the game we just talked about having a fight," said head coach Jim Les. "This is a really good, connected team, and we as a staff just asked them to fight to keep it going. This has been an unbelievable ride and we're not ready to go home, and I can't tell you how proud I am of them for their resiliency — it was remarkable."
The UC Davis men's basketball team is now the number 16 seed in the Midwest Regional, and the Aggies will head to Tulsa, Okla. to play regional top seed Kansas on Friday, March 17.
"Our guys grew up as little hoopers dreaming about playing and having this opportunity, and so it's special to be here and we're just going to continue to fight to keep this story going," Les said. "When that ball goes up on Friday I'm not going to be thinking about what seeds [we are facing] — we're going to be playing basketball, competing at basketball, and like I said, the chips will fall where they may."
And of the formidable mountain to climb in facing a number 1 seed with Kansas? Considering that number 1 seeds have never lost to a 16 seed since the round of 64 was created in 1985 — compiling a record of 128-0 — Moneke had an optimistic response.
"It's going to happen eventually, that's how I look at it," Moneke said. "We all can play at this level. I don't fear anybody, but I respect everybody and I feel like with the way we play defense we can make any game a game."
Written by: Bryan Sykes — sports@theaggie.org