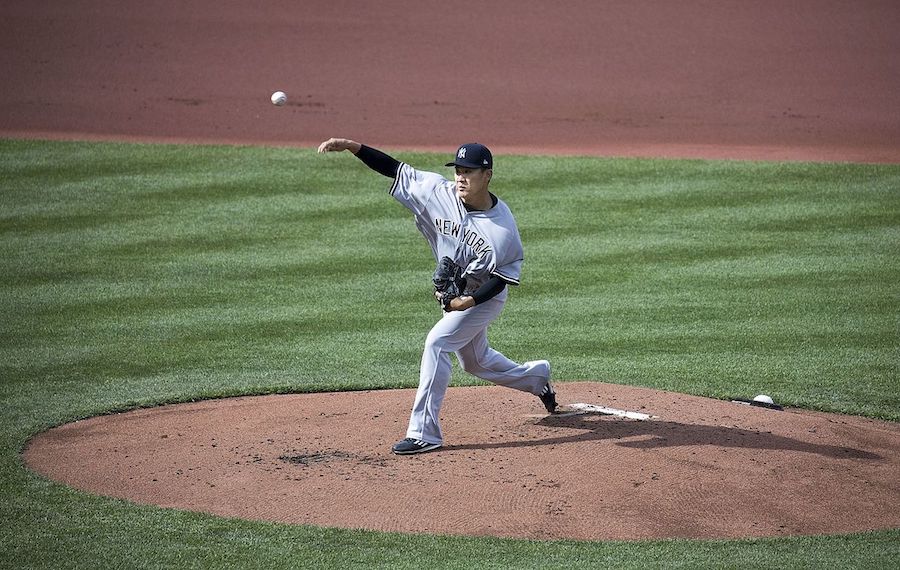 New York Yankees surprise with successful play this season
In one of the most surprising storylines of 2017, the New York Yankees have accelerated their rebuild and have thrust themselves into contention early this season. Since 2013, the Yanks have been in a state of purgatory. While they have remained afloat with four 80+ win seasons, they have been an unthreatening force in the playoffs and their success has been in question due to numerous bad contracts on their books, namely C.C. Sabathia, Mark Teixeira, Alex Rodriguez, Jacoby Ellsbury, Chase Headley and Brian McCann.
If you are not a Yankees fan, you are probably someone who loathes the club and has enjoyed their struggles since the most recent of their 27 World Championships. The Yankees are universally regarded as the most successful organization in American sports, and naturally, the success breeds hatred.
If your sports allegiance lies elsewhere, it has been difficult to watch big free agents head to New York on massive deals that other clubs do not have the luxury of doling out. Though New York's core has in the past hinged on free agent signings, the team's approach has since changed and has invested more in its farm system. This has been very successful and it looks as if the Bronx Bombers have found a more sustainable approach for the future.
Do you remember Aaron Judge, the larger-than-life right fielder who one time almost hit a baseball hard enough to decapitate an opposing pitcher? Well, it turns out that hitting baseballs very hard is something he does pretty consistently. In 95 plate appearances in 2016, Judge struggled tremendously, hitting a horrid .179. It was unclear if Judge was going to make the team in spring training, but the Yankees made the right call in handing him the starting job, as he has led the American League in home runs thus far with 13 dingers and a .315/.411/.739 slash line as a rookie. Judge may very well be the American League MVP through the first quarter of the season.
Additionally, Starlin Castro has been marvelous since being traded to New York in December of 2015. Castro once looked like he was the future of the Chicago Cubs, but he was squeezed out of Chicago due to the presence of Addison Russell and Javier Baez after a rough 2015 season. Following a strong offensive campaign in 2016, Castro has opened the 2017 season with even more forceful performance. He is third in the American League, with a .341 batting average and six home runs to follow.
Jacoby Ellsbury, Aaron Hicks and Matt Holliday have also been very solid in the outfield. After spending the previous seven seasons in St. Louis, Holliday signed a one-year deal in December with the club at the twilight of his career and has been a very valuable asset, hitting third in the lineup on most nights.
The Bombers have also had the help of a better pitching staff in 2017. Both Michael Pineda and Luis Severino have been excellent in the early going, after a 2016 season in which they both struggled. Pineda was frustratingly inconsistent while Severino was just downright awful, but they both turned it around and it has been a huge factor in the prosperity of the Yankees.
The bullpen too has been one of the best in baseball led by Aroldis Chapman, Dellin Betances, Adam Warren, Jonathan Holden and Chasen Shreve. The bullpen has the fourth lowest ERA in baseball and the fifth best in Wins Above Replacement.
The Yankees stand at 21-12 currently and are second in the AL East. There is good reason to believe that they can maintain this pace and legitimately contend come season's end, but there is still room for considerable improvement. Their best pitcher, Masahiro Tanaka, has struggled to the tune of a 4.36 ERA and 1.32 WHIP and is bound for improvement. Their star catcher, Gary Sanchez, has just returned from the Disabled List with a bicep injury. Didi Gregorius, the primary shortstop, has just returned from a DL stint as well.
The Yankees are slated to contend in the immediate future and beyond, and while many might be frustrated by their quick turnaround, it is great for the sport. When the premier club is at its best, viewership increases and fandom surges. The relevancy of the New York Yankees is critical to the popularity of baseball.
Written by: Michael Wexler — sports@theaggie.org