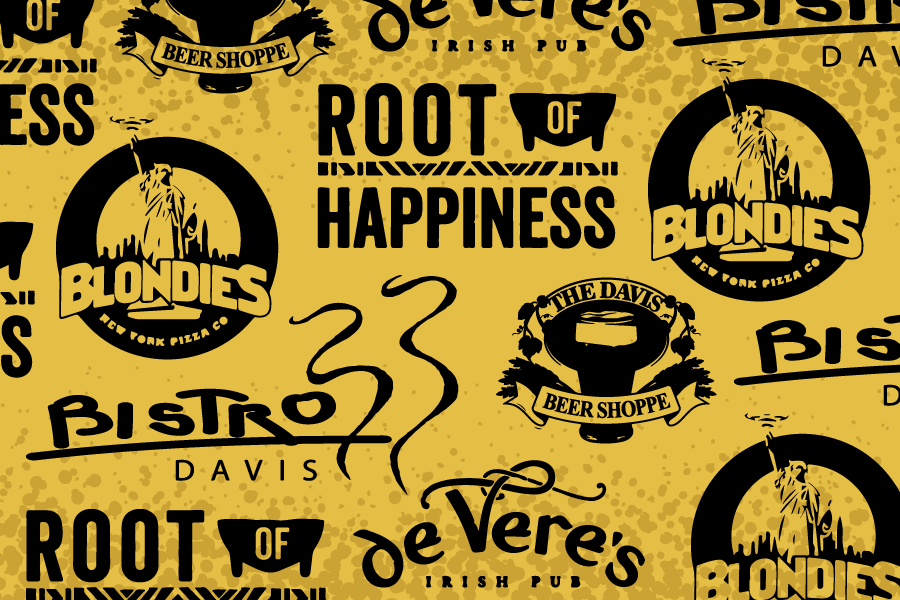 Comparing the environments of Davis' most popular watering holes
A stroll through downtown Davis offers a variety of options for bar hoppers. With each bar giving off its own vibes and attracting all sorts of patrons, there is something for everyone — from relaxed and laid back to lively and exciting, those 21 and over in Davis can find any kind of atmosphere they desire, any day of the week.
A downtown Davis classic, Froggy's, is located on the corner of 2nd and G streets and is the perfect setting for a low-key night. On a Friday night, though, audacious individuals can be seen through the rounded glass windows signing their hearts out into the microphone of the karaoke machine.
"Froggy's is a really fun dive bar," said Mona Kalantar, a fourth-year economics and history double major. "It's smaller, but I think because it's small, it's friendly [and] people are more inclined to talk to each other. If you're down to go out and meet people I think that's the place to go because people have the same kind of agenda in mind. I love Froggy's because of that — it's an intimate environment."
For a change of pace, all the way down the strip at the far end of G street sits Blondie's, a New York style pizza restaurant that was voted best bar in 2017's Best of Davis. After its grand opening last May, Blondie's has picked up in popularity, packing a full house on Thursdays, Fridays and Saturdays.
"Blondie's is [my] favorite place to go," said Magdelena Segovia, a fourth-year Spanish and major and education minor. "Before 10, it's around $15 to $20 for a big fish bowl and you just share it with a bunch of friends. That's enough for the night — […] and I think the DJ is what makes [the bar] really good. [Blondie's is] the bar to go to and dance."
Blondie's isn't the only bar in Davis to offer energetic nights filled with drinks and dancing, though, as G Street WunderBar is a staple of the Davis bar scene.
"Wunderbar [is my favorite] because there's the most to do," said Monique Hefter, a fourth-year economics major. "I feel like the vibe is the best because it's lively but not insane."
With lots of space and a range of attractions — from arcade games and old-school billiards to television sets lining the walls and a small center stage — WunderBar draws in people from across the spectrum including undergraduate and graduate students, folks from the community and out-of-towners. The general atmosphere of the place is casual and upbeat, yet maintains that classic dive bar style.
Kalantar is a fan of the bar's Funk Nights, which happen every Wednesday of the week and never fail to be packed and lively. According to Kalantar, WunderBar plays a variety of 70's music to dance to that never gets repetitive or old — every week is fun and fresh.
"G street [WunderBar] is by far the king of Davis," Kalantar said. "Everyone there is so friendly, the bouncers there are so sweet, the bartenders are sweet. They have three dollar jager bombs and skittle bombs and I think they have like one dollar [beers], but [they have] really cheap drinks, and it's always crowded."
Not too far from G Street WunderBar lies the asian-fusion Red88 Noodle Bar, decked out with a red and black theme and offering a cozy atmosphere for restaurant-goers. With funky drink names like Pacific Rim and Hot Lips, Red88 is a fun place for students to catch a late night drink — especially since it's open until 3am.
"I think it's my favorite bar to go to when you turn 21 because you spin the wheel and whatever drink you land on, that's what you get," Kalantar said. "It's always busy, I never see it on a day that's empty."
A block down from G Street is Bistro33. Although the restaurant offers Happy Hour everyday of the week from 3 to 6 p.m., Bistro is a popular spot on Thursday nights for its great mojito deal. With a sprawling outdoor patio and large firepit, Bistro can comfortably fit a party of two or a party of ten.
"[Mojito Night…] is fun because you can stick a bunch of straws in [the pitcher] and share them altogether [with friends]," Hefter said. "[The] place is nice because they have indoor and outdoor seating, so if it's nice [outside] you can hang outside."
Knowing that downtown Davis has options for whatever mood someone may be in, trying to hit all of the favorite stops is a part of the tradition of going out.
"[Going out is] the most fun if you just get a big group and have a chill night and wander," Hefter said. "We usually spend most of our time at one [bar], but we'll usually check out like one or two along the way. Everything is within walking distance, so it's cool to be able to not have a set plan and just stray."
Bar hopping in Davis is pretty typical, and one of the perks about having these locations be within a couple minutes walking distance is taking advantage of one of Davis' time-old bar traditions: The Trinity.
The Davis Trinity is a ritual that takes place between three bars and entails drinking three loaded drinks all in one night. It starts with the Wicky Wacky Woo at Bar Bernardo, followed by the Devastator at Bistro 33 and ending with the FML at Red88 Noodle Bar. To amp up the tradition, patrons are challenged to accomplish the task within 90 minutes and often find themselves affected for the rest of the night — a pre-game is never needed.
"I feel like it's a rite-of-passage type of thing — everyone talks about it," Segovia said. "You gotta do it before you graduate. I do know that there's two different types: there's the Davis Trinity and the Holy Trinity."
The Holy Trinity is essentially the same, but at Bistro 33 the drink becomes the "Double Devastator" and at Red88 to the "Super Super FML," either amped up in size or in amount of alcohol. Students who take on either of these challenges typically prepare ahead of time by eating heavy foods and drinking lots of water.
The bar scene in Davis extends beyond a night out on the town with friends, though. One of the most popular daytime spots is none other than 3rd and U Cafe, only a block away from the heart of campus.
"It's the best," Kalantar said. "I went yesterday and I drank a beer before class, I think everyone goes there to decompress. [If you] live downtown, you walk by on purpose to see if you know anyone there so you have an excuse to sit and drink beers with them."
3rd and U is a great place to stop in for a "study beer," too, with great deals like three beers for $6, according to their website. The establishment emanates vibes that are more synonymous to a cafe than a bar or restaurant, which is what gives it such an attractive quality to students and folks who want to grab a drink any time of the day.
No matter where one may end up by the end of the night, the quality of the bar-hopping experience can be attributed to the aspects that make Davis, Davis.
"To sum up, I think [Davis' bar scene] is really good," Segovia said. "I've gone to a few [bars] in Sac and [San Francisco], and compared to those [Davis] is not as crowded, but I think that's what I like about the Davis [bars]. It's not super packed, you can just enjoy yourself."
Written by: Marlys Jeane — features@theaggie.org