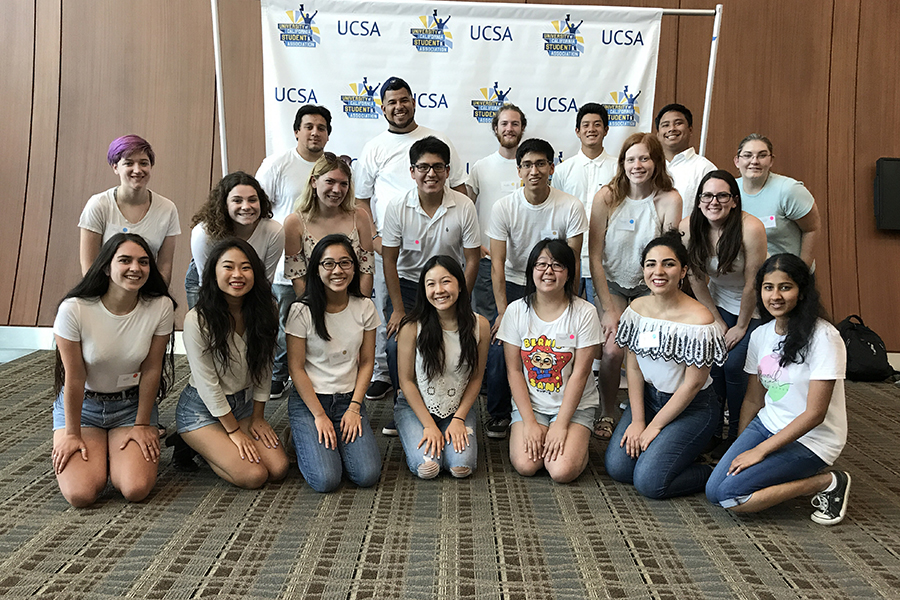 OASR takes UCD's largest delegation to the conference to date
From Aug. 3 to 6, 22 UC Davis students attended the UC Student Organizing Summit (UCSOS), an annual conference hosted by the University of California Student Association (UCSA) in Pomona, Calif. UCSA, the official organization of all students in the UC system, advocates for the accessibility, affordability and quality of the UC system. UCSA hosts three yearly conferences; the 2017 UCSOS conference is the 19th student conference of its kind.
Each university in the UC system has an external vice president (EVP) who reports to the UCSA board to represent their school in UC-wide action and efforts. Former ASUCD senator Daniel Nagey is the EVP of the Office of Advocacy and Representation (OASR), a unit of ASUCD. The office of the EVP is smaller at UC Davis due to budget constraints, but with the support of ASUCD, OASR is projected to expand in the coming years.
UC Davis has taken two previous delegations to the past two UCSOS conferences. Selection to attend is open to the general student body.
"This was the most diverse delegation we've taken in terms of representation from different student groups and affiliations," said OASR Legislative Director Samantha Chiang. "Our commitment to advertising to the wider student body undoubtedly paid off, especially when students not traditionally involved in ASUCD spaces spearheaded WeAre3D, the student disability access campaign that was chosen by majority vote as the next two-year UC Student Association campaign."
Students from all UC campuses attended a variety of panels, workshops, identity caucuses and campaign proposals to learn more about different social justice issues faced by students across the UC system. Issues discussed at the conference included racial equity, affordability, access and the security of basic student needs, among others.
There were four panels spread over the first two days of the conference; ReIGNITE, Undocumented Unafraid, Sustain our Students and Fund the UC. ReIGNITE (Re-Invest in Graduation, not Incarceration, Transform Education) was a racial justice campaign panel that discussed the school-to-prison pipeline and other problems formerly incarcerated people faced both before and after college. Undocumented and Unafraid was a panel that discussed the problems and processes of securing a Sanctuary UC and Sanctuary State.
Sustain our Students was a basic needs security campaign panel that discussed students' food and housing insecurities. Fund the UC was a college affordability and access campaign panel that discusses combating rising costs of tuition and student fees.
Saturday's keynote speakers were Jonathan Stein and Anthony Williams. According to the Master Program, Stein is a civil rights attorney whose work "focuses on voting access for immigrant, limited English-proficient and other historically disenfranchised voters." Williams works with the Black Organizing Project, and his work studies the disproportionate inequalities –– of both race and class –– which affect people of color.
Students also had the opportunity to propose and vote on a campaign that UCSA will organize around for the next two years.
Fourth-year political science and Chicano/a studies double major Ryan Navarrete said he enjoyed the conference and liked seeing a different side of student government. Navarrete felt the first panel he attended was the most impactful.
"The very first panel, ReIGNITE, definitely hit home for me," Navarrete said via email. "The panelist spoke on incarceration and how it has impacted them in both their life and education. As someone who is formerly incarcerated and a member of Beyond the Stats, what she was saying definitely brought a tear to my eye; especially when [panelist] Amber Rose answered my question on advising students who had to disclose being convicted of a crime to the school that they are applying will no longer be on any school application."
Kevin Butt, a third-year political science major and transfer student, said he liked meeting members of the UC delegation who were passionate and welcoming.
"My biggest takeaway from this conference was, it's okay to step outside of your comfort zone and take a risk on the unknown," Butt said via email. "I went into the conference not knowing anyone or anything about UC [Davis'] OASR office or UCSA. Leaving the conference, I had [a] new understanding of other people's perspectives and experiences. I also walked away with […] bonds that will make my transition into UC Davis [a] smooth one."
Butt was one of the students who helped worked on the WeAre3D disability access campaign.
"One event that was the most impactful for me was working with [our] Davis Delegation on a campaign to put forth to the UC and then collaborating with other [students] from the other UCs for one common goal," Butt said. "It showed no matter where you come from teamwork makes the dream work."
Scott Hwaynate, a third-year managerial economics major, was another first-time attendee.
"I enjoyed meeting the students from other UCs," Hwaynate said. "In those short four days, I've gotten to know a good number of students all over California. A seven-hour drive really strengthens the bond between people who've never met. Take away the name tag and you could say we were all from the same school. I had no idea how many of us had so much in common. I saw the passion in each student that arrived and the campaigns presented revealed each UC's dedication."
Students also had some criticisms about the conference — mostly about food and food access.
"The lunch boxes provided were unnecessarily expensive for everyone," Hwaynate said. "I heard it cost $21 to make one box. I think students would prefer a crisp $20 bill than a dry sandwich and some chips."
Navarrete and Butt also agreed that both the quality of meals provided at the conference and the number of meals that students had to pay for themselves could be improved.
"No one should have to share a loaf of bread nor use their food stamps in order to eat," Navarrete said.
Chiang said she hopes that these issues can be resolved next year and that the conference will be accessible to more students.
"Next year, we'd love to bring more students, as this is one of the most welcoming and rudimentary conferences that UCSA holds," Chiang said.
Written by: Jayashri Padmanabhan — campus@theaggie.org