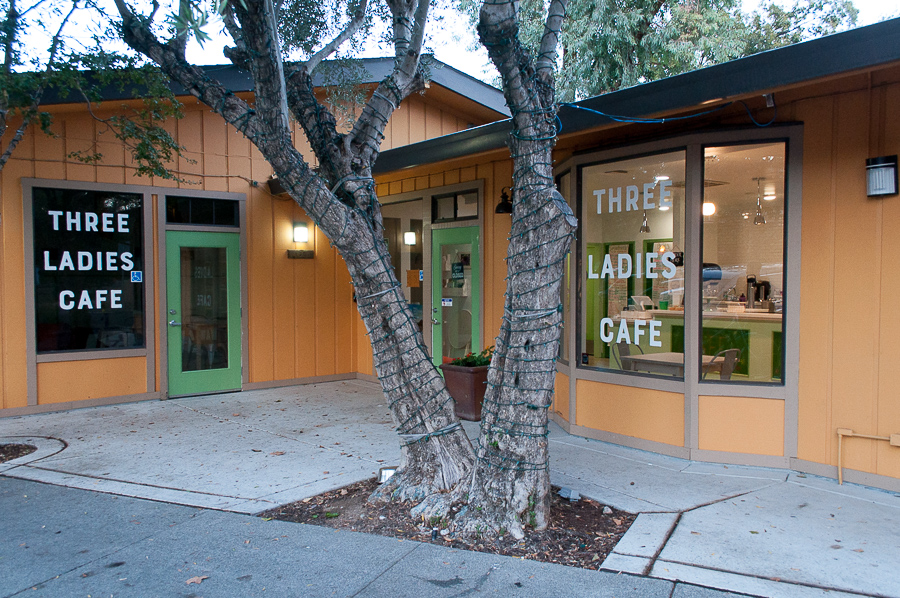 Davis families, students rejoice in having healthy option downtown
On Friday, Oct. 13, the Three Ladies Cafe opened on G Street in downtown Davis. The new restaurant promotes healthy eating and local ingredients. Members of the Davis community came together at the grand opening to enjoy this brand-new space.
Three Ladies contains a family room where children are welcome to play and move around, making it especially accessible to local families. They also provide wifi and tables where students can study.
"Everyone seems to really enjoy the healthy options here and the fact that there are vegan and vegetarian options," said Rachel Greenlee, an employee at TLC. "We pretty much make everything in-house — fresh — and we are very kid-friendly."
Greenlee also voiced her concerns about the lack of healthy options that Davis eateries provide, making this restaurant unique. Davis Whole Foods, which previously offered several healthy, organic options downtown, closed on Feb. 12 of this year.
"I don't know many restaurants that I would go to and consider it being a very healthy option," Greenlee said. "I think pretty much the healthiest option would be to stay home. But here we try to make everything as healthy as we can."
Lia Perroud, the operations manager at TLC, also emphasized the excitement she has witnessed in the Davis community as people discover a restaurant downtown that offers vegan options and a smoothie menu.
"We're seeing a lot of health-conscious community members really happy about seeing a menu that is based off a lot of whole foods, a lot of health-conscious cooking recipes," Perroud said. "We also have a full smoothie menu which is unique to the downtown area. Smoothies are very central to our menu, and we haven't seen a smoothie shop in the downtown area since Jamba Juice left, so that is exciting for people."
Perroud also described local families' enthusiasm when they learn about TLC, since they often feel unwelcome in places in downtown that primarily cater to students.
"A lot of families come into TLC really happy and grateful to have this place where they can come and have brunch or lunch with their kids," Perroud said. "They can really kick back and not worry so much about making a little noise and feeling welcome as families."
Since the cafe is still in its early stages, the managers of TLC are still working on perfecting their menu and figuring out ways to incorporate the public's desires. Perroud noted that TLC staff members hope to use the cafe's extra space as a venue for special events, as they have already hosted a special event dinner for the Vegan Club in Davis and are open to other events as well, such as birthday parties and baby showers.
Neha Jain, a fourth-year economics major, explained that she has been eagerly waiting for a healthy, vegetarian option in downtown Davis. She has felt there are a lot of vegetarians, and vegans who have also been seeking a local, healthy option.
"It's pretty hard to find a place that has good options for people with vegetable-based diets in Davis," Jain said. "This is really great for vegans and vegetarians, and hopefully having healthier restaurants will encourage people to eat healthier as well."
Written By: Hadya Amin — city@theaggie.org