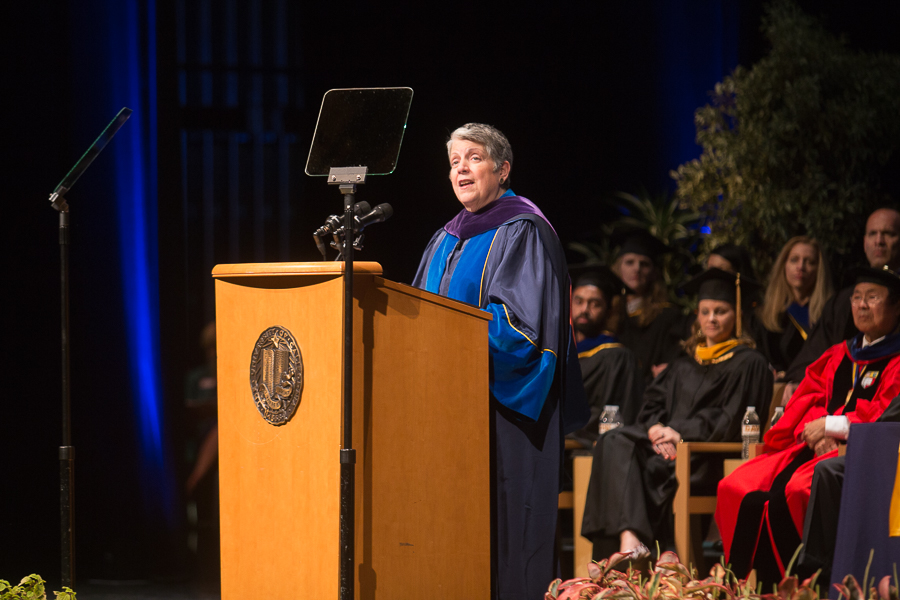 Center will address free speech at time when colleges are grappling with issue
University of California President Janet Napolitano recently announced that the University of California schools will be creating a National Center for Free Speech and Civic Engagement in Washington D.C. The center's goal will be to address and uphold the rights of students and university speakers under the First Amendment.
Stephanie Beechem, spokesperson for the UC Office of the President, clarified how students can expect to see this new center in action.
"Through the National Center for Free Speech and Civic Engagement, UC hopes to move the conversation around free speech to thoughtful dialogue and meaningful action," Beechem said via email. "Key to the center's efforts will be the creation of a fellowship program that will draw from leading public policy thinkers, legal scholars, social scientists, journalists and others."
With regard to the recent announcement of the Center, Kevin Johnson, the dean of the UC Davis School of Law and a Mabie-Apallas professor of public interest law and Chicano and Chicana studies, said he is enthusiastic about its creation.
"A center dedicated to the study of freedom of expression is an excellent idea," Johnson said. "We need to have a respectful dialogue as a community about freedom of expression. These are challenging issues and deserve our attention."
From historic college campus protests during the Vietnam War to UC Davis' 2011 pepper spray incident, freedom of speech has remained a controversial topic on college campuses.
Last spring for example, Milo Yiannopoulos, a leading figure of the "alt-right," visited UC Davis after being invited by the Davis College Republicans. His event drew a large number of protesters and was ultimately shut down. At both the Davis and Berkeley campuses, Yiannopoulous was unable to speak due to protests.
Andrew Mendoza is the chair of the Davis College Republicans and a second-year political science major. Mendoza said he was disappointed in the event's cancellation last spring.
"Our university has an obligation to ensure the constitutional right of speech for all students, especially minority opinions on campus," Mendoza said.
Mendoza, when mentioning "minority" groups on campus, is referring to himself along with fellow Republicans at UC Davis.
"Social science professors who identify as Republicans represent less than 10 percent nationwide," Mendoza said. "UC Davis should pledge to improve intellectual diversity among their faculty if they want to show that they're serious about free speech on campus."
Johnson spoke about the constitutionality of events such as the one last spring.
"The First Amendment of the U.S. Constitution prohibits the state, which includes the public University of California, from regulating the content of speakers invited to speak on campus," Johnson said. "The university can enforce content-neutral, reasonable time, place and manner regulations to ensure public safety in events on the university campus."
Recently, Adela de la Torre, the vice chancellor for student affairs and campus diversity, informed students via email about fliers with the message "it's okay to be white" that were posted around campuses nationwide, including at UC Davis. The fliers were removed, according to de la Torre in the email interview, "because they were posted without prior approval."
Deciphering the difference between upholding freedom of speech and fostering spaces for hate speech is an issue colleges throughout the nation are grappling with.
In addition to the Center, a national conference in 2018 will host the UC president and faculty and student leaders in an attempt to brainstorm new methods to ensure that students' First Amendment rights are upheld on college campuses.
Written by: Ally Russell — campus@theaggie.org
Editor's Note: An earlier version mistakenly stated that Stephanie Beechem is the head of media relations for UCOP. She is a spokesperson for UCOP. The story has been updated to reflect this change.