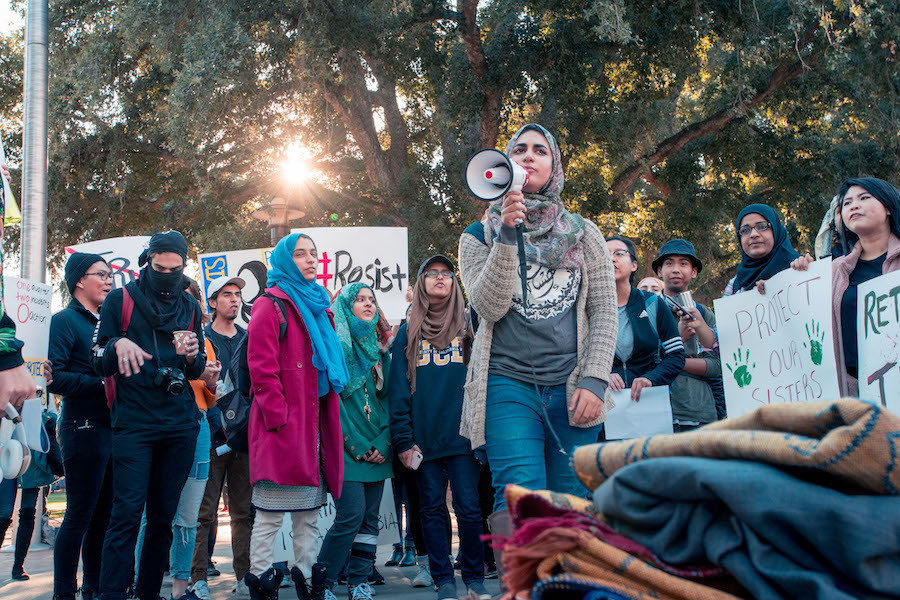 Muslim Student Association launches #FiercelyMuslim campaign
On the afternoon of Dec. 7, the Muslim Student Association launched its #FiercelyMuslim Campaign with a public rally. The event description on Facebook stated that the campaign is "a resolution to highlight and empower Muslim students to be proud and unapologetic in their faith."
The rally began at the Student Community Center at 2 p.m.; the group of about 60 walked through campus and ended in front of the Memorial Union. The group chanted "Fearless we must live fiercely Muslim," "Free, free Palestine" and "Two incidents, too much" — as well as other statements — throughout the rally.
At the MU, members of the MSA board and other students took part in an adhan, a call to prayer, and a communal prayer.
The campaign came in response to the second of two incidents against Muslim students on campus. According to a statement released by the MSA, the first incident took place on Oct. 26 when a female Muslim student was "forcibly pulled off her bike by an unknown assailant while riding at the Arboretum; [….] she managed to escape unhurt." The second incident took place on Nov. 29 in Haring Hall with a second female Muslim individual.
"She saw a man following her with a knife — she managed to escape and report the incident to the police," the statement said. "The operator on call repeatedly asked her if it was instead a marijuana pipe; it took the pressure of the Muslim Student Association to get the police to send out a campus wide crime report acknowledging the incident — three hours afterwards."
MSA's outreach coordinator Hasna El-Nounou, a second-year community and regional development major, described the association's motivation to organize the rally.
"I think that the intended effect we were hoping to get was to really strengthen the pride and [address the] apologeticness of being Muslim within our own community and to stand in front of everyone on campus, Muslim or non-Muslim, and show them that we are fiercely Muslim, we are fearlessly Muslim, we are unapologetically Muslim," El-Nounou said.
El-Nounou also described the student response as the rally marched through the campus.
"I felt that a lot of students came to join us or stopped to listen," El-Nounou said. "A lot of people who didn't know what was going on before were asking questions and they started to join us, so I feel like [a large] aspect was [that] a lot of people didn't know about what was going on and that's half the crime right there."
MSA's President Adnan Perwez, a third-year political science and history double major, cited the issue with Safe Rides, a service available to UC Davis students who prefer an alternative to walking alone or in a small group at night.
"Actually implement safety measures on campus," Perwez said. "For example, one of the biggest issues [is] Safe Rides. [Safe Rides] is supposed to be something that is supposed to protect the student community but it's constantly failed to do so — […] that has been something that has been asked by the undergraduate advisory to the chancellor [and] it's been asked by the Black Under Attack movements that happened a few years back. We, as a community, have to rely on organizing our own Safe Rides and walking people back just to make sure Muslim students, especially sisters, are safe."
Perwez elaborated further on the lack of administrational backing and action in response to these incidents.
"[The administration could] be more cognizant of the very real dangers that all our students face on campus and being much more serious about that," Perwez said. "When people do report [an incident], taking it very seriously and taking it as your primary responsibility as an administration who is here to protect the lives of students. Those were the only two incidents that were reported to us as the MSA board, but there are many, many other incidents that happened every day against Muslims on campus that [the administration] continually ignore. When you remain neutral in those situations, you're actually helping the oppression and you're helping further the atmosphere of hate."
Perwez discussed the impact he hopes the rally and the #FiercelyMuslim movement will have on Davis.
"This rally is really not an end, it's the beginning of getting our Muslim student community, which are hundreds strong, actually mobilized and ready to be empowered and [refusing] to be victims of a narrative that has not just been spawned on a local level, but it's being trickled down from a national level," Perwez said. "You have the President who, last week, retweeted videos that did nothing more than incite open violence against Muslims. When that happens on a national level, you see it trickle down and happening everywhere — including Davis."
Written By: Priyanka Shreedar — campus@theaggie.org