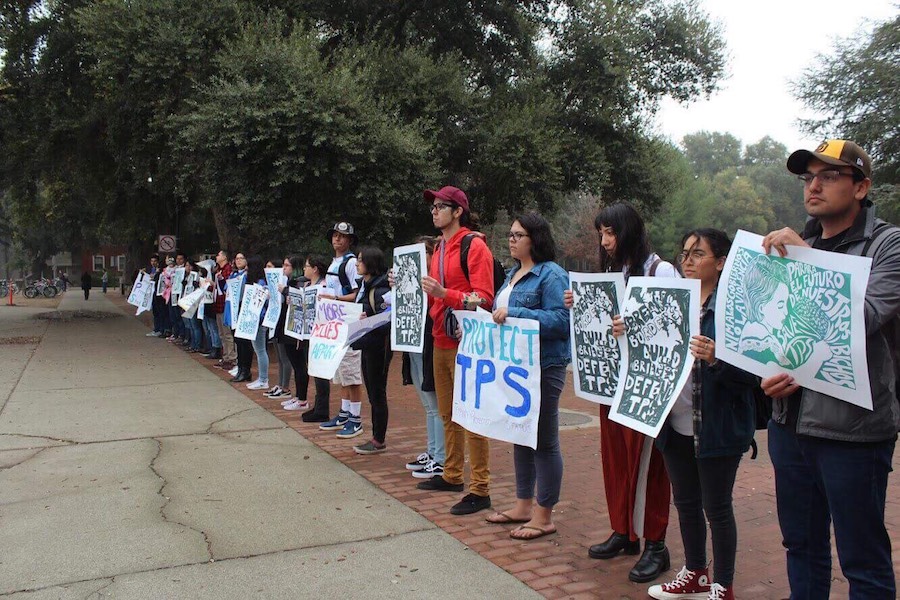 Protesters join together in advocating for education not deportation
Students rallied together on the Quad on Jan. 18 to protest the Trump administration's decision to terminate the Temporary Protected Status (TPS) for El Salvador. On Nov. 20, a similar report signaled the end of TPS for Haitian residents as well, effective in 18 months.
Chanting, "this is what community looks like," students marched together behind a large banner outfitted with national flags from across the globe, united in their defense of TPS.
Organized by the Central/South American and Caribbean Student Alliance (CENSOCA) and the Afro-Latinx/Chicanx Club, students gathered together in solidarity with those directly impacted by TPS. Since the Trump administration's initial announcement that they were considering not extending TPS, CENSOCA at UC Davis has hosted numerous rallies, put up posters around campuses and organized community healing spaces to support students.
Carmen Paola Palao, a fourth-year sociology major, is one of six co-founders of CENSOCA. Paola Palao spoke about the importance of standing with students impacted by TPS in a public and unified fashion.
"The purpose of organizing this rally was to bring visibility to TPS and Central American issues," Paola Palao said. "Oftentimes we get no visibility on this campus so we have to create it ourselves."
Currently 440,000 people in the US currently benefit under TPS. Many escaped war, poverty and social instability by relocating to the United States. Since TPS' beginning almost two decades ago, many have built new lives for themselves and their families in the United States. According to a New York Times estimate, more than 200,000 El Salvadorians will be forced to relocate within the next year and a half.
Written by: Ally Russell — campus@theaggie.org