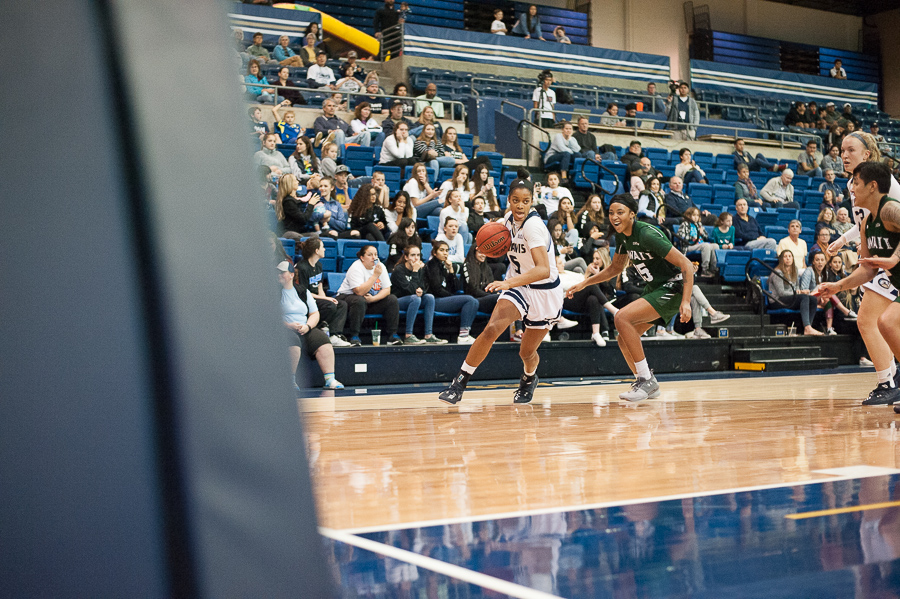 Women's and men's teams not drawing same crowds despite athletics coverage
Many young sports fans notice early on that the crowds of fans at women's athletic events are smaller than those of men's athletics events. They wonder why this lack of support continues to persist through high school athletics, college athletics and professional athletics. This discrepancy, most notably between women and men's basketball, also exists on the UC Davis campus.
Haley Blackwell, a fourth-year marine and coastal science major and an avid basketball fan, said that she noticed the difference in support for women's athletics early on.
"No one shows up to the women's games at all, but the men's games get this huge section where everyone is standing up," Blackwell said. "On top of that, if it's a big men's game, the entire Dance Team or the entire Cheer Squad will be there for men's games, I've noticed that sometimes, too."
Blackwell has also noticed that TAPS is only present at men's games in the Pavilion parking lot to assist people with parking. This inconsistency is a result of the discrepancy between attendance at games.
Based on data from attendance listings from each basketball game this season, the average number of people in attendance at UC Davis men's basketball games at the Pavilion is 2,179.3 people. For the UC Davis women's basketball games at the Pavilion, the average number of people in attendance is 500.6 people, which is less than a quarter of those in attendance for the men's games. The attendance data for the women's basketball games is skewed slightly because no attendance is entered into the box score during double headers, but regardless, there is still a stark difference in the number of fans coming out for the events.
With double headers, historically, the UC Davis women's basketball team plays first with a tip-off time of 2:30 p.m. or 4 p.m., followed by the men's game, which starts at 5 p.m. or 7:30 p.m.
"There's not a reason we schedule them that way," said UC Davis Athletics Director Kevin Blue. "And a lot of the time both teams benefits from the fans of the other attending the games."
This dramatic discrepancy is not a result of difference in skill nor record. The UC Davis women's basketball team is currently leading the Big West Conference with a record of 11-1. The men's basketball team is currently 8-4 in the league, trailing behind UC Santa Barbara and UC Irvine.
It's hard to pinpoint exactly why women's athletics gets less attendance than men's athletics. It could be that women's basketball isn't as popular because it hasn't been around long enough to grow a larger fanbase. The Women's National Basketball Association wasn't founded until April 24th, 1996, whereas the National Basketball Association was founded on June 6, 1946.
"I go to men and women's games equally," said Darius Livingston, a sophomore wide receiver on the UC Davis football team. "I mean, comparing the NBA to the WNBA, not in my eyes, but the competition to many other people, they feel like competition is more fierce and more engaged and it's just a more social setting for them to attend the men's games than the women's game for whatever reason. I try to attend all events all equally. I'm just as engaged at the women's games as I am at the men's game, so I have fun either way."
Blue stated that he, too, notices the difference in support.
"I have noticed a discrepancy throughout my professional career and I wish it were different," Blue said. "I don't know that there are good reasons for it, especially in the case of our current team. We have an exceptionally good, highly successful, highly entertaining team. You'd have to ask all the people out there who aren't coming why they aren't coming and then why they're missing out on a really good experience."
Jan Morrison, a season ticket holder for both men's and women's basketball teams, discussed the issue she's also noticed, but doesn't know what could be a possible solution to the problem.
"My opinion on that is that men's sports always are more popular with people," Morrison said. "That's just the way it is. Our daughter played basketball from 5th grade to 12th grade, so we got into women's basketball, so we actually started start coming to women's games before the men's."
According to a data collection by ThinkProgress, collegiate athletics coverage is subject to a stark gender bias. On the NCAA website, men's basketball was three times as likely as women's basketball to be the lead image on the home page, and more than twice as likely to be featured in the top headlines. On the ESPN homepage, the Men's Division I Basketball Tournament, commonly known as March Madness, was nine times as likely to land a featured spot at the top of the website, and almost three times as likely to be featured on the front page as a whole than the Women's Division I Basketball Tournament.
In a positive divergence from these statistics, the UC Davis Aggies Instagram account, which is run by UC Davis Athletics, seems to follow fair and equal standards for content. At the time of this article, there are currently 12 posts dedicated to men's basketball and 16 for women.
"When we promote and market our athletics programs, it is intended to promote and highlight the accomplishments of both our teams, whether they are men's teams or women's teams," Blue said. "We follow conventional sports marketing and sports communications practices for each team."
UC Davis Athletics is currently in the process of selecting a new women's athletic program to install at UC Davis. This new addition will increase the number of women's varsity athletic programs to 15 and the total number of varsity sports programs to 24. This new addition is to bring the university into compliance with Title IX of the Education Amendments Act of 1972, which ensures fair and equitable athletics opportunities for male and female students.
"I think that more variety of sports and and further enhancing women's sports opportunities is is a good thing for UC Davis," Blue said.
While it is hard to pinpoint why the attendance at women's athletic events is lower than at men's event, UC Davis Athletics remains consistent in its coverage and promotion contrary to national statistics. Regardless, women's basketball only getting a quarter of the attendance that men's basketball does is an issue that affects the team's playing.
"It was a little sparse crowd there today," said women's basketball head coach Jennifer Gross in a post-game interview on Jan. 24. "So you know, when it's a little quieter in the stands, you got to come up with that [energy] yourself and that's what we were challenging ourselves to do throughout the game."
Written by: Liz Jacobson — sports@theaggie.org