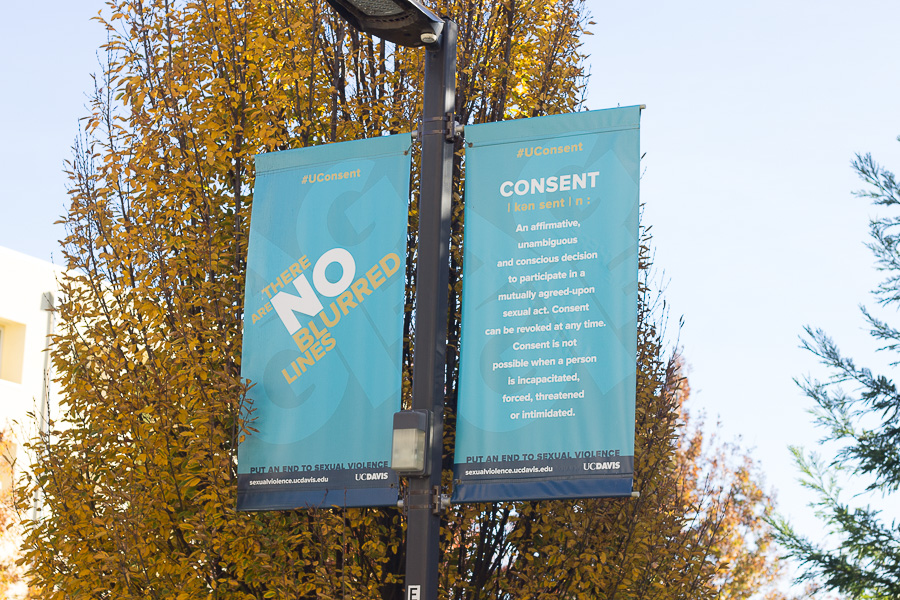 Systemwide student advisory board formed to increase education, outreach against sexual violence on campus
On Feb. 5, a newly-formed 19-member Student Advisory Board under the direction of the UC Title IX office met in Oakland to discuss ways to generate advice to combat sexual harassment and sexual violence on UC campuses. The advisory board, chosen by officials from the UC Office of the President, is made up of undergraduate and graduate students from all campuses.
Jessa Rae Growing Thunder, a fourth-year Ph.D. candidate in Native American studies at UC Davis, offered her reason for joining the advisory board.
"I have been doing advocacy work with sexual assault for many years, and I thought this was a great opportunity to bring my work here and expand on it as a community member at the university," Rae Growing Thunder said. "I think this is a great opportunity to create more awareness for outreach to our graduate student population."
Claire Chevallier, a third-year psychology major at UC Davis and another member of the advisory board, supported Rae Growing Thunder's sentiment and compared the education of graduate and undergraduates students on sexual violence.
"Traditionally undergraduates have had more outreach than the graduate students have had," Chevallier said. "I think that will be a challenge for Jessa to getting that outreach established for us."
Danielle Fasani, a third-year PharmD candidate in pharmacy at UC San Francisco and a member of the advisory board, talked about problems faced by people who experience sexual violence.
"Another thing is changing the perception that people who are accused in this process are somehow at an unfair advantage," Fasani said. "I think there is this sort of myth going around that anybody can be accused and found guilty for no reason. I think something we can do is bring awareness that — no, it is actually the victims who are the most disadvantaged at every step of the process. It is the victims who need the most protection."
Fasani said current training is not adequate and it needs to be updated to suit the current conditions.
Gianna Pauline Passalacqua, a second-year political science and English literature double major at UC Santa Cruz and also a member of the advisory board, spoke about the prevention of sexual violence and sexual harassment.
"There has been an increase [of] incidences of sexual violence or sexual harassment — commonly called SVSH — that are being reported to Title IX," Passalacqua said. "That is not because the number of incidences are going up but, it is actually people are feeling more comfortable reporting."
Passalacqua spoke about the dilemma faced by those when deciding whether or not to report their assaults.
"My hope is that more people will feel comfortable coming forward and telling their stories, because they believe that the system will actually work for them," Passalacqua said. "But even if people do come forward, I really want to acknowledge that not everyone has to report an instance of sexual harassment or sexual violence in order to be considered valid. And I really want to acknowledge the stories of survivors who choose not to tell anyone — whether they choose not to tell people in their lives or they choose not to go through a formal Title IX investigation process. Because their stories are incredibly valid."
Sunney Poyner, a second-year law student at UCLA School of Law and a member of the advisory board, highlighted the importance of outreach.
"I think this board will be able to give student input in ways they have not been necessarily been able to garner […] before," Poyner said. "The vision is for these representatives to engage in outreach to our communities and be able to convey what we are learning directly to the UC Title IX coordinator and the UC Office of the President in a way that is just not happening right now."
Leann Pham, a third-year Asian American studies major at UCLA and a member of the advisory board, offered insight about how the advice given by the board might be implemented differently among campuses based on the variety of issues they face.
"It is not necessarily a problem, because we are all on the same Title IX policy," Pham said. "We all talk about prevention, and we all have the conversation about sexual assault in a different way. I personally do not think [the procedures] should be fixed, because we have different issues, we are able to find solutions that are different. And so when we come together and meet and we share what we found [works] for our campus, it helps other people in other campuses have more creative solutions for how they are going to combat [these] issues."
Pham spoke specifically about the disparity in the number of counselors in the Center for Advocacy and Resources and Education program relative to the student demand.
"UCLA has a CARE program just [like] every other school, but ours only have a few counselors and we are the biggest campus in regards to population," Pham said. "Imagine being one of the two counselors who deal with the 24-hour hotline and all the students and their dependents coming to you [for help]. That is a lot of overworking. And if you compare that to Berkeley, they have 10 CARE counselors and advocates which is so much more than just two — especially considering that their student body is smaller than UCLA's. So each specific need is very much different."   
Poyner was optimistic about the prospects of the student advisory board.
"I really, so far, am very impressed with the other people who had been chosen to serve on this board," Poyner said. "I am really looking forward to working with them. And I am hoping that we can bring things to the administration that will hopefully influence their policies for the better. I am very hopeful about the administration's willingness to engage with us."
Written by: George Liao — campus@theaggie.org
Editor's Note: An earlier version of this article misstated that Danielle Fasani is a Ph.D. student. She is a PharmD student. The article has been updated to reflect this correction.