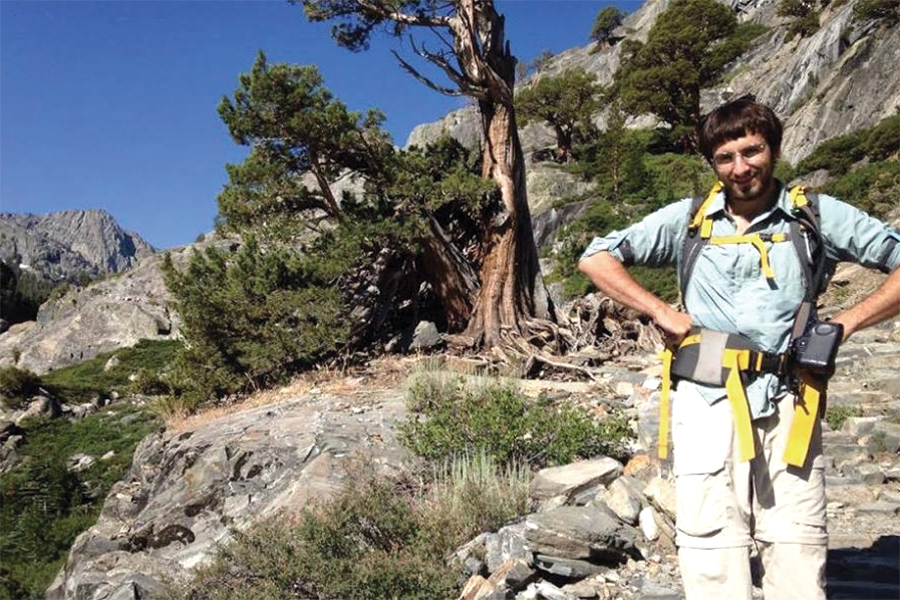 Noah Benham faces four charges
On the night of Feb. 13, 2017, Noah Benham, a fourth-year comparative literature major, was part of a group of students who protested alt-right figurehead Milo Yiannopoulos' visit to and speech at UC Davis. He was arrested that night and faces four charges, including resisting arrest and battery of an officer. His next hearing is scheduled for March 5.
Yiannopoulos was accused of planning to dox undocumented students by full name at UC Berkeley. Last December, Yiannopoulos singled out and publicly mocked a transgender student at the University of Wisconsin, Milwaukee. Yiannopoulos has condoned pedophilia and rape on video, saying "We get hung up on this kind of child abuse stuff," in reference to an "arbitrary and oppressive idea of consent." Those words lead to his firing from Breitbart and publishing house Simon and Schuster.
In September of 2017, Yiannopoulos posted Instagram pictures identifying transgender student and ASUC Senator Juniperangelica Cordova-Goff and campus doctoral student Adam Jadhav from UC Berkeley to followers. Following this, the two were harassed online, receiving transphobic, xenophobic and Islamophobic slurs hurled their way.   
Benham and other students say there were seeking to prevent the same discrimination  from being allowed at UC Davis. Benham stood by glass doors of the lecture hall that Yiannopoulos was scheduled to speak in, among fellow protesters and hundreds of Yiannopoulos supporters waiting in line.
According to Benham, he was protesting Milo's appearance on campus but not trying to forcibly shut down the event. Benham stresses that he and other students were voicing their anger at Milo being on campus, but did not intend to forcibly shut down the event. The UC Davis Police canceled the event after large protests and counter-protests, ushering Yiannopoulos off campus instead of into the scheduled talk.
On March 23, 2017, charges were first raised against Benham by the Yolo County District Attorney — felony battery on a UC Davis police officer, a felony obstruction of officer by use of force, a misdemeanor battery on an officer and misdemeanor resisting arrest.
Benham says that while the DA pursued these four as felonies after he refused to take a plea deal forcing him to admit guilt, the judge has minimized all charges to misdemeanors. According to Benham, even over a year after he was charged, the Yolo County court will likely reschedule his trial day due to an overbooked courthouse.
"As of now, I'm still facing four charges — all four of which were felonies," Benham via email. "But, they've all been reduced to misdemeanors by the judge, although the DA wanted to pursue as felonies. My trial date is supposedly March 5, lasting 3-4 days, but it sounds like the courthouse will be full that day, so I'll likely be rescheduled."
Benham and his lawyers maintain that there is zero evidence for claims of battery, and that this is a "he-said, he-said" case based on the improper use of body-cameras by involved officers. According to Benham's legal team, it was convenient for the body-cameras of three surrounding officers to be turned off, with only one non-involved officer's camera capturing the end of Benham's encounter.
The battery charge was added after one of the officers that arrested Benham, UC Davis police officer William Beermann, alleged that he discovered a "half-inch scratch on his hand" following the arrest.
On Nov. 6, 2017, the law firm Morrison and Foerster partnered with Benham's Yolo County Public Defender Peter Borruso to serve Benham for free after reading about his case. The lack of body camera use led Borroso to request the court look into Beerman's personnel file for any prior incidents.
Beermann was not using his body camera, and therefore the charges against Benham are hearsay, lawyers claim.
Borruso said that other officer's body cameras show that Benham did not run into Beermann, who claimed that Benham lowered his arm and ran into him. Beermann wrote in his police report that he "didn't know how [the injury] occured."
In a Davis Vanguard article, Borruso said that portions of video from another office presented by the DA show "Mr. Benham calmly and politely informing officers that he did not run into them." Borruso also said that the video of the arrest does "not show any struggle or fighting by Mr. Benham while several officers surround him." Additionally, Borruso maintains Benham "did not cause any injuries to Officer Beermann's hand."
Students and community members have created a petition to drop Benham's charges. The petition's author related Benham's case to the predatory and counter-protester nature of the Yolo County courthouse, which leads in California per-capita trials by city, and adjusting for population, has the highest jury trial rate in the state.
The Davis Vanguard found that the DA office is bolstered by five times the amount of investigators and clerical staff as the PD office — 82 compared to 21. In turn, the arm of the prosecutorial force is much stronger than the arm of defense based on increased access to personnel and resources, The Vanguard posits.
Tom Jara, a member of Students for a Democratic Society and a second-year biochemistry major, believes there has been an unjust legal burden placed on Benham who "got dragged out by the police" for "blocking a door."
"I think it is absurd that Noah was arrested and is being prosecuted when there was no violence, no broken windows and no laws broken," Jara said. "It is completely ludicrous and we hope that the charges be dropped soon because in reality there is nothing to charge him with."
Donald Dudley, the director of the Office of Student Support and Judicial Affairs, responded to the Aggie's request for comment.
"The University does not have a comment on this matter," Dudley said via email. "The privacy of a student's education records is protected by law and University policy."
Written by: Aaron Liss — campus@theaggie.org