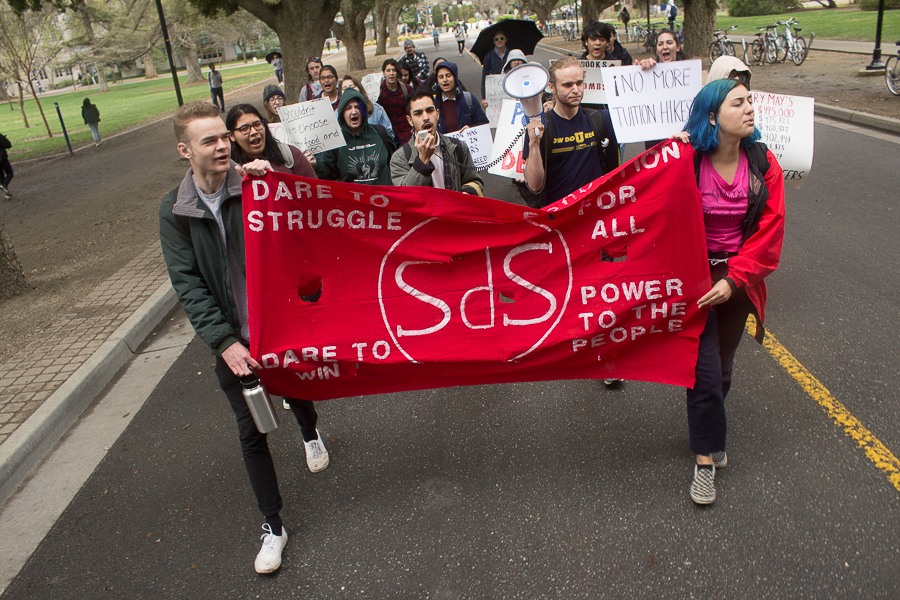 Protesters rallied, came together for teach-in
On March 14, while the UC Regents met at UCLA to discuss raising nonresident tuition, a group of UC Davis students gathered in front of the Student Community Center to protest the tuition hike.
The event, titled "Rally & Teach-in to Save Public Education," was hosted by the student group Students for a Democratic Society.
"I'm here today because we're seeing increased privatization and the cost of going to college and getting an education is becoming more and more inaccessible to working class and middle class families and it's just not fair," said fourth-year technocultural studies and English double major Becca Payne. "Education is a human right, and it's something that everyone should have access to."
According to flyers the students distributed across campus, a UC student faces an average of over $20,000 in debt and over 40 percent of UC students and workers face food insecurity.
"At the same time, the amount of faculty UC-wide has remained stagnant and student enrollments have increased, negatively impacting the quality of education of undergraduate students," said first-year community and regional development major AJ Ballesteros, who was one of the speakers at the rally.
Around 20 protesting students then marched toward the Memorial Union. Along the march, they chanted slogans expressing their displeasure with the UC Regents.
At the MU, sociology Ph.D. student Duane Wright led a teach-in on increased privatization of universities.
"While it's true that funding to higher of education had been cut, the idea of a shared sacrifice is a complete myth," Wright said. "The number of full-time administrators had exponentially grown and the salaries of top executives had also been skyrocketing.
As of March 15, the UC Regents approved the tuition hike on non-resident students.
The 3.5 percent tuition increase will increase nonresident tuition by $978 — from $28,014 to $28,992 for the 2018-19 school year.
In defense of the hike, UC officials claimed that the $35 million they expect to raise from the increase will help reduce class sizes and support more academic support and counseling.
"In May [the UC Regents] will be deciding whether or not they're going to increase in-state tuition," Payne said. "So we need to have activism and demonstrations now and in May as well."
Written by: Clara Zhao — campus@theaggie.org