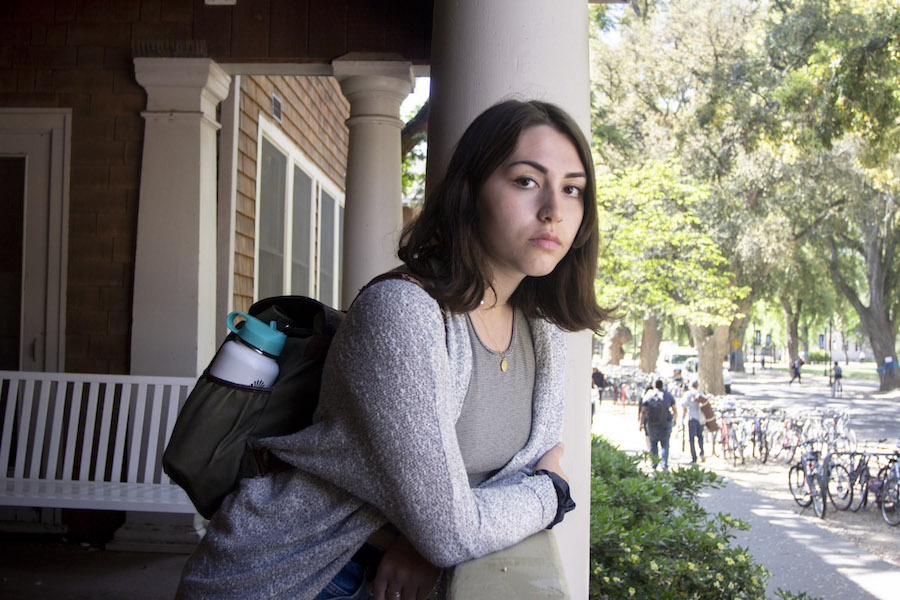 UC Davis students share common concerns about difficulty accessing care; administrators respond
This article is the fourth in a four-part series examining issues in the UC system related to the availability and accessibility of mental health care.
At the recent Town Hall on mental health held at UC Davis, first-year student Francesca Iacono held back tears as she shared her experience of attempting to access the university's mental health care services during her first quarter on campus. "I needed to see someone," Iacono said, "but there was no one to see."
Iacono is an out-of-state student from New Jersey. She noted that her nonresident tuition could pay for her to attend a private university — which would offer her the mental health care she needs — and wonders where her money is actually being spent.
Since the eighth grade, Iacono has struggled with depression and anxiety. In high school, she was put on medication for depression and saw a counselor her senior year who she stopped seeing when she began school at UC Davis last fall. A few weeks into fall quarter, "things started to act up again."
"It was overwhelming — I would just have all of these racing thoughts and all of these depressing thoughts," Iacono said. "I was so far from home, and I had no one here to go to."
Iacono saw a counselor through UC Davis Counseling and Psychological Services three times before she was referred to a UC Davis primary care doctor at Student Health and Counseling Services. When she described her symptoms, she said her doctor would not prescribe her antidepressant or anti-anxiety medication because she was also experiencing aspects of bipolar disorder, which could be worsened with those medications. She would need to see a psychiatrist.
But psychiatry was booked at the time — the next available appointment was over a month away, during finals week. There was nothing she could do but wait, which she did, only to have her appointment cancelled two days beforehand.
After the cancellation, she was referred back to her primary care doctor who, yet again, told her he could not treat her. So Iacono went back to on campus psychiatry.
"I couldn't make an appointment then for psychiatry because they said they weren't taking any new patients until mid-January," Iacono said. "I said, 'I was supposed to be a new patient two months ago.' Then, come January after break, I called, made an appointment and then maybe two or three weeks after again, two days before, they cancelled."
Eventually, Iacono was able to find a psychiatrist in the Davis community whom she sees consistently. But the struggle to receive care and the last-minute phone call cancellations have largely defined her initial introduction to UC Davis.
"The last people who should be treated like that are the ones struggling with their mental illness, especially people who have been pre-diagnosed — they know they're not doing well, they're trying to get help" Iacono said.
Like Iacono, other students have voiced concerns about wait times and the availability and accessibility of counseling and psychiatric services.
According to Nan Senzaki, a senior staff psychologist at UC Davis, during this past Fall Quarter the university was hoping to stay within two weeks for wait times, but "quickly, by about mid-quarter" the wait time "was three weeks or more." Joe Spector, a counseling psychologist in the Student Disability Center, said he is concerned about wait times.
When asked about her response to students who have voiced frustration with wait times for appointments on campus, Vice Chancellor of Student Affairs Adela de la Torre said that "part of it is who you asked in that context," but that she could "see if it's a week and you feel it's an [emergency]."
"We could have counselors seeing students every day, but the root cause is not the access to the mental health counselor," de la Torre said. "Public health is about transportation, food security, being able to pay your rent. It's so many different dimensions. If we're really talking about caring about mental health, it is a holistic environmental approach. It is the investment that we put into the Cross Cultural Center or the retention centers or into the Student Academic Success Centers. The investment now — food security and housing issues — those are huge. Those are the stressors that create the need and create anxiety and depression."
Ironically, the Cross Cultural Center's budget was cut for the 2017-18 school year by $77,000 by the Division of Student Affairs, which de la Torre oversees. De la Torre later clarified her original statement, saying via email that the Division of Student Affairs was "faced with a budget reduction" and, after allowing "for maximum input of staff and students," she is confident
the reduction in the CCC's "operational budget and select programming" and decision to make a contract position permanent "represents the best use of those funds."
Meeting diverse student needs
There are multiple entry points into counseling services and mental health services across campus. The Community Advisor Network counselors focus on outreach efforts to different student populations. Senzaki said she believes "this model of community mental health is admirable yet also problematic." It becomes problematic, she said, if there is no "strategic plan on how to sustain services" and "attention to limited resources and sustainable staffing." Currently, SHCS is operating without a strategic plan.
According to Margaret Walter, the director of student health and wellness, last year Counseling Services served 13 percent of all UC Davis students with around 23,000 client appointments. Students seek out mental health services for a variety of reasons, but Walter said, "depression used to be the top reason students came," but nationally, "over the past few years, anxiety has really overtaken depression."
"We certainly don't want students to think they have to have a diagnosis to come to counseling," Walter said. "We want all students to know they can come for issues such as stress."
CAN counselors provide services to students within "specific identity groups," de la Torre said. Groups include the LGBTQIA community, the Chicanx/Latinx community and the Asian community. Sam Chiang, the UC Davis Mental Health Initiative director and a fourth-year English major, said accessibility of care depends on the "subcategory of student you fall into."
"There are increased risk factors for students of color," Chiang said. "I feel like the students who need it most may be the ones who have the least access and awareness of it. At the end of the day, students who are involved have a huge support system and a huge risk factor is not having a support system."
Taking the initiative
Before she knew she had ADHD, Hao Hao Pontius was struggling to pay attention in her first upper-division course her sophomore year at UC Davis — "I could not focus for more than 20 minutes at a time," she said. Pontius, now a fourth-year animal biology major, talked to a housemate whose sister has ADHD about what was happening.
"I went and researched it and [I thought], 'Maybe I should see someone about this?" Pontius said. "I went to go see someone in North Hall — someone in CAPS; I made a couple of appointments. We were talking about it and she [said], 'You have a couple of options: if you think you could manage it by yourself, here are a couple of strategies.' I was like, 'That's what I've been doing my whole life, that's not really helping me anymore.' And she said, 'Okay we can move on, we can get you officially diagnosed.'"
Pontius was then referred to a provider in the city of Davis. But upon making an appointment with the provider she was referred to, he wasn't working in Davis anymore. She returned to CAPS and was told she could get her diagnosis through the SHCS.
"And then they never referred me for two quarters," she said. "In the meanwhile, I'm like suffering."
Pontius eventually went through a testing process to get diagnosed after she called. Afterwards, however, she was not contacted by SHCS with the results. After again taking the initiative, she was told she could see a psychiatrist through UC Davis to figure out medication.
Struggling to find access in Davis
Kate Bartschat, a third-year psychology major, had a similar experience when she received a referral for a provider in Davis. Bartschat said the she had ongoing problems with anxiety and depression since freshman year and was not satisfied with the counseling she was receiving at UC Davis.
"I would go in in crisis, feeling really bad, and they would make an appointment and see me right away — because if you go in and you're having a breakdown, they'll see you," Bartschat said. "The appointments always seemed a little bit rushed and they would just tell me to exercise more, eat healthier, etc. I eventually realized I needed to find a therapist on my own. I sought someone out in the community, and I actually started improving once I saw someone. Unfortunately, she moved away. That's when things got worse again, and I was still trying to find a therapist."
Bartschat said she received long lists from UC Davis of community referrals, but after calling every name listed, everyone was "completely booked up." Iacono also received an outside referral from the university for a community psychiatrist and scheduled an appointment, but that appointment was cancelled before it took place.
After a year looking for a provider, Bartschat found the closest place she could go for care was the Kaiser in Vacaville. Because she had access to a car, Bartschat was able to drive to Vacaville, but she recognized that many students do not have the means to transport themselves outside of Davis. Senzaki recognized this as an issue.
"Most of our students need providers in proximity of walking distance or a bus ride," Senzaki said via email. "There are enough obstacles to try and seek treatment much less having to drive to Sac or elsewhere. As many students have limited mobility or transportation, we are fortunate to have a sizable community of off campus providers but not enough. In the last few weeks of this fall quarter, many of the off campus providers were no longer able to take new students."
Accepting UC SHIP
UC Davis, like most UC schools, operates on a brief counseling model, meaning there is a session limit for students. According to Senzaki, "many students would benefit from far more services" than the university is equipped to provide.
"We have increasingly become dependent on off campus therapists (private practice, counseling centers, SHIP/insurance referrals) to support our students who need longer term or specific kinds of counseling," Senzaki said via email. "WE have increasingly become more dependent on off campus resources as we often reach capacity and rely on off campus resources as we become overwhelmed."
The UC Student Health Insurance Plan is provided by Anthem Blue Cross this year. Judy Moore, a licensed marriage and family therapist in the Davis community, accepts UC SHIP. The majority of Moore's clients are UC Davis-associated — she sees a large number of faculty and staff members and about 10 students a week.
Moore explained that in order for therapists to accept students with the UC SHIP insurance, therapists must be on the Anthem Blue Cross insurance panel.
"You have to apply just like you would for a job," Moore said. "You apply to the insurance company, you fill out an application, you have your resume, you show proof of your credentials and then they decide whether to take you on their panel or not. That can take anywhere from a month to six months."
Moore also explained why some providers do not accept UC SHIP.
"[Reimbursement] is through the contract that is struck through the university and whatever insurance they're going to call out for that year," Moore said. "For the students this year, it's California Anthem Blue Cross. But for the university staff it's Optum, and Optum pays us a total of $60 a month, the client pays $20 of it. Blue Cross pays $74 a month and the student pays $15 of it. For private pay, people can charge anything they want, up to $125 dollars an hour. If you see 20 clients a week that are insurance clients [vs.] 20 clients a week that are private pay, it makes a huge difference in your income."
Socioeconomic factors may limit a student's access to community providers. While there are many local therapists, according to UC Davis Counseling Psychologist Aron Katz, the number of those providers accepting UC SHIP "is shrinking."
"The other option would be to pay out of pocket for a provider and submit for reimbursement," Katz said. "It would be an additional out of pocket bill. If they're willing to front the money and then apply for reimbursement, they would have greater options. That does favor our students who are better resourced."
Moore has worked as a mental health care professional since the 1980s. She spent the past five years in Davis with her own private practice, and many of her clients are students who have either sought her out on their own or who were directly referred to her by the university. Moore said she sees room for improvement in how the university operates in terms of providing mental health care.
"I think that referring clients out to licensed therapists in the community is a good solution, provided that there's enough people on the insurance panels to meet the need," Moore said. "In order for more therapists to go on the insurance panels when the university bargains with the insurance companies, it would be in their interest to bargain for a higher pay rate for the outside providers — that's what at the root of this."
Consistency of care
Currently, there are 28.5 counselors and 3.5 psychiatrists at UC Davis. According to Assistant Vice Chancellor for Divisional Resources of Student Affairs Cory Vu, having three and a half psychiatrists is "really a luxury" due to the cost of psychiatry, although Walter said they "would love to have more availability."
Bartschat and Pontius both said they had formed relationships with their psychiatrists on campus. Bartschat, however, did have one negative experience.
"In order to first see [a psychiatrist], I made an appointment two weeks in advance and I was 15 minutes late because I got confused," Bartschat said. "And I had to wait another two weeks to see someone. With medication, it takes a really long time to kick in, like with antidepressants, so it's really important to be able to go in and see someone right away and start working with them consistently on that."
Pontius described her psychiatrist as "great" and "very helpful" and said it's important to have a good relationship with your mental health care provider. In the past, she has called to schedule an appointment with a provider and found they had left the university — which is not uncommon, given UC-wide recruitment and retention issues.
Other students have also had beneficial experiences with their on-campus providers. Third-year cell biology major Daisy Carrillo started seeing a counselor after she began feeling stressed for no reason. Carrillo said she used the services at least once a month in Fall Quarter of 2016 and twice during the following Winter Quarter. During that time, she was able to see the same person — a psychology graduate student — and said she thought "it was a really good experience."
Plans for the future
Since the Town Hall of Mental Health last quarter, changes have been made and there are plans in the works to address student concerns.
Vu said work is being done to increase transparency with regard to the allocation of funds and Chancellor May recently announced the creation of a task force on mental health care. A case manager was also just hired with the hopes of reducing the time counselors spend on non-clinical work to free up more time to focus on clinical care. Since the publication of an audit on Counseling Services by the university in February, Walter said "counselors are seeing more students each day than they were" when the audit was released.
Diana Davis, the clinical director of SHCS counseling services, said meeting student needs is a game of catch-up.
"The growth of the university is always going to be greater than we can meet," Davis said. "I think there's this kind of sense about never catching up. For example, there are a lot of international students on this campus — more and more all of the time — […] and they have unique needs. Unless you specifically target bringing resources to campus to meet these needs, you're kind of always behind in trying to figure out how to meet that need. But there are so many different needs, you're kind of like, 'Which need do you aim for?'"
Written by: Hannah Holzer — campus@theaggie.org
Editor's note (updated 5/9/18 at 8:45 p.m.):
An earlier version of this article stated Judy Moore has worked as a licensed marriage and family therapist since the 1980s. Moore has worked as a mental health care professional since the 1980s. The article has been updated to reflect this change. Although the quotes are correct, Moore later clarified that Optum pays $60 per session, not $60 per month, and that a contract struck through the university is referred to as a "carve out," not a "call out."