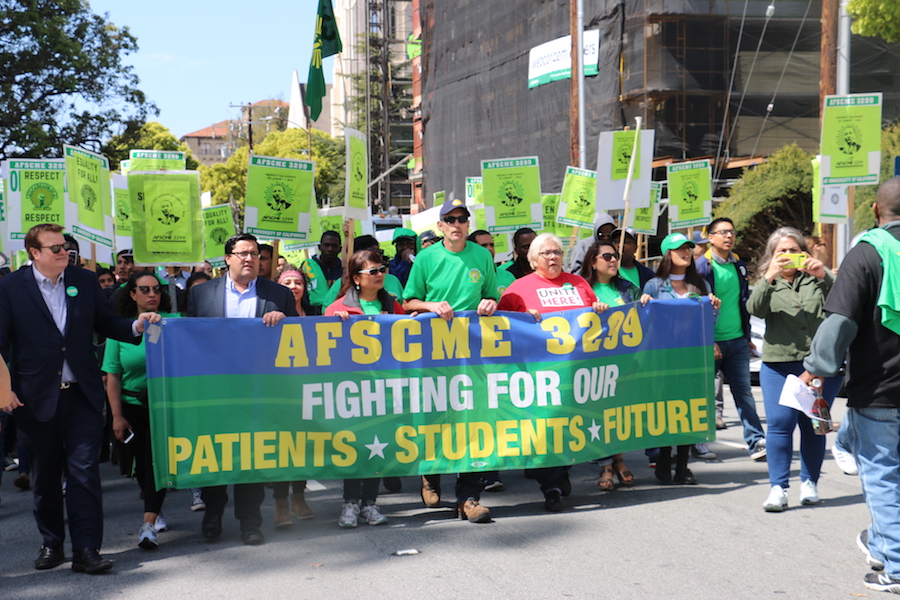 AFSCME 3299 authorizes strike; nurses, healthcare workers to strike in solidarity
The American Federation of State, County & Municipal Employees 3299, the UC's largest employee union, voted to enact a system-wide strike after workers rejected UC's failure to meet demands and acceptable patient care for employees. After a year of negotiations, AFSCME members voted to authorize a strike with 97 percent support.
AFSCME represents over 25,000 employees working at all UC campuses, medical centers, clinics, research laboratories and the UC Hastings Colleges of Law. A three-day strike is planned to start on May 7.
"The May 7th-9th strike involves over 9,000 AFSCME Local 3299 represented UC Service workers, with over 15,000 AFSCME Local 3299 represented Patient Care Technical workers authorizing a sympathy strike in solidarity," a press release from AFSCME sent to The California Aggie stated.
Recently, UC registered nurses approved a sympathy strike with a 98 percent majority. In addition to the AFSCME employees and the 14,000 nurses in the California Nurses Association, 15,000 employees from the University Professional and Technical Employees-CWA union.
"For the UC RNs this will be a sympathy strike, called in solidarity with members of AFSCME Local 3299 who are striking over their collective bargaining contract dispute with the UC administration," a press release from the California Nurses Association sent to The Aggie stated. "A third union, University Professional & Technical Employees/CWA members at UC facilities also plan to sympathy strike."
The Sacramento Bee estimates that over 10,000 of the 53,000 estimated employees planning to strike are employed at UC Davis.
AFSCME members were discouraged by UC's contract offer, which would raise healthcare premiums, increase the age of retirement and flatten wages.
AFSCME Local 3299 President Kathryn Lybarger released a response to the UC's contract offer.
"This is a full-frontal assault — not just on the collective bargaining process and the frontline workers that make the UC system run every day, but on the values that this institution is supposed to represent," Lybarger's statement read.
According to AFSCME, at the same time that UC fails to meet union workers' contract needs, the UC has awarded raises to high-earning executives and increased student tuition and fees.
Recently, AFSCME commissioned a study that showed growing wage discrepancies between female and minority union workers and white men. According to the study, Black women are being paid a starting wage that is 23 percent lower than white, male coworkers. This can result in an annual income difference of up to $16,000. The article inspired AFSCME members to protest and block traffic in Westwood.
The union is calling on speakers such as Senator Kamala Harris and Congressman John Lewis — scheduled to speak at UC Berkeley and UC San Diego, respectively — to "boycott university functions."
UC spokesperson Stephanie Beechem outlined the UC's offer rejected by AFSCME. Along with a wage increase of 3 percent, Beechem said employees were also offered a one-time payment of $750. The statement revealed a potential increase in health care premiums, justified by UC's proposed limit on any potential increases that may occur. In response to the strike, UC has altered their offer.
"The university is not implementing the annual 3 percent raise, the limit on health insurance premiums or the lump-sum payment from its final offer," Beecham said via email. "Those aspects of the UC's final settlement offer were in exchange for a multi-year contract, and we are disappointed AFSCME leaders chose to reject our settlement proposal. We strongly disagree with AFSCME's decision to strike, which will negatively impact patients, students and the UC community."
Oscar Rubio, the vice president of AFSCME Local 3299's service unit, commented on UC's response to AFSCME striking in an online statement.  
"Instead of working with us to address issues of widening inequality and outsourcing, UC's administrators are pushing proposals that will only make things worse," Rubio said.
A recent release from UC Davis Vice Chancellor of Finance, Operations and Administration Kelly Ratliff was sent to The California Aggie.
"I want to assure you that we have contingency plans in place and campus operations will continue during this time," Ratliff's statement said. "On the Davis campus, you may experience some alterations to traditional schedules, however Student Health Services will remain open as will the Veterinary Hospital, dining halls will continue operating, and custodial and maintenance services will be available. UC Davis Health will remain open, though it is possible that some scheduled appointments may be delayed if your medical team determines it is safe to do so."
Written by: Ally Russell — campus@theaggie.org