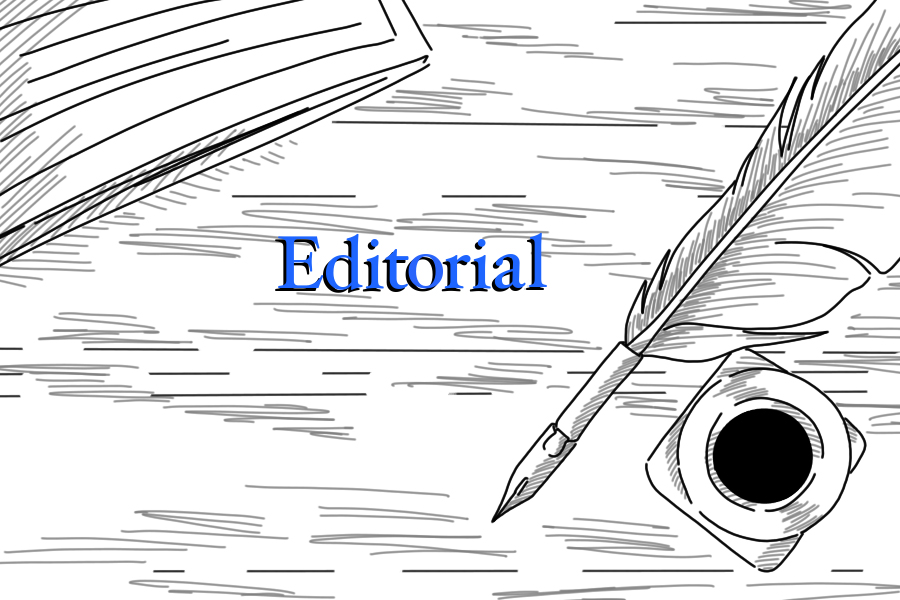 HAGS
Bryan Sykes, Editor in Chief
By Ally Overbay
Including myself, this year's editorial board was entirely comprised of new editors — that is, except for Bryan. For the first few weeks of editorial board, when we struggled to pitch ideas or run meetings, our confusion was always redirected toward Bryan: "He's been here before. Surely he knows what we should be doing?" And he always did.
But even when Bryan brought some much-needed guidance to our flurry of questions, he did so with grace and without condescension. He let us think for ourselves — and, often, fail by ourselves — before gracing us with his editorial wisdom. Bryan was supportive of every idea we had, and I will forever remember him as the editor-in-chief that let us run the California Chronicles and produce two Couch Concert videos (and as the guy who let me include this shameless promotion of arts desk content).
More importantly, I'd like to apologize to the incoming editors who will never get the chance to work with the patient and intelligent Bryan Sykes — our bold and fearless leader.
Emily Stack, Managing Editor
By Veronica Vargo
We picked names out of a hat and the last name I wanted to pick was Emily's. The irony came when I pulled a slim piece of what used to be an intact pink post-it out of my very own hat — it bore the name "Emily."
In many ways this piece of paper reminded me of you. Slim and usually bearing a tint of pink, its original purpose to remind yourself of something, just as you constantly remind me to be humble. Despite its size, it holds great power — just like you, future editor-in-chief. Its ability to carry words that are written in a hurry, or as a note, mirror how you always have something to say.
The truth is, Emily, over the course of my time on managing staff, you have left many sticky notes in my book of life. Many of them consisting of the recent findings of Inside Higher Ed and what "gay twitter" is up to. But the best of them consist of the little yet crucial perspective you have given me.
I swore many times that you were my archnemesis of sorts; sometimes the thought still crosses my mind, but the reality is that there is no one I admire more on this staff than you. Your commitment to excellent journalism, keen sense of integrity and dedication to this paper are what will make you a great editor-in-chief, and what makes you a great person overall.
So, as I stick this piece of paper into my pocket and walk out of the office, I carry with it all the memories and lessons and look forward to the many more to come.
Hannah Holzer, Campus News Editor
By Emily Stack
I consider working with Hannah one of the great honors and pleasures of my life. She's a crackerjack journalist, as gifted at researching, interviewing and gathering a story as she is at writing clear, lucid, sparkling prose. Her work consistently goes above and beyond even my highest expectations — her series on mental health care in the UC system is one of the crowning jewels of The Aggie's coverage, combining an investigator's eagle eye for detail and tenacious pursuit of information with a public servant's sensitivity and dedication to getting the story right. The writers under her tutelage grow by leaps and bounds in an incredibly short amount of time, a credit to her skill as an editor, a teacher and a mentor. She has a disarming sweetness and genuine warmth that makes sources open up to her — both the disenfranchised who trust her to do right by their stories and the powerful who should rightfully be quaking in their boots when she calls. Journalistic credentials aside, Hannah is a ray of sunshine in our cold basement office — due in no small part to the candy dish on her desk — and always wears a smile on even the most stressful of deadline days. I'd wager good money that The Aggie has a future Pulitzer Prize winner in Hannah Holzer, and I'm thrilled to keep working with her next year.
Kaelyn Tuermer-Lee, City News Editor
By Hannah Holzer
Kaelyn and I may be the two second-year babies of the Aggie managing staff, but I like to think we're also pretty badass. Our two desks are responsible for covering all news about the university, UC system and city of Davis, and Kaelyn manages her writers and breaks news with immense ease, grace and care. She is unbelievably kind and one of the most genuinely friendly people I have ever met, but she can also ask a whopper of a question to any interview source — even the mayor of Davis — with a stone-cold expression. She's truly an all-in-one woman extraordinaire: super scientist, soccer star, decisive reporter and dedicated friend. I am excited and honored to cover news with her again next year, this time a year older and a bit wiser.
Taryn DeOilers, Opinion Editor
By Gillian Allen
Every Monday through Thursday, the editorial board meets to decide what headline or scandal we feel strongly enough about to write a piece on. With nine different creative minds all pitching ideas and expressing opinions on each, it can be challenging to form a cohesive view on a controversial topic, and it would not be possible without Taryn. Taryn is patient, caring and well-versed in current events that we discuss in our meetings, and she always keeps our chatter on track to ensure that we publish upstanding opinions on important issues. Aside from flawlessly running the editorial board, Taryn is going on her second term as opinion editor and I can't think of anyone more perfect for the job. She has strong, educated opinions on many important issues, and while she is steadfast in her beliefs, Taryn is always respectful of others' opinions even if they are different from her own and makes an admirable effort to always see the other sides of an argument. Her friendly and considerate personality along with her contagious laugh make Taryn someone I always look forward to working with and enjoy spending time around as a fellow editor.
Gillian Allen, Features Editor
By Harnoor Gill
I  think we have a pretty stellar features editor here at The Aggie. A few things that I first noticed about Gillian were her quiet confidence, serene nature and genuine heart. It just exudes from her with no need for validation or approval. Sometimes I'll look over at Gillian in the midst of an editing session and she looks very deep in thought — almost meditative. Because she is a viticulture major, I like to think that she is pondering the properties of wine and its ancient roots of origin. Maybe it's that. Or more likely she's thinking about the article we're editing. In any case, it's always fascinating to witness her quiet energy at work. 10/10 would recommend.
Ally Overbay, Arts and Culture Editor
By Bryan Sykes
Ally is the one other graduating senior on this editorial board and I'm so happy to be sharing this experience with her. Ally, whose musical IQ is off the charts (at least, relative to mine), is the embodiment of the position she's held for the past year. Her brilliance as our arts and culture editor aside, Ally is the type of person who can express so much with the raise of a single eyebrow. Her face lights up when given a gift of daffodils, and her undeniable fascination with plants is both perplexing and inspiring at the same time. She dressed up as a plant for our Halloween party, and she never seemed more at home.
Ally involuntarily went through a vegan phase. I'd make a joke about it, but we agreed to never talk about it unless someone's life depended on it.
Ally loves her staff and they love her right back, which speaks volumes. She never hesitates to address something when it seems off, and she always works to make things better.
Ally is a wonderful human bean. A wonderful, wonderful flower in a garden of weeds.She photosynthesizes our hearts. That was a stretch. But we beleaf in her, and can't wait for her to blossom in her post-graduate life.
Veronica Vargo, Sports Editor
By Kaelyn Tuermer-Lee
One of the great things about Veronica is that you can talk to her about literally anything. She's always up-to-date with the latest news, events and sports games. Perhaps most admirable though is her strong self-will and determination. While many struggle with the minimum 12 units, Veronica manages to pull off 21 units on top of two jobs. She is always first to volunteer her time, which is limited, and puts in 110 percent effort into everything she does. But the best part is that I get to call her an amazing friend. And since we're both biology majors — how she also somehow manages to also double major in English, I truly don't know — I ask her so many questions about classes to the point where she's basically my academic advisor. Those who know her are extremely lucky and those who don't most definitely should. Most of all, Veronica is someone I truly look up to and an invaluable friend.
Harnoor Gill, Science Editor
By Taryn DeOilers
The science desk and Harnoor completely mystify me. See, I'm a humanities major. And science and the humanities? Well, those things just don't mix! But somehow, Harnoor makes it work — extremely well, might I add. Like, she's killin' it. And on top of that, Harnoor is a neurology, physiology and biology major, somehow juggling crazy difficult school work and being an incredible editor and writer. I mean, she's essentially a genius, which is pretty impressive. For this she has rights to boast endlessly, yet Harnoor never fails to be unwaveringly kind, gentle and patient with the rest of us mortals. She is so sweet, so funny and so hardworking — and she almost forgot to reapply for her position next year. I think I speak for all returning editors when I say that I'm so glad that she remembered, because I couldn't imagine the Aggie editorial board without her positivity, sharp input and sincerity. Praise be, Noor!
Written by: The Editorial Board