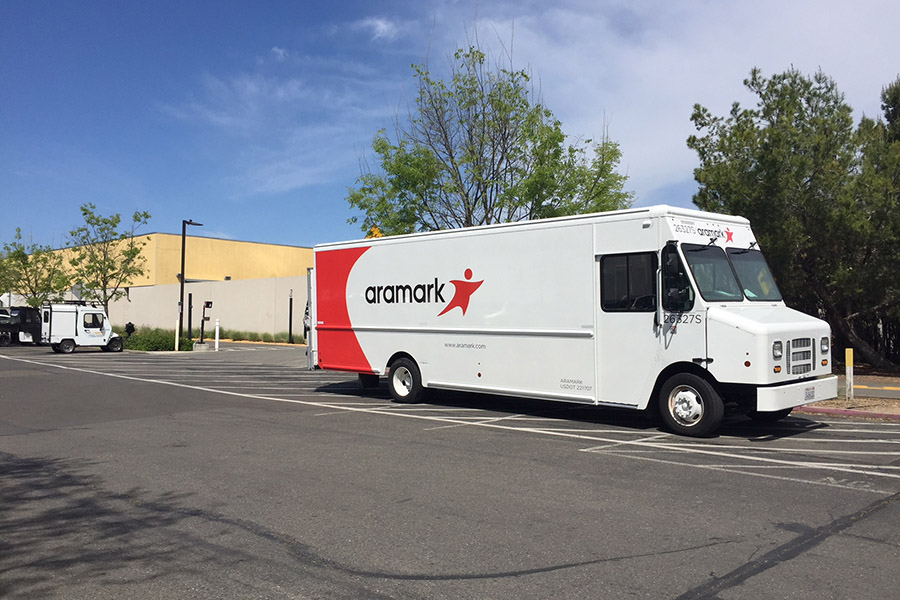 UC Office of the President's systemwide strategic sourcing initiative includes Aramark laundry contract
Over the course of the last two years, the UC system has actively divested from corporations involved with the private prison industry. In January, The California Aggie reported that the mobile ordering app Tapingo had ties to Aramark, a corporate food service giant that has clients in education and healthcare as well as contracts with privatized correctional institutions. However, the UC has, as of last year, entered into a contract with Aramark itself for systemwide laundry services.
According to an article written in The California Aggie, in December 2015, the Afrikan Black Coalition (ABC) created a petition sent to UCOP "calling for the University of California to divest $425 million worth of stock from Wells Fargo due to the banking and financial company's financial support in private prison companies."
According to the petition, "private prisons profit from incarceration (an average of $122 per person per day) and use their political influence to lobby for harsher penalties and anti-immigrant legislation." In response to the petition created by the ABC, ASUCD passed Senate Resolution #14 in February of 2016.
"[This resolution urges] both the Board of Regents of the University of California (UC Regents) and the Associated Students of University of California, Davis to undertake practices of corporate social responsibility by divesting in corporations which are directly and indirectly involved in the private prison industry, an industry built on profiting off of incarceration and the school to prison pipeline," the resolution states. "We as a student body and as a University system cannot, in good conscience, seek out a diversity of students when we are investing in incarceration and policing in communities of color."
In response to these demands for action, the UC divested around $25 million from two private prison corporations. The Annual UC Investment Office Sustainability Report, Fiscal Year 2015-2016 Achievements stated: "The UC investment office participated in a productive dialogue with the Black Afrikan Coalition on issues of joint concern and supported efforts to engage Wells Fargo Bank regarding its responsible banking policies and practices surrounding private prison finance."
According to its website, Aramark is "in the customer service business across food, facilities and uniforms." Additionally, according to an article from Medium, Aramark "works in over 600 correctional institutions across the United States and Canada […and] serves more than 1,000,000 meals to prisoners each day."  
Aramark has gained media attention on multiple occasions regarding backlash for poor food quality, protests, strikes and lawsuits. According to PBS, the corporation "has been the subject of complaints about maggots and rocks, sexual harassment, drug trafficking and other employee misconduct."
A 2017 article from The Atlantic states that a $145 million contract with Aramark was terminated early by the state of Michigan after issues "from maggot-ridden potatoes to employee drug smuggling" arose. Aramark has denied these allegations and any wrongdoing.
Aramark has also faced student backlash both nationally and internationally, in Washington D.C., Florida and Newfoundland, Canada regarding working conditions and food quality.
In early January, members of the UC Davis student body and the ASUCD Senate became aware of ties between Tapingo, a mobile ordering app introduced on campus, and Aramark. Director of Dining Services Darin Schluep stated that there was no correlation between providing services through Tapingo and the private prison industry since Tapingo did not directly work within the industry.
But according to Emily Galindo, the executive director of student housing and dining services and the associate vice chancellor of student affairs, Aramark now holds a contract with UC, spanning all ten campuses, as a laundry service provider.
"Aramark won the UC Office of the President's bid last year to be the systemwide laundry service vendor," Galindo said via email. "Davis is one of many UCs which is using this contract for our laundry needs. You may be aware that Aramark has a number of different divisions that sit under their company umbrella. Laundry is a different division from food service."
In a separate email to The California Aggie, Galindo expanded upon the terms of the contract.
"Aramark laundry contract is a UC systemwide agreement that falls under the Office of the President's strategic sourcing initiative," Galindo said.
At UC Davis, the Department of Finance, Operations and Administrations is responsible for, among other things, coordinating and managing the campus budget, analyzing strategy development, managing human resources, accounting for campus finances and maintaining campus facilities.
"We align business requirements and represent UC Davis on system-wide activities, incorporating our requirements to ensure that contracts that come out of Office of the President will yield tangible value [and] add to the Davis community," said Mike Morgan, the strategic sourcing manager in the Finance, Operations and Administrations Division. "On the other side of that, [the] Office of the President is looking at larger spend engagements."
Chief Procurement Officer in the Finance, Operations and Administrations Division Tim Maguire is responsible for overseeing numerous departments, including purchasing and contracts management, strategic sourcing, distribution services and facilities maintenance.
"My ultimate role is to coordinate all these groups to ensure that we're achieving the best value for the University and the commercial engagement of the University with outside resources," Maguire said.
Maguire discussed how financial costs and requirements of the UC impact the decisions regarding which companies to contract with.
"The spend across the UC system is about $13 billion [and] the spend at UC Davis is a little more than $685 million," Maguire said. "We have a large spend, we have a large population […and] there's not a lot of companies that can support our needs. We try to leverage companies across all ten campuses and all five medical centers to be able to drive best pricing for the university. You couple that with the other aspect of this: since we're a public institution, we're held responsible to the Public Contract Code.'
The Public Contract Code is a compilation of all public contract laws in one code that applies to virtually all public entities in California. The California State Legislature created this code with various goals in mind which include: "protecting the public from misuse of public funds," "stimulating competition in a manner conducive to sound fiscal practices," "To eliminate favoritism, fraud, and corruption in the awarding of public contracts," "To encourage competition for public contracts and to aid public officials in the efficient administration of public contracting, to the maximum extent possible."
Maguire explained the logistical process of creating this contract with Aramark, and the requirements that were considered by UCOP.
"The Aramark agreement was done through a system-wide initiative that was based out of UCOP and we put our business requirements into the pool," Maguire said. "We all have lab coats that need to be laundered, we all have uniforms that are needed for the facilities. We pooled all these requirements that we had from a uniform standpoint and we give that information to UCOP. They come back with proposals and in the proposal review UC Davis played a role in the review of the proposals and then at the end of the proposal review, […] UCOP would then identify who the awardees are."
The Aramark agreement was created by UCOP in September of 2016 after various difficulties with the UC's prior laundry servicing company, Mission Linen.
"We've had trouble in particular in the laundry area," Maguire said. "Prior to our relationship with Aramark, we had a relationship with Mission Linen and Mission Linen, if you don't watch this area very closely, they'll take advantage of you very quickly. Mission took advantage of us in certain areas that made them difficult to work with. We're working with Aramark to transfer the business to them, underneath the UCOP award, and we've been working with Mission to pull them out as best as we can."
Maguire explained that UC Davis, specifically, has only been working with Aramark for the last several months due to the challenges with campus size, garment quota and the challenge of being able to "identify a company that has the ability to service an institution of our size and an institution that has as much variety as we do."
Maguire responded to student concern in regards to Aramark's ties to private prisons.
"I don't know what Aramark's business engagement with the prison industry is," Maguire said. "I know they service almost any industry and I'm sure there's a ton of suppliers that service the prison industry as well. As far as I know, Aramark's not in the prison business, but […] you're going to be hard pressed to find a company […] that's a large company that supports us that wouldn't support a state prison, and a lot of our contracts that we have our state contracts."
When asked if he knew whether or not UCOP had considered the ties between Aramark and the privatized prison industry, Maguire replied that he did not know.
"As far as I know, I don't believe [UCOP] knew the other customers of Aramark when they went into the RFP [Request for Proposal]," Maguire said.
Jeremy Meadows, associate director of Facilities and Maintenance and Strategic Sourcing Centers of Excellence within UCOP, ran the Request for Proposal. He did not respond to a request for comment on this issue.
Maguire discussed the potential difficulties caused by a discussion of the extent to which ties to the private prison industry should play when UCOP considers whether to form contractual agreements with companies.
"There's a lot of suppliers to any industry — if it's a prison industry, to higher education, to high-tech, banking," Maguire said. "It could be any industry that had these similar types of needs, and most anybody we engage with could be involved with those customers as well. Are we supposed to disqualify these suppliers because they service the prison industry?"
Maguire expanded upon his points later via email.
"There are many suppliers involved with supporting the Prison Industry, are you suggesting that we discriminate against them as a UC because they supply goods and services to the Prison Industry?" Maguire said via email. "It's our departments mission to ensure that we maximize the value of each dollar spent by UC Davis. If we were to remove competitors from the marketplace based on who they do business with, we may find it difficult to acquire the goods and services the University needs.  Additionally, the cost of running the University could potentially increase if we were not able to maintain a free market structure."
Maguire did not have specific knowledge of the UC's divestment from companies with ties to the private prison industry and found little to no issue in contracting with companies indirectly involved in the private prison industry.
UCOP has yet to provide a statement regarding the state of knowledge over Aramark's ties to the private prison industry.
Written by: Priyanka Shreedar — campus@theaggie.org