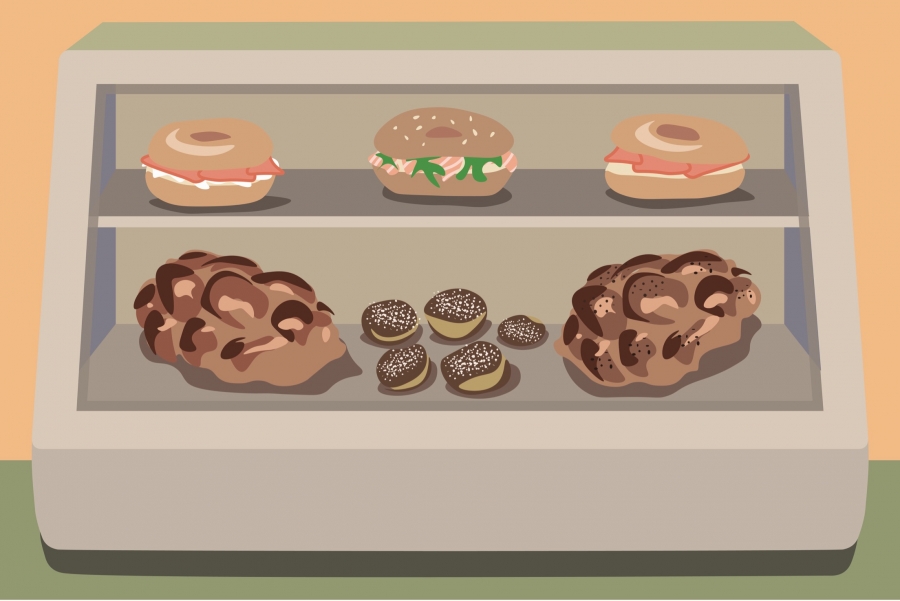 New downtown deli brings quality Jewish cuisine
Solomon's Delicatessen officially opened its first location, located in the central Davis Commons, on May 21. The menu offers a wide variety of Jewish-style artisanal sandwiches, soups, salads and of course, world-class bagels. There is also a variety of beer and wine to pair with a scrumptious babka for dessert.
Solomon's draws its name and decorative inspiration from the Sacramento based chain of music stores, Tower Records, founded by Russell Solomon. Tower Records opened all around the country and internationally. The interior feels modern and contemporary, but still houses the spirit of the 60s when Tower Records first opened.
The sandwiches are fresh, authentic and delicious. I particularly enjoyed "The Stanley." A simple, yet noteworthy take on a pastrami sandwich. The in-house-made spicy mustard has a good kick, which gives the sandwich its unique flavor. This combination pairs well with any of the available craft beers (don't worry, there's also a wine selection).
The matzo ball soup is definitely an item to try. The broth is light and fresh, and it seems like a soup that would have cured my winter cold in no time. The matzo balls themselves don't feel heavy, but rather, have an airy sensation about them.  
Of course, the bagels are to die for. As soon as one walks in, there they are, glistening in their shiny golden wonder. Solomon's bagels can be eaten with a variety of schmears (also known as spreads), and their breakfast sandwiches are served all day. The smoked lox bagel is always a great choice if you're unsure of what to try.
Solomon's is the first Jewish deli in Davis, and despite opening up in a location that has historically not served businesses well, the new kid on the block seems to be successful so far. It's a family-owned business and such character shows in the quality of the food and its service.
Solomon's Delicatessen brings a new type of cuisine to downtown Davis and I hope they are here to stay. In the adopted words of Russell Solomon, "No bagel, no life."
Written by: Josh Madrid — arts@theaggie.org