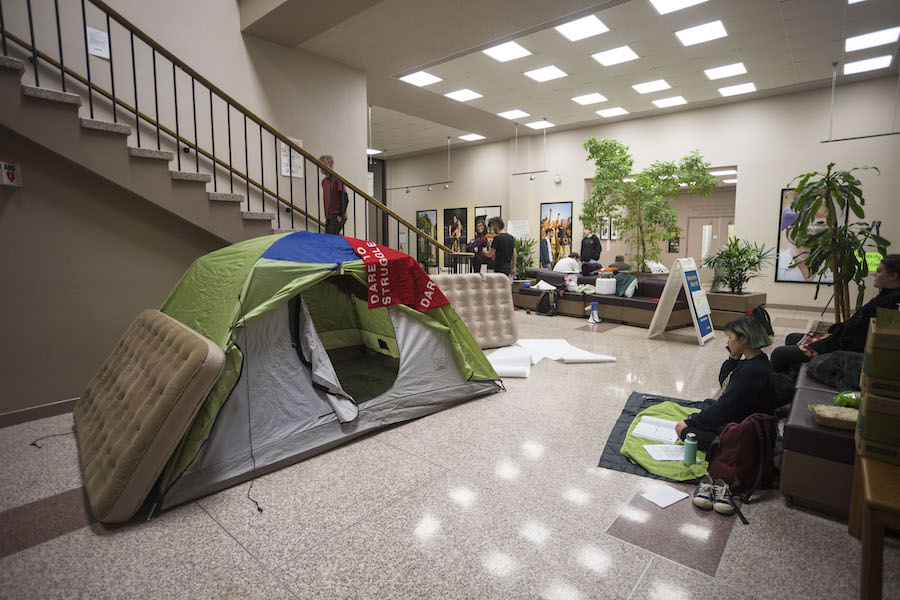 Protests over proposed tuition hike leads to disciplinary action
Six students and members of Students for a Democratic Society (SDS) who participated in a sit-in at Mrak Hall over potential tuition hikes which began on Jan. 23 and continued both that night and the night of the 24 were found guilty of violating university policy and have been placed on disciplinary probation.
Students faced multiple charges including being on university property after the Mrak Hall had closed for the night. Students were originally protesting the proposed UC-wide tuition hikes. The tuition hike for nonresidents was approved in March and consideration over the proposed tuition hike has been postponed until the 2018-19 school year.
Mrak Hall has historically been used as a site for student protests and sit-ins. In 2016, students occupied Mrak Hall for five weeks to protest then-Chancellor Linda Katehi. Students who participated in the 2016 sit-in were not disciplined.
Students who participated in the January sit-in tried to appeal having their "names on file," which permanently records their violation of university policy. The appeal was rejected. Although having their names on their permanent records does little more than state that they did to violate university policy, if any of the six students violate university policy in the future, they will face suspension or expulsion.
Donald Dudley, the director of the Office of Student Support and Judicial Affairs commented on the hearing, but declined to share the official outcome.
"While release of outcomes is permitted under policy for public hearings, the University's practice is not to release these outcomes and is not doing so," said Dudley.
Dudley also stated that OSSJA is not responsible for placing students on academic probation, but the result of the trial works to establish a precedent for more serious actions going forward if students are found to be in violation of campus policy in the future.
AJ Ballesteros, a first-year sociology major, is one of the six students found to be in violation of university policy. According to Ballesteros, students received support from the Graduate Student Association as well as from ASUCD, which passed Senate Resolution #16 urging the university to drop the official charges against the protestors.
"By ignoring legislation passed in these organizations, both of which are meant to be avenues of power for the students of UC Davis, the administration admits that these groups have no meaningful authority in the power-structure of the UC system," Ballesteros said. "This is especially important when we consider that the January protest was primarily about the increasing inaccessibility of the UC system to students from historically marginalized communities."
Ballesteros stated that the overall process speaks to the culture of exploitation perpetuated by the UC administration.
"Rather than repressing student activism and discouraging students from participating in collective organizing, the UC administration should actively work towards promoting structural changes that dismantle, rather than reproduce oppressive/exploitative social and economic systems/processes," Ballesteros said.
Written by: Ally Russell — campus@theaggie.org