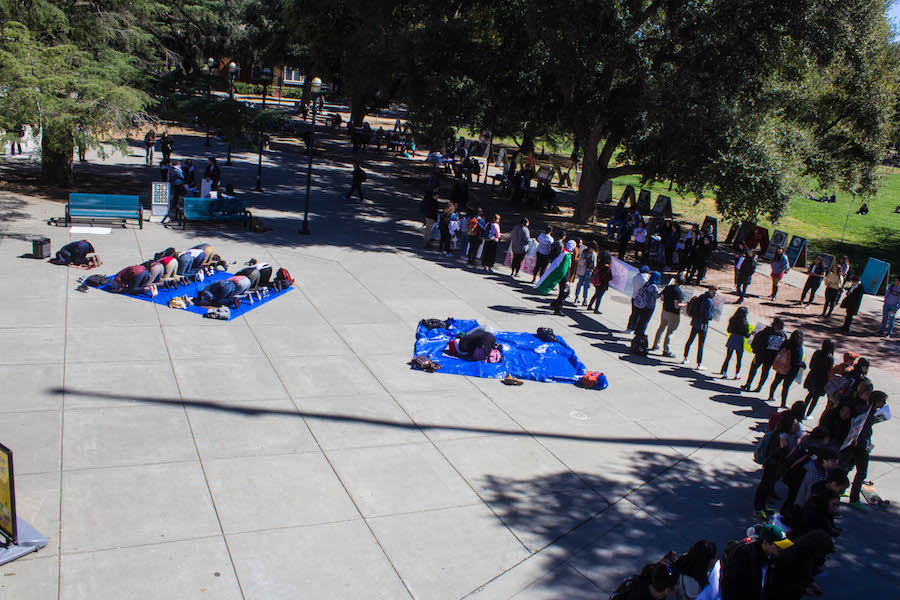 University administrators must not allow campus-wide surveillance of student activists
On May 24, 2018, a coalition group of activists fervently gathered in the George L. Mee Room on the third floor of the Memorial Union. Activists of all backgrounds, religions and organizations huddled together before entering, with one of the student leaders leading the group into a prayer (or dua) for strength, wisdom and the right intention. The large group then entered the Senate meeting. 
Unbeknownst to many of the Senators, committee chairs and other members of ASUCD, this group was organized by student activists who spent nearly a month researching and accumulating information for their strategic plan to come to fruition. This plan was Senate Resolution 19, which called for the condemnation of ICE, plainclothes officers and watchlists like Canary Mission from operating on campus and to safeguard the work of student activists at UC Davis. This activist group built relations, organized and researched before implementing action — and this, in substantial terms, is what activism is. It's not simply protesting or attending rallies or loudly making your presence heard; it's also underground work that no one notices, but that still extensively contributes to the end results of a goal rooted in advocacy.
Although the resolution passed unanimously, a new wave caused distress among the cohort a month later. Most of the student activists who organized the resolution and engaged in activism were "coincidentally" put on a heinous watchlist, Canary Mission, which aims to blacklist students involved in Palestine solidarity activism. The purpose of the watchlist is to intimidate students by tarnishing their reputations and inhibiting their career opportunities and is deeply rooted in Islamophobic and racist dogmas. Canary Mission is a nefarious weapon and tool that the Israel Lobby utilizes to ensure that "the public is better informed." Yet the site –– which consists of 2,000 students and over 500 college professors –– deters students from marginalized communities from engaging in activism out of fear of humiliation and harassment.
The pernicious website functions as an alt-right Zionist media forum that aims to suppress Palestinian free speech through the spread of fraudulent information and contentious stratagems. In fact, the Israel on Campus Coalition reported that Canary Mission was a "strong deterrent against anti-Semitism and [Boycott, Divestment and Sanctions] activism" in its 2016-2017 report. The ICC specifically targets activists involved in the BDS campaign and "anti-Israel students" who aim to expose the modus operandi of the abhorrent site.
Although SR 19 was a means of ending this harassment on campus, it did not prevent student activists in Davis from having their faces plastered onto a revolting database. It may have actually caused this — and that should scream volumes about the lack of security that student activists have when they're advocating for their causes.
Davis isn't the only school fighting for their students' voices to be heard. Activists at American University formed a coalition diaspora group consisting of Students for Justice in Palestine, the National Association for the Advancement of Colored People, the Black Student Alliance, the Asian Student Organization and other groups promoting BDS, calling for their campus administrators to "divest from fossil fuels, the Israeli apartheid state and private prisons." Holding our university administrators accountable, asking them to protect our rights and ensuring that Canary Mission cannot continue campus-wide surveillance is the least we deserve for fighting for the truth to prevail.
Written by: Kauser Adenwala — ksadenwala@ucdavis.edu
Disclaimer: The views and opinions expressed by individual columnists belong to the columnists alone and do not necessarily indicate the views and opinions held by The California Aggie.