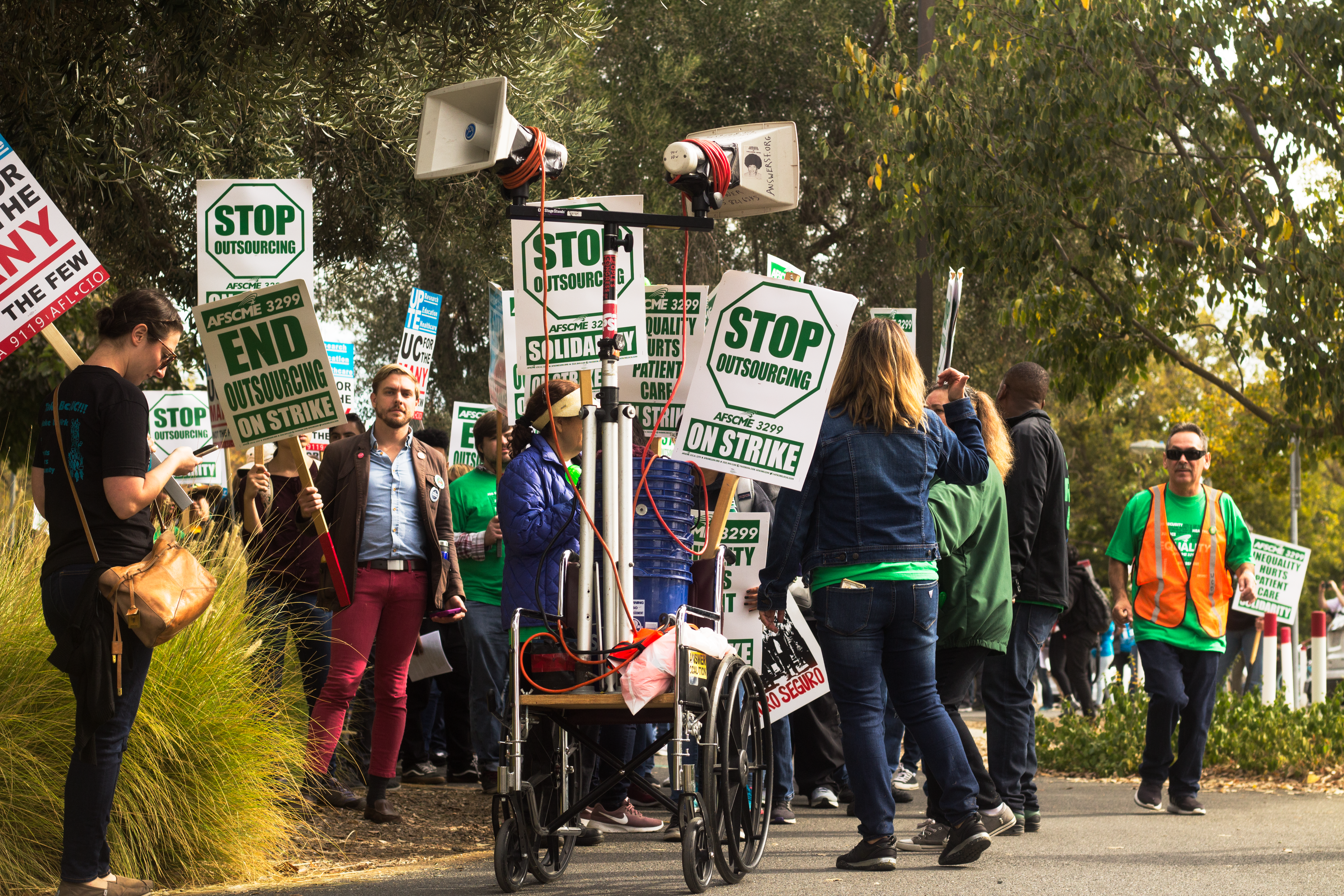 UC's largest labor union protests outsourcing, pay disparities, unsatisfactory offers from UC in midst of stalled negotiations
After a year and a half of deadlocked negotiations with the UC, the American Federation of State, County and Municipal Employees Local 3299 (AFSCME), the UC's largest employee union, representing over 25,000 workers, is holding its second three-day strike in the past year.
Citing concerns about job outsourcing and racial and gender disparities in the UC, AFSCME's strike started Monday and continues through Thursday, Oct. 25 with organized action taking place at UC Davis and UC campuses and medical centers throughout the state.
Between 200 and 250 people gathered on the first day of the strike at the field off of Orchard and La Rue Road, which served as a makeshift base. AFSCME workers wore green T-shirts. Members of the University Professional and Technical Employees, representing over 13,000 UC employees, who are striking in solidarity with AFSCME during all three days of the strike, wore blue shirts.
A 96 percent majority of AFSCME-represented employees voted to authorize a strike.
"The University's decision to bypass collective bargaining and impose employment terms on patient care workers […] would increase healthcare premiums, flatten wages, lift the retirement age, and risk the continued outsourcing of UC jobs," AFSCME's website states.
In a press release published before the start of the strike, AFSCME's president and vice president commented on what they perceive to be the UC's choice to ignore workers' concerns.
"When UC outsources … jobs, they're eliminating what were once career ladders into the middle-class for women and people of color," said AFSCME Local 3299 President Kathryn Lybarger in the release. "That is in major conflict with the University's mission of serving as an engine of economic mobility for all Californians."
Leticia Garcia-Prado, a medical assistant at the UC Davis Student Health Center and a representative for AFSCME, gave her reason for striking.
"Way more of our jobs are getting outsourced everyday," said Garcia-Prodo, who was present at the first day of the strike. "On campus, there are more and more buildings going up. What UC is trying to do is … get those jobs that are presently done by UC workers [and] outsource to [different] companies."
Garcia-Prado discussed how this outsourcing might affect her and her colleagues.
"A lot of custodians, a lot of groundskeepers — even the maintenance [workers] who maintain the buildings — those jobs are always being threatened," she said. "UC can decide to have a UC job converted to outsourcing and that will be somebody else and not a UC employee."
Garcia-Prado mentioned the practice of laying off existing UC employees and then rehiring them as a contract employees. "It is not fair for us," she said.
Desiree Bates-Rojas, the president of the Labor Council for Latin American Advancement of Sacramento, a nationwide labor advocacy group who came to support the strike, spoke about job outsourcing.
"This is a fight about privatization," Bates-Rojas said. "We want to defeat privatization. We want to stop privatization of worker's jobs. And right here in our backyard, in Yolo County, in Davis, California, we have the people's university, UC Davis. If they can't get to the negotiating table with AFSCME […] to defend workers and families then we have a big problem."
Bates-Rojas continued on to discuss issues surrounding privatization.
"Privatizing workers means a lot of things — one, it means destroying families," she said. "It's taking jobs away from people. It means paying lower wages. It means no protection for workers. […] Privatization means a to fuel a corporation to take democracy and liberty away from people."
The UC responded to the strike and the concerns highlighted by AFSCME in a statement sent to The California Aggie by Claire Doan, the director of media relations for the UC Office of the President.
"For a year AFSCME leaders have refused to budge on their unreasonable demand of a 36 percent raise over four years for patient-care workers," the statement reads. "That is nearly triple what other university employees have received and clearly unrealistic for a taxpayer-funded institution like UC."
The statement claims that the spending on campus service contracts has remained relatively level, AFSCME patient care and service workers are compensated "at or above market rates" and specifically mentioned AFSCME's recently-filed lawsuit against UC Davis which could stall the construction of additional student housing.
Last May, 53,000 UC workers participated in AFSCME's first strike. Both UPTE and the California Nurses Association participated in a sympathy strike, but the CNA's recently-finalized contract prohibits its employees from participating in any solidarity striking.
Union leaders, including from AFSCME and UPTE, had raised concerns about what they perceived to be intentional stalling tactics by the UC until after the Supreme Court ruled on the AFSCME v. Janus case. The court's 5-4 ruling over the summer eliminated agency fees, effectively weakening the power of labor unions.
John de los Angeles, a spokesperson for AFSCME, told The Aggie in a recent article that the UC had sent out materials appearing to encourage workers to drop their union. A state agency recently filed two complaints alleging the UC engaged in illegal, union-busting activity, though the UC disputes these allegations.
Notably, the UC pointedly criticized AFSCME's membership fees in its statement sent to The Aggie regarding the strike, saying AFSCME leaders have "no qualms pointing a finger at UC while choosing to take a larger portion of their members' paychecks."
"UC is hoping to see that the Supreme Court's Janus decision has weakened UPTE," a press release on UPTE's website stated. "This is our most important opportunity to show UC that we are more committed than ever to making sure that all UC workers are treated with justice and dignity."
Lucy Joseph, a campus vice-president for UPTE, spoke about her union's support for ASFCME.
"UPTE is here to support our colleagues in the AFSCME patient care unit, and those are the people who run a lot of the tests and procedures that you might get — respiratory techs, x-ray techs, people like that," she explained.
On the subject of using how outsourcing might affect the morale of existing UC employees, Joseph said for those who are trained to perform a specialized job, spending time supervising "a bunch of contract employees" makes it hard "to take pride in your work."
An email sent by UC Davis Employee and Labor Relations stated the university respects the right of workers to engage in the strike and that all absences of employees scheduled to work at any time between Oct. 23 and 25 will be presumed strike related.
"If an employee's absence between October 23 – 25, 2018 is not approved or cleared by medical documentation, that time will be designated as unapproved leave without pay," the email states.
Describing her experience at the first day of the strike, Garcia Prado confidently said, "it's great — we are out here supporting each other."
Written by: George Liao and Hannah Holzer — campus@theaggie.org