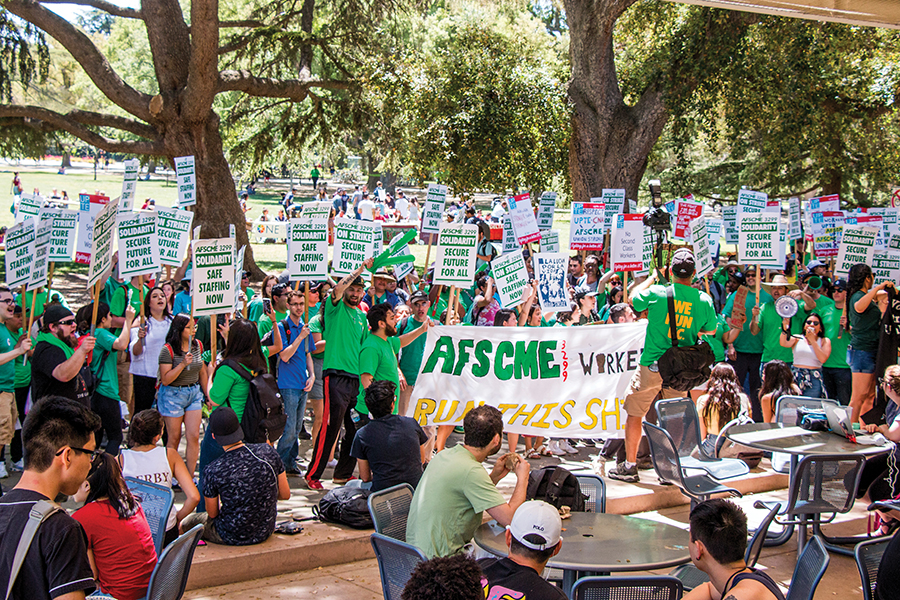 AFSCME workers joined in solidarity by other unions, students, faculty
Three days of striking began on the morning of May 7 as UC Davis service workers and union representatives set up tents on Hutchison Field.
Employees represented by the American Federation of State, County and Municipal Employees Chapter 3299, the UC's largest employee union, were on strike from May 7-9 at UC campuses and some hospitals. AFSCME workers were joined in solidarity by members of the University Professional and Technical Employees union and the California Nurses Association as well as groups of students and other faculty and staff members.
After a year of bargaining negotiations between AFSCME and the UC, an AFSCME press release states the "UC still has yet to offer real wage increases, benefit protections, job security, safe staffing and ending discrimination in the workplace." The union also called for the UC to acknowledge and fix racial and gender disparity in pay, especially among Latinas and black women.
Workers say they are also concerned about the outsourcing of jobs to contracted agencies, which takes away work from previously trained UC employees and contributes to high turnover.
"A lot of new people coming in can lead to accidents," said Shamus Sullivan, who works as a cook at the Cuarto Dining Commons and took part in Monday's strike. "There's not enough time to properly train people."
A sea of strikers, students and UC Davis community members carrying signs and dressed in green shirts saying "We Run UC" marched through campus on Monday, Tuesday and Wednesday. On the first day, around 100 students and 250 workers marched on the Quad, calling for students to join them and recognize the injustices faced by the workers. A rally was held among the tents set up along Hutchison Field that featured speakers from UPTE and the group United Students Against Sweatshops.
On Tuesday, strikers marched to the university's Human Resources Department, the medical district, facilities management and Mrak Hall. A rally featured representatives from Yolo County Progressives, the graduate student workers union, and the National Alliance for Filipino Concerns. The strikers then returned to the Quad.
"We will march on management wherever they are," said one of the organizers.
Across campus, teachers, teaching assistants and technical workers joined the strikers in solidarity.
Simon Sadler, a professor of design, was one of many faculty members who came out to show solidarity with the strikers.
"I do think that it is actually within everybody's interest to support one another to make UC work," Sadler said. "I can't really see how I would be able to separate one type of colleague at UC for another type."
Participants commented on the size of the turnout.
"This is incredible," said Joaquin Chavez, the statewide vice president of UPTE-CWA 9119, one of the unions striking in solidarity with AFSCME. "It's amazing to see the workers come out and fight for dignity on the job and fight for each other and stand together for a common cause. We are out here supporting AFSCME in their contract fight and we really feel solidarity with AFSCME service workers because we experience the same kind of conditions that they do."
During downtime between marches, strikers said they felt confident and relaxed as they joined as a community and enjoyed catered meals, provided by the union's strike fund that comes from a small portion of the union dues. Strikers are optimistic that they will receive a good solution.
"I believe that strikes are really where you see people at their best," said Chris Flint, the communications specialist for the Service Employees International Union. "Strikes are harder than working."
Flint also noted that while striking, workers are not being paid.
"It's a big sacrifice," said AFSCME organizer Scott Hill.
On Monday morning, a car struck three strikers in UCLA as a city marshall directed them across the street. The individuals were treated for "minor injuries," according to the Daily Bruin.
California Senator Kamala Harris has cancelled her commencement speech at UC Berkeley due to the strike after pressure from AFSCME.
Written by: Taylor LaPoint and George Liao — campus@theaggie.org