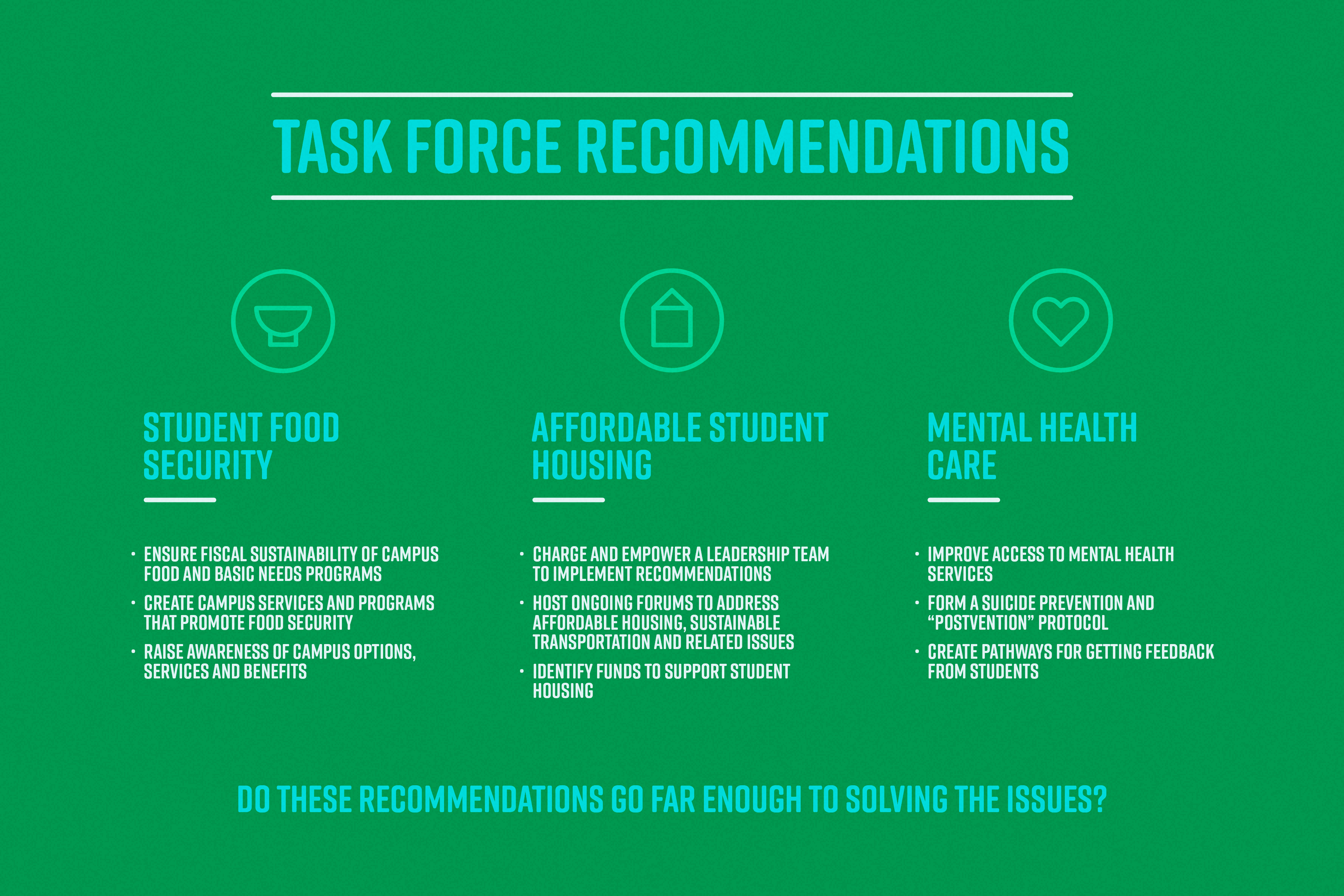 Questions over whether recommendations on housing, food insecurity, mental health care are sufficient
In response to vocal student concerns, Chancellor Gary May convened three task forces on student food security, mental health care and affordable student housing last spring. Each of the task forces recently released recommendations for improvement.
May asked each of the task forces to "review existing programs and options within its assigned topic area, consider improvements and make recommendations," according to the UC Davis website. The university has now released the findings of each task force, as well as the university's response to these recommendations.
Recommendations from the mental health task force included lowering the non-clinician workload given to clinicians, bolstering the staff that works at the university and setting up long-term hiring plans and cultural competency training.
The student food security task force recommended ensuring the long-term sustainability of on-campus resources, creating programs that promote food security, raising awareness about existing resources and advocating for related policies at the university, state and federal level.
Lastly, the affordable student housing task force recommended planning a forum with the City of Davis and university to discuss housing needs, identifying funds to support housing and monitoring housing trends.
In an official university response, May referred to these recommendations as "potential solutions that can be implemented in a reasonable period of time."
Katrina Manrique, a fourth-year English major and the co-director of the Mental Health Initiative, served on the mental health task force. According to Manrique, UC Davis was too dismissive of the task force's findings and recommendations, failing to specify its response to Manrique's recommendations.
"Personally speaking, I am dissatisfied with the university's response to our recommendations," Manrique said via email. "I felt like the response was informational, however they lacked the specificity and depth that I had hoped for. There was a lot of mention about how SHCS and Student Affairs are currently assessing everything, however there was no specific say as to how they will follow up with students once they've assessed everything."
Manrique said she thinks the university needs to focus more on transparency.
"There was no detail as to when they will finish assessing the quality of their services or how specifically they intend to communicate their assessments when finalized," Manrique said. "How will we begin to know the results of their assessments or their next steps? Students are again being left out in the process and timing of these decisions. Students need to be absolutely aware of the changes and assessments that administration conducts."
In Winter Quarter of last year, a contentious mental health town hall was held in response to a series of articles published in The California Aggie which exposed a leaked internal audit stating the university had spent $250,000 of student fees meant for the hiring of general counselors in a questionable manner.
After the publication of the article, the university released the audit and a second audit on student fees in their entirety.
As Co-Director of the Mental Health Initiative, Manrique occupies a unique position as a student with prior knowledge of the issues in Student Health and Counseling Services.
Manrique also referenced the 12 counselors UC Davis had planned to hire with student fees over the course of a four year period to bring the university in line with minimum student-to-staff ratios. The university has not hired these counselors. To Manrique, offering options like peer help and phone lines may be helpful, but the most crucial need is long-term clinician service.
"When I entered the Task Force, one of the things that I wanted recognized within the petition was the audit," Manrique wrote. "In my opinion, the audit showed the inconsistencies between the promises of Student Affairs and Student Health and Counseling Services. It shows that the mental health fee, a fee which came from students, was being utilized for other needs in different departments which was contrary to their initial promise of hiring 12 counselors."
Students deserve long term care, Manrique said, "not short term solutions."
"[This] is why the recommendations emphasizes the need and prioritization of more counselors," she said.
One of Manrique's recommendations was to "establish and publicize a long-term hiring plan to ensure that Counseling Services meets the needs of a growing student population." Other recommendations focused on increasing Community Advising Network (CAN) counseling and promoting cultural awareness.
Kauser Adenwala, a second-year political science major and external vice president of the Muslim Student Association, felt that the administration's response to the three task forces was lacking.
"These are imminent challenges and must be attended to immediately," Adenwala said.
Ellie White, a graduate student in the Center for Watershed Sciences at UC Davis, said the university should be directly helping disadvantaged students more, rather than simply validating students grievances.
"A structural way of solving the problem of houselessness is giving people the means to afford their rent," White wrote. "As far as students who are not employed by the UC (i.e., a vast number of undergraduates), a "bold new plan" would be to provide housing for free."
On the topic of food insecurity, White complimented the notes that that the task force made, but challenged them to question why students are food insecure in the first place.
"So far the solutions I see are 'educate and feed people free food'," White said. "I love both these recommendations. They just don't go far enough to get at the structural issues. Why do people experience food insecurity? Would you be food insecure if you have $1,000/month to spend on food and had time and knew how to cook nutritious meals? […] We need solutions that stop people becoming food insecure in the first place."
Written by: Aaron Liss — campus@theaggie.org