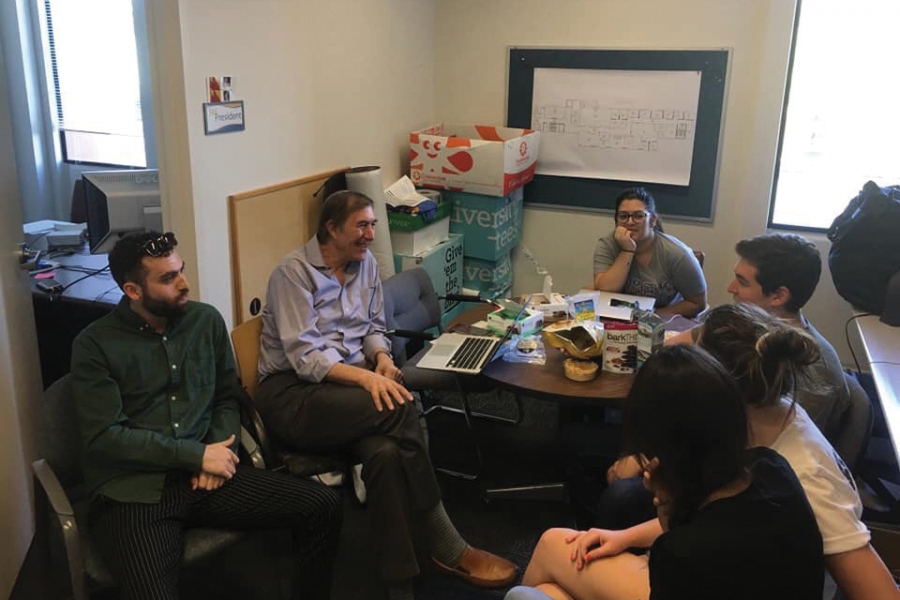 Moving forward, ADL will host training workshops, administration will provide more efficient communications after targeted attacks
Jewish student leaders on campus met with Chancellor Gary May on Friday, Oct. 19, to discuss how the university can proactively address issues regarding anti-Semitism at UC Davis. The meeting was sparked by anti-Semitic fliers that were distributed throughout campus on Monday, Oct. 9 by a local chapter of the neo-Nazi website, the Daily Stormer.
Students who were present at the meeting included ASUCD President Michael Gofman, Dana Benavi, the president of Jewish-interest sorority Sigma Alpha Epsilon Pi; Arielle Zoken, vice president of Sigma Alpha Epsilon Pi; Noah Pearl, commissioner in the ASUCD Internal Affairs Commission and president of Alpha Epsilon Pi, a Jewish-interest fraternity and Ali Soleimani, the president of the Jewish Student Union at UC Davis.
Zoken, a third-year economics major, described her experience as a Jewish student at UC Davis.
"We're white when it's convenient and Jewish when it's not, so a lot of us at UC Davis, we're Caucasian so we're not seen as a minority, [and it's not seen] that we need protection or sensitivity," Zoken said. "I've experienced anti-Semitism on campus. My freshman year, I was asked where my horns were. I've been asked, when I was speaking Hebrew, if I was 'speaking terrorist.' Somebody said it as a joke. […]  I think the main issue that we have at Davis is that there's not really a space on campus [where we feel welcome]. Off-campus, Hillel, Chabad, that's where we go, but as of now the goal here is to make it so that the classroom is a welcoming space for us."
Benavi, a fourth-year communication major, also spoke about the need to make the campus a more welcoming place for Jewish students.
During the college application process, Benavi hesitated to attend UC Davis due to a incident in which swastikas were painted on the walls of the AEPi fraternity. Realizing that excluding Jews from UC Davis was probably the culprit's mission, Benavi decided to attend the university and become involved in Jewish student life.
According to Benavi, the meeting with Chancellor May was successful and proactive, and May referenced the meeting as the start of a long-term partnership between the Jewish community and the administration.
 Pearl, a third-year statistics and political science double major, was also present at the meeting and said that he initially felt the university's response to the fliers was "a little bit inadequate." However, Pearl stated that after Jewish students wrote to May expressing their concerns and offering constructive ways of addressing similar incidents in the future, the administration took action.
Through the meeting, Pearl said the group learned more about the formal process for addressing hate-related incidents, and he noted that the chancellor does not have direct control over what occurs on campus.
As some individuals found out about the fliers via social media, they were upset that they hadn't been notified first by the university. Pearl expressed concern about how UC Davis could alert the Jewish community in the future should another incident like this occur.
As Pearl learned, because UC Davis is a public institution it is illegal to maintain a record of its students' religions, so it isn't possible for the college to immediately contact Jewish students when these kinds of events happen. Other suggested measures, such as installing more security cameras on campus, have been taken into consideration, especially since the identity of the flier distributor remains unknown.
Additionally, Zoken said the Anti-Defamation league will run a series of workshops "with professors, administrators and student leaders" to talk about the rise of "minority hatred" in the United States. She also said that the school has been proactive in helping coordinate this.
In terms of making the university a more culturally welcoming place for Jewish students, the individuals present at the meeting are working with the campus dining commons to make more Kosher options available. Zoken mentioned a friend of hers who found themselves having to eat frozen meals at the on-campus dining commons because of the lack of dietary options, an experience iterated by some of Pearl's friends during their first years, which became especially difficult during Jewish holidays like Passover.
At the meeting, Soleimani presented the idea of having a Jewish advocacy officer present at the university or expand the role of the Middle Eastern/South Asian student affairs officer so that Jewish students could find support.
Some feel uncomfortable seeking help there due to what Pearl described as the "heated issue" of Zionism on campus, a struggle reflected in demonstrations that happened at UC Davis in the spring of 2018.
Moreover, Zoken, Benavi and Pearl all stressed the importance of Jewish students feeling comfortable enough to approach university officials about their community's needs in reaction to anti-Semitic hate crimes on campus. Because mental health professionals on campus were not notified about the incident initially, there was no specialized help or treatment available for students who felt threatened or afraid due to the content of the fliers.
That being said, Pearl feels that there is now an "open line of communication" between Jewish student leaders and the administration.  
As Dana Topousis, chief marketing and communications officer at the university, noted in an email, Chancellor May found that there were "positive outcomes and agreements on several next actions."
And as Sheri Atkinson, vice chancellor of Student Affairs, said in an email, "It is all of our responsibility to work to build an inclusive campus environment."  
"When there are breaches, it is important for us to respond, evaluate ways we can continue to collectively work together to address issues, and provide education," Atkinson said. "We are also committed to addressing all forms of discrimination and anyone can file a report at reporthateandbias.ucdavis.edu when something occurs."
Written by: Rebecca Bihn-Wallace — campus@theaggie.org
Editor's note: An earlier version of this article did not include the name of the student whose idea it was to create a Jewish advocacy officer or expand the role of the Middle Eastern/South Asian student affairs officer. Their name and position as the president of the Jewish Student Union at UC Davis has been added to the article.