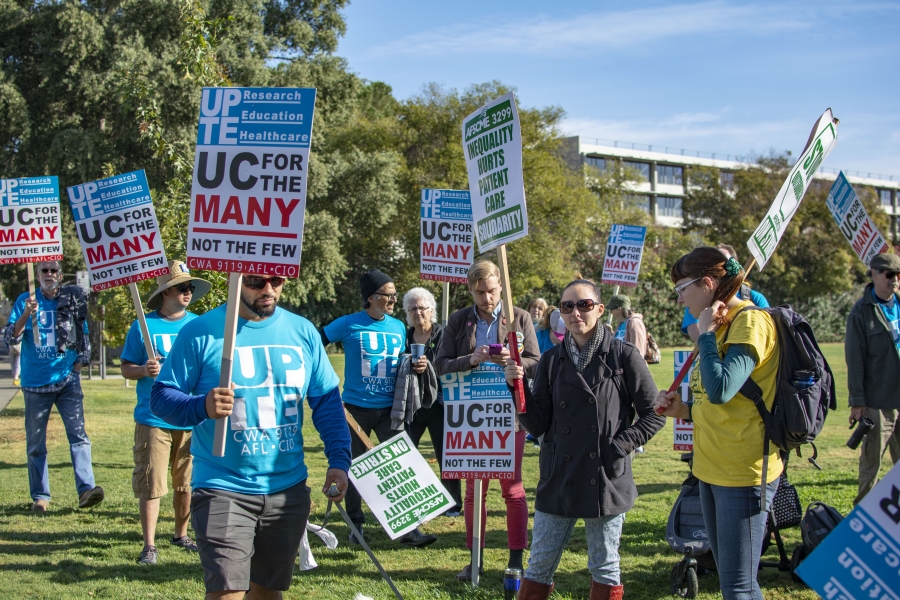 ASFCME, UPTE members discuss their reasons for striking
The three-day strike held by the American Federation of State, County and Municipal Employees Local 3299 (AFSCME) from Oct. 23 to 25 against the University of California system has ended. In a show of solidarity, employees represented by the University Professional and Technical Employees (UPTE) union joined AFSCME 3299 on the picket lines.
AFSCME 3299 cited the outsourcing of union jobs, poor working conditions and stalled negotiations as the reasons for the strike. The union specifically emphasized outsourcing of existing and future jobs as the catalyst for the latest strike.
In a press release circulated before the strike, the President and Vice President of AFSCME Local 3299 outlined their purpose.
On the second day of the strike in Davis, the focus shifted to the University of California, Davis Medical Center (UCDMC) in Sacramento where the primary concern was the outsourcing of jobs in connection with the planned construction of a new rehabilitation hospital.
The new rehabilitation hospital will be a partnership between UC Davis Health and Kindred Healthcare, a nationwide health care services company, as part of the Aggie Square initiative to build a facility for brain injury patients. The existing rehabilitation facility at the UC Davis Medical Center will be moved to the new building as a result.
Alexis Roberts, a clinical laboratory scientist at UCDMC and a member of UPTE, expressed her concerns about moving the rehabilitation facility to the new hospital.
"They are trying to move the [rehabilitation] floor of UC Davis Medical Center to a different hospital," Roberts said. "They are planning to build a separate building which sounds like a good idea, because it will say UC Davis on the side of the building, but actually [there] won't be any UC Davis employees inside of the building."
UC Davis officials, however, have said there will be no outsourcing.
"There will be no job outsourcing related to the UC Davis Rehabilitation Hospital," said Steve Telliano, an assistant vice chancellor for UC Davis Health, via email. "None at all."
Telliano explained the UC Davis Rehabilitation Hospital is a new, separately licensed hospital which will be built and operated by Kindred Healthcare, which is a completely separate company.
"Therefore, just like applying for any other job with any other company, someone would need to apply for positions that are open at that company in order to work there," he said. "It's expected that about 200 new jobs will be created at this new hospital. UC Davis does not own this hospital, … we are a partner in this hospital, and we will oversee the care delivery in the facility."
Jamie McDole, the vice president of UPTE, spoke about outsourcing and how UPTE members of the rehabilitation unit were notified of the planned privatization.
According to McDole, UPTE members in the rehab units had received notifications that the rehab unit at UCDMC will be closed and relocated to the new hospital once construction is completed in five years.
"Their positions will be incorporated into the rest of the hospital […and] if they actually want to continue in rehab that they will have to apply at Kindred," she said.
Telliano, however, explained that the UCDMC will employ the same number of workers and no jobs will be lost.
"The UC Davis Health rehabilitation therapist employees currently employed will still be employed to do exactly what they do now, inside the UC Davis Medical Center, working for UC Davis, after the second hospital opens," he said. "There is such a need for rehabilitation services in the Sacramento area that we will need not only the current staff in the UC Davis Medical Center, but also the additional staff to be hired in UC Davis Rehab Hospital."
McDole also said that UPTE was seeking legislative remedy in response to the university's plans.
"UPTE is already been talking to different legislators," McDole said. "This is public money. This is university land, public money and UC money being used to build this, and these need to be UC jobs."
Jasmine Tobin, a certified occupational therapy assistant at UCDMC and an AFSCME union member said the union has been attempting to settle a new contract with a specific focus in addressing outsourcing.
"We're out here to get a new contract that we have been working on for over a year with a really big focus on the outsourcing that continues to happen here for UC Davis which personally affects me and my possible future career here," Tobin said.
Tobin also spoke about the pay gap between administrators and union workers.
"[It] seems like the top officials keep giving themselves more and more raises," Tobin said. "The example that we definitely see is the top CEO administrators make over million dollars and continue to get their raises as we are sitting here paycheck to paycheck […] we are in a stuck position."
"UPTE and AFSCME have both been in contract negotiations for over 18 months," McDole said. "AFSCME has been imposed upon with a lot of cuts from the university after going through impasse, so UPTE is coming out in solidarity to support them and to support their stance that the university not impose these cuts on them as well as impose outsourcing their jobs."
Greg Wine, the UC Davis UPTE local vice president and a senior dietician at the UCDMC, spoke about the tight bond between UPTE and AFSCME.
"UPTE and AFSCME are all in this together," Wine said. "Both of our unions are experiencing outsourcing and both of our unions are experiencing pay inequalities. When AFSCME has the right to call a strike, UPTE is always going to be there to support them."
Mohammed Akbar, an operating room assistant lead and an AFSCME member, spoke about the broader personal effects of outsourcing.
"Outsourcing is bad from the get-go because when you outsource a job you take away from somebody who is already doing the position," Akbar said. "You are also taking away not just from them, you are taking away from their families. You are taking away from their livelihood. All these things you are taking away from them and then you are making somebody to do the job that they are going to do when they are outsourced."
Akbar said outsourcing personally affects him.
"When I come in to work, this is my first home, this is my family — I see the people I work with day in and day out more than I see my family," he said. "I also assume that [the] UC upper management would treat us like family, but family does not put you out on the street."
Wine brought up concerns about outsourcing with the construction of each new building.
"We do not want to set a precedent where every time they build a new building, everytime UC builds a new center for excellence or new center for this disease or that education, we do not want them contracting out merely because it's a new building," Wine said. "We have to stop this in its tracks, UC is our university. It is a public university."
A rally was held on the second day of the strike on the grounds of UCDMC where Christopher Shelton, the president of the Communication Workers of America which UPTE is a member of, gave an emotional speech to a large crowd of union members.
"All of you are out here on strike because of one thing and one thing alone: greed," Shelton said. "It's not your greed, it's the CEO, the administrators and all the higher management that work for UC. They are making millions of dollars while they are trying to steal [funds] from you. Are we going to let them steal anything from you?"
With this the crowd responded with a resounding "No."
On the final day of the three-day strike at the UC Davis campus, Rebecca Chidester, a referral coordinator for the UC Davis Medical Group and AFSCME member, spoke about the potential saving of money by contracting out work.
"It's not like they [the UC administration] can't afford it," she said. "They can. [They are] trying to get work done as cheaply as possible [when] they are increasing their pay all the time. From what I understand, they just got a three percent increase, and we are trying to get the same thing, and we are never going to make what they make. I don't plan on ever being at their level. But at least respect what I do and quit making me beg for what I deserve."
Sam Howell, a second-year psychology major who is affiliated with the group United Students Against Sweatshops, came out to show support for the strike.
"The wages that service workers make at this school are completely absurd," Howell said. "There is gender and racial discrimination. It's a public school, but it's clearly for profit — it's privatized."
Howell emphasized the importance of students acknowledging "the dignity of labor."
"These workers are out here giving their times so that students can have an education," Howell said.
Written by: George Liao— campus@theaggie.org