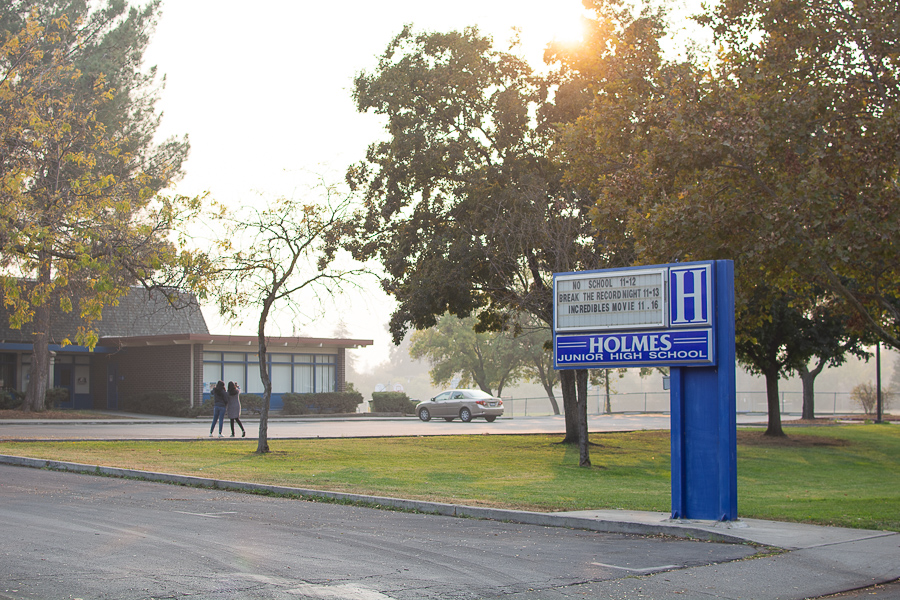 Davis police, school district officials investigate anti-Semitic vandalism incident at Holmes Junior High
Police are investigating a report of anti-Semitic vandalism found on Oct. 29 at Oliver Wendell Holmes Junior High School. According to police and school officials, multiple swastikas were discovered in a boys bathroom at the Davis school.
Lieutenant Mike Munoz of the Davis Police Department detailed a report of the incident, stating that the mirror and sink had been vandalized with anti-Semitic graffiti and other obscenities. The unknown suspect used orange crayon to draw a large swastika on one of the mirrors, while another mirror featured a large drawing of a penis and the words "suck my d**k," also drawn in orange crayon. As of Tuesday, Nov. 13, the police had yet to identify any suspects.
"No leads at all," Munoz said.
A message sent out to parents around the district by Superintendent John Bowes acknowledged that multiple swastikas had been found in the bathroom that Tuesday and emphasized that the school was taking the incident seriously. Police were contacted shortly after the graffiti was discovered.
"The incident at Holmes Junior High was immediately reported to the Davis Police and we are working with them to investigate," Bowes wrote in the message.
The graffiti was discovered two days after a gunman open fired at Tree of Life, a Pittsburgh synagogue, killing 11 people and injuring seven others. The New York Times reported that the shooter posted a number of anti-Semitic messages to his social media prior to the shooting.
Across schools in the Davis district, campus flags still hung at half-mast in remembrance of the Tree of Life victims when the vandalism occurred. Part of the reason the graffiti was treated as a serious incident, Bowes said, is due to the fact it occurred shortly after the shooting.
"While we are certainly not immune from acts of hate perpetrated on our campuses, this particular act which happened just in the wake of the shootings in Pittsburgh, is especially vexing," Bowes wrote in the message.
School officials took action across multiple Davis campuses, speaking to students, parents and local members of the Jewish community in response to the vandalism.
"Holmes Principal Jean Kennedy has spoken with students and has messaged parents about the hate incident on that campus," Bowes wrote in the message. "The principal of Davis Senior High is reaching out to the Jewish Student Union and administrators and teachers across our District are leading hard conversations about the ways hate violence and hate speech have real effects on people in our community and how we can support one another."
The message emphasized the Davis Joint Unified School District's commitment to values of "acceptance, tolerance, and inclusion." Bowes urged any students or other struggling with the incident to reach out to school counselors for support.
"In DJUSD, we believe strongly and deeply in cultivating an environment where students, families and staff feel safe and belong and where all are welcomed and able to thrive and contribute to a richer and more vibrant community," Bowes wrote in the message. "This DJUSD commitment is never more pronounced or important than when an individual or group feels threatened or harmed."
Lieutenant Paul Doroshov from the Davis Police Department was firm in his statement regarding the vandalism.
"This community does not stand for it," Doroshov said regarding a similar incident a year ago, according to Fox40. "This police department does not stand for it."
The vandalism at Holmes Junior High is one in a number of similar incidents that have occured in Davis recently. Earlier in October, UC Davis students found a number of anti-Semitic flyers posted at various locations on campus. At Davis Senior High School on Nov. 9, a school supervisor contacted police after discovering swastikas drawn in the dirt on a student's car, according to Munoz. In 2017, police and the school district responded to a similar incident at Davis Senior High School, when bathrooms were vandalized with anti-Semitic graffiti and a racial slur, according to Fox40.
Written by: Tim Lalonde — city@theaggie.org