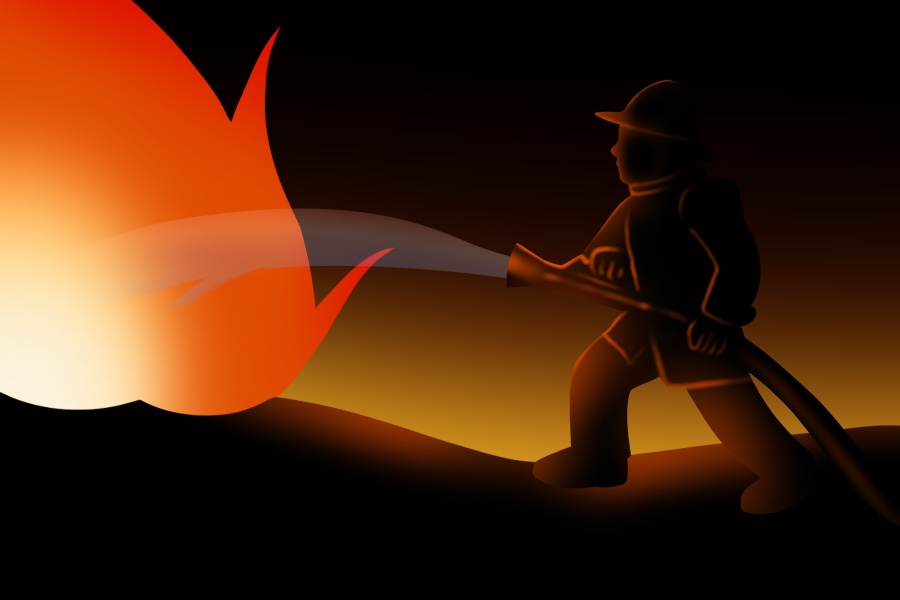 Strike team of local, campus, city fire personnel came home to Davis after fighting deadliest blaze in state history  
A team of firefighters from Woodland, West Sacramento, the City of Davis and the UC Davis Fire Department joined other fire departments from across the state on Nov. 8 in an effort to contain the deadliest wildfire in state history. After over a week of battling the Camp Fire in Butte County, local firefighters were released from deployment and returned home safe in time for Thanksgiving.
On Nov. 17, the City of Davis Fire Department announced on Twitter that deployed personnel were returning to Davis.
"Our crew is on their way home after a 9 day deployment on the #CampFire," the tweet read. "The crew is honored to have served our neighboring Butte County Community during this terrible tragedy. Welcome home!"
Campus firefighters returned on the same day, according to the Dateline UC Davis Twitter, though task force leader Captain Steven Dunn remained for two additional days.
"The four-person @UCDavisFire crew is back home and safe, after being released from the #CampFire Saturday," Dateline tweeted. "Still helping there: UC Davis Capt. Steve Dunn was sent Friday as a task force leader."
A regional strike team composed of Davis, Woodland, West Sacramento and UC Davis firefighters were among the first to reach the fire the day it broke out. The Camp Fire started at 6:33 a.m. on Nov. 8, according to CAL FIRE reports. Regional officials requested additional personnel from the area around 9 a.m., and City of Davis Fire Assistant Chief Dennis Reilly reported. A little before noon that day, the regional strike team met at a rally point in Sacramento and was engaged in containment efforts in Butte County by that afternoon.
"Our regional coordinator started making phone calls 9 o'clock that morning," Reilly said. "We identified four people — they had met at the rally point, which was a West Sacramento firehouse at 11:30 that morning. Then they left and went straight up to Paradise."
The close proximity of Yolo County to the Camp Fire meant that local and campus firefighters played a significant role in early efforts battling the blaze. Once firefighting efforts were underway, the strike team worked long shifts on the front lines of the Camp Fire for about nine days.  
"They were heavily engaged," Reilly said. "We're only about an hour and change away from Paradise, and we were notified so quickly — they got there that afternoon in the height of events. They went to work as soon as they got there. I believe they worked 36 hours, then got a break. Then they were 24 hours on, 24 hours off for the rest of the time they were there."
The deployment of firefighters is on an as-needs basis, so fire personnel don't know when they will return after they are sent out. If there are other wildfires nearby, deployed firefighters may also be diverted to other parts of the state.
"There's no guarantee how long firefighters will be away when it comes to battling wildfires," Reilly said. "They can leave out of here and be gone quite some time, based on the activity, the scope and the magnitude of the incident. When they go out the door, there's no guarantee that they'll be back in a set amount of time."
The Yolo County strike team gave the go-ahead to return home on Nov. 17, when the CAL FIRE Twitter reported the fire was about 55 percent contained. The Camp Fire was declared fully contained about a week later on Nov. 25.
It's not uncommon for city and campus firefighters to be summoned to fight wildfires in other parts of California, according to Reilly. During the wildfire season, the statewide network of fire departments will send personnel and trucks to other parts of the state to assist in containment and rescue operations.
"It's quite common for this agency during the fire season to send people out on these strike team assignments," Reilly said. "California's got some big fires, it takes a lot of people to mitigate a big fire."
According to CAL FIRE, nine of the state's most destructive wildfires occurred in the past five years. Reilly couldn't say for certain whether strike team assignments in other parts of the state were more common in recent years for the Davis Fire Department, but he said that seems to be the case.
"It just seems like it's a more frequent occurrence," Reilly said. "It seems like these strike team assignments are coming up more frequently. I think it would be fair to say it would not be surprising to us to have several of these events over the course of a 12-month period. It's to the point now where I think all fire departments in California say, 'Okay, fires are gonna come and we're gonna do what we have do to mitigate the situation.'"
Written by: Tim Lalonde — city@theaggie.org
Editor's note: The version of this article that appeared in print on Dec. 6, 2018, stated that the Camp Fire was the deadliest fire in history. That is incorrect. It is the deadliest fire in California history. The article has been updated to reflect this correction. The Aggie regrets the error.