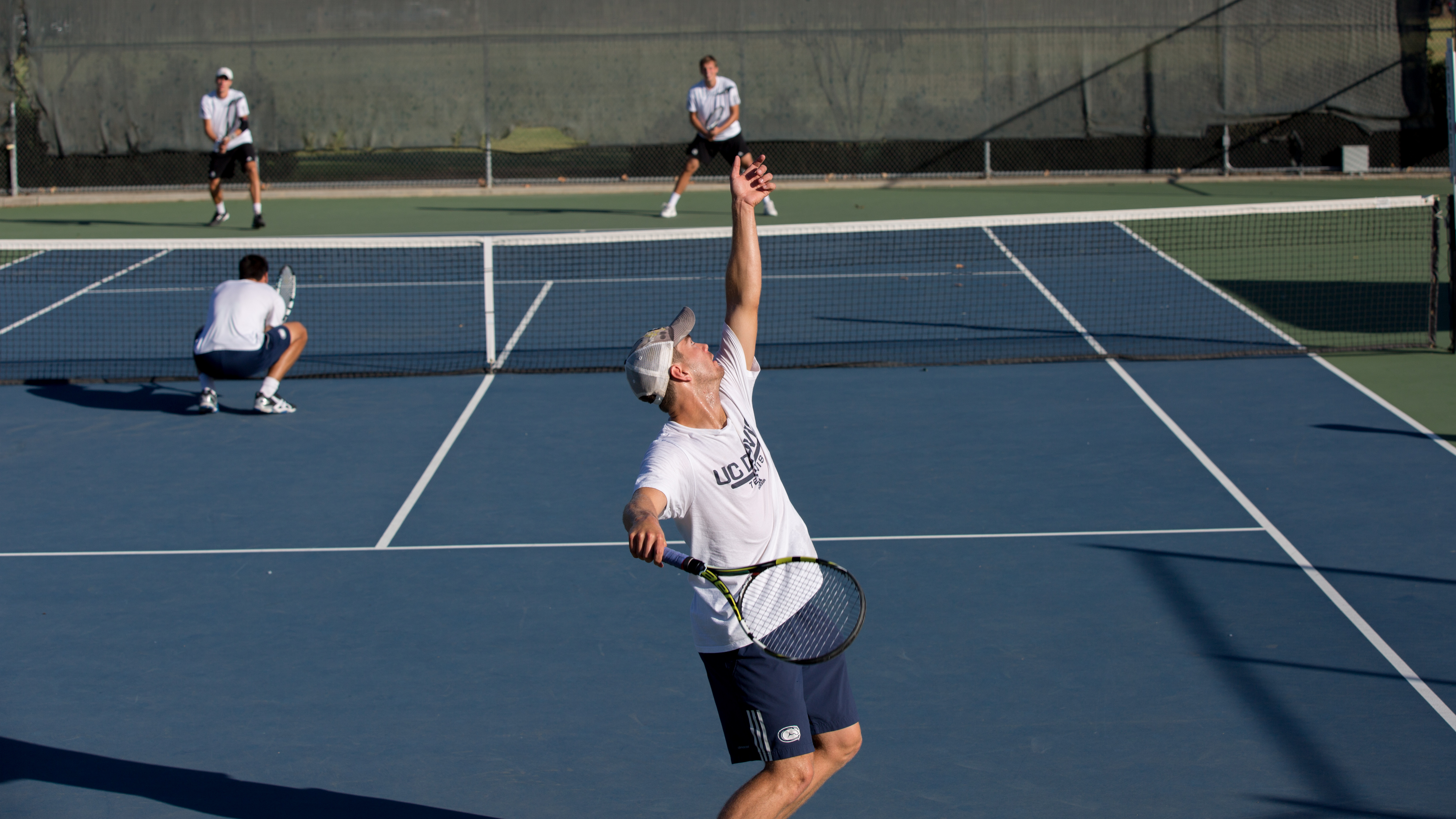 Three-day men's tennis tournament sees play from eight visiting schools
Over the weekend, the UC Davis men's tennis team held their first home event of the 2015-2016 season in the form of the Aggie Invitational, a three-day event that brought players from eight different schools. From Oct. 2 to 4, singles and doubles teams from Stanford, Santa Clara, Pacific, Saint Mary's, San Francisco, Berkeley, Sacramento State and Nevada all converged to play at the Marya Welch Tennis Center on-campus.
"It's really fun for us to get some tournament wins and hopefully we can learn from our wins and losses and get better before the duel matches," Head Coach Eric Steidlmayer said.
Day 1
The invitational started out with a bang for the home team as day one saw juniors Alec Adamson and Bryce McKelvie and sophomore Everett Maltby advance to the quarterfinals in their respective singles brackets. The UC Davis doubles teams also made an impact, with all four teams moving forward in the competition.
Second-seeded Adamson, who started off the season with a great performance in the Battle of the Bay Classic just two weeks ago, defeated Sacramento State's Uli Vollath in the Flight "A" round of 16 with the score 6-1, 6-1. In Flight "B", McKelvie dropped just one game for a win over Santa Clara's Jeffery Lang in a 6-0, 6-1 match and Maltby won a pair after dispatching Pacific's Jack LaPlante, 7-6 (3), 6-4 and Sacramento State's Donald Hall, 7-6 (4), 6-2.
All four doubles teams ended their day in victory, securing them spots in the quarterfinals. Highlights include an upset by Adamson and junior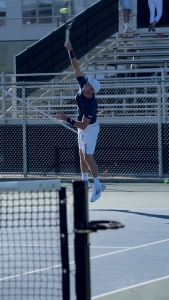 James Wade over the No. 2 seed in Flight "A" doubles, Trey Strobel and Anthony Tsodikov of Stanford, in a 8-3 match. Seniors Brett Bacharach and Adam Levie moved up in Flight "A" after defeating San Francisco's Marco Barretto and Alexander Santiago, 8-6, and in Flight "B" teams juniors Jesse Ross and Eli Whittle plus freshman Tommy Lam and McKelvie advanced as well. Maltby was teamed up with Nevada's Mile Cilic and received a first-round bye.
Day 2
After Day 2 came to a close, it was clear that McKelvie was on his way to reclaiming his Flight "B" singles championship from 2014. The singles player beat Pacific's Bernardo Oliviera, 6-3,6-0, and Santa Clara's Connor Garnett, 7-5, 7-5, in the semifinals and advanced to the Sunday finals to play against Maltby, who defeated Santa Clara's Morgan Stone, 6-0, 7-6 (2), and second-seed Ryan Shen, 3-6, 6-1, 6-4.
Levie advanced to the consolation bracket after a win over Saint Mary's Brian Lee, 6-3, 6-1, and a comeback from a first set loss against Gunther Matta of California, 1-6, 7-6 (5), 1-0 (11-9).
In Flight "A", Adamson dispatched Saint Mary's Jacob Lagman, 6-1, 6-4, but lost to California's JT Nishimura, 6-3, 6-3, thus ending his run in the tournament.
Following a spectacular start for the doubles, teams McKelvie and Lam in addition to Everett and Cilic both ended with double wins. They moved on to play against each other in Sunday's title match for the Flight "B" doubles championship.
Day 3
The first match of the game for the Aggies was the Flight "B" doubles championship of Maltby and Cilic versus McKelvie and Lam. The 8:30 a.m. start did nothing to hamper either team's performance as they darted about the court and made quick sprints to the net. The McKelvie and Lam duo fell behind 4-6, but came back with strong serves and volleys to close the gap. From then on, the team raced ahead and won the game 8-6.
A short 30 minutes later, McKelvie and Maltby were back on the court to play for the Flight "B" singles championship. Both players often hit deep corner shots before running to the net and putting the ball away. Each point was close and often came down to who kept the ball in the court. Maltby often executed on the long rallies, but McKelvie put the game away with his serves and won 6-2, 6-2.
Following this tournament, the Aggies will be playing in the UCSB Classic the weekend of Oct. 9 to 11.