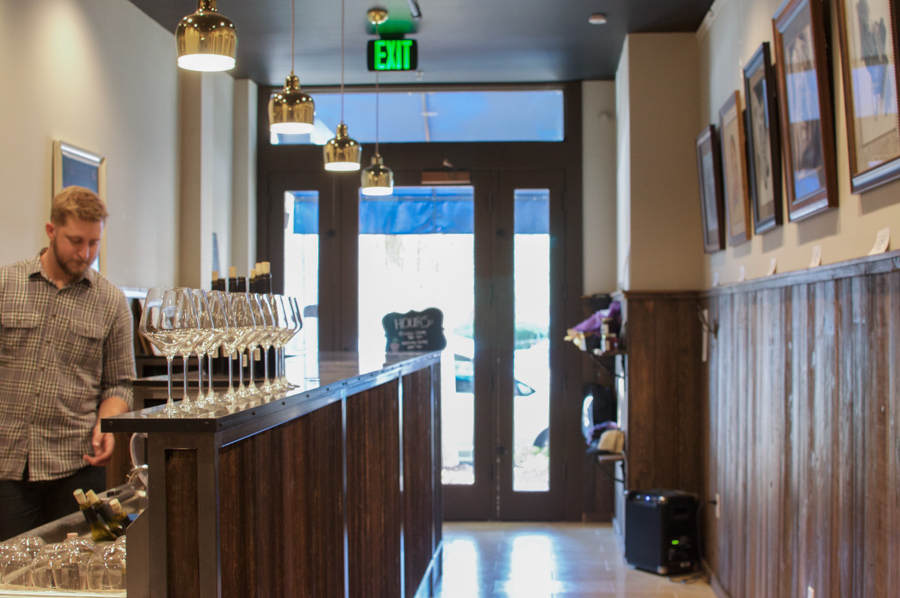 Putah Creek Winery owners put their own spin on the #GivingTuesday initiative.
Jessica Chin Foo, managing partner and co-founder of the GARBA Wine Company, which owns Putah Creek Winery (PCW), has always had a strong interest in nonprofits and community development. Chin Foo, who is also a UC Davis managerial economics alum, previously worked with Freedom from Hunger, a global hunger prevention and anti-poverty charity.
After contacting some of her previous colleagues, Chin Foo learned of the #GivingTuesday initiative, where corporations donate a portion of sales to charity on the Tuesday after Black Friday. Although PCW is not as large as the corporations involved with this program, Chin Foo thought it would be more effective to give locally and regularly through her own initiative, Give Back Tuesday (GBT).
"[Some people] mentioned that some small businesses [donate a portion of their sales] every Tuesday, so I thought that could be something I could do. It would benefit the nonprofits but also [give] exposure for myself, being a new business on the block," Chin Foo said.
From there, PCW proceeded to investigate the practicalities of GBT and whether it would work for their small business.
"In Davis there's a really strong philanthropic community […and I] talked to some other businesses that were doing it in other states and [I thought], okay, well let's do this," Chin Foo said.
So far, PCW has been involved with the GBT program for around 11 months, since the beginning of 2015. Every Tuesday, the winery gives 15 percent of its total sales to a chosen nonprofit organization.
"It rotates every month, and we also have opportunities for these organizations to have parties here on Tuesdays where [nonprofits] bring in board members or just people who are involved [in their organization] and are able to raise some money on those days. For the most part, we contact different organizations that we felt were really positive to the community," said Andy Weller, a Tasting Room associate at PCW.
The first recipient of PCW's fundraising program was Yolo County Court Appointed Special Advocates (CASA), a nonprofit which provides advocacy for foster children.
"We recruit, train and screen volunteers from the community who are appointed to work with a child who's in our foster care system," said Tracy Fauver, executive director of the Yolo County CASA. "When children have been abused or neglected [at home…], they [often] enter foster care which can be very scary and confusing. We provide volunteers who buddy or mentor those kids, but also can advocate directly to the court system if there are services or supports that those children need that haven't been put in place yet."
The funds Yolo County CASA receives from PCW and others are critical to running the organization, Fauver said.
"We [currently] have a staff of about five people who are supporting about 100 volunteers," Fauver said. "With our small staffing we do all of the recruitment [and administration associated with running the organization]. We [train recruits] here in house so every advocate goes through a 30-hour training program. That training is [also] put on and organized by our staff."
Yolo County CASA holds orientations at noon every Thursday at 722B Main Street in Woodland; more information can be found on their website.
According to Chin Foo, PCW has been working hard to set a positive example to show that people can run a for-profit business with a social conscience.
With regard to the funds raised over the past 11 months, Chin Foo admits that, as a small business, its contributions are modest.
"We've raised about, just from our wine sales, $2,000 overall. I wish it would be higher, but when the nonprofits come and do their own fundraisers the donors can give directly to them. It gives them access to direct funding but also it gives [nonprofits] tremendous exposure," Chin Foo said.
More information about GBT events as well as information about the nonprofits that they are supporting in the coming months can be found on the PCW website.
Chin Foo explains that she has been encouraged by people's enthusiasm to her initiative. On Tuesdays, five to 10 percent of the customers come specifically to help out a nonprofit they care about, while drinking good wine, of course. Chin Foo believes that having programs like GBT in Davis gives the city a good reputation among those visiting and she embraces the idea that businesses can do their bit.
"The world is not really fair," Chin Foo said. "If a business [like mine] can make a little bit [of a difference], it makes me feel good."
Written By: JUNO BHARDWAJ-SHAH – city@theaggie.org